How we lost 60lb using our phones and Noom
THE SCALES DON'T LIE
I wish I felt good about myself whatever my size or shape. I should, I know I should. But the fact that I put on almost 3 stone (42 pounds) while I was pregnant with Little Man, and the final few pounds weren't shifting, made me cringe.
Ok, the first 14 pounds or so dropped off fairly quickly while I was breastfeeding the Little Man but when we had to switch to bottles at six months it slowed to a snail's pace.
I felt lethargic. I felt annoyed that my clothes didn't fit. I didn't feel like the old me.
And more importantly, my Sarcoidosis was back.
So I started run/walking again. And I tried to diet.
But by December 2013 I still had 22lb stubbornly refusing to go.
Plus the husband had popped on a few extra pounds himself and so we both decided a change had to happen.
That change was Noom.

I know I sound like one of those infomercials on TV – "I used this cream and it changed my life!" – but this little app that sits on my phone really did.
My weight has dropped from 134lb to 112lb and the husband has dropped a massive 38lb going from 206lb to 168lb.
I'm back to my pre-baby size and he's lost the equivalent of our daughter's weight.
How did a phone app do this? Well it didn't.
We did it. Together. And Noom coached us through it.
THERE IS NO WEIGHT LOSS MIRACLE
I'm sick off all the commercials, advertorials and emails promising that this or that potion, pill or seaweed slime will drop the pounds. They won't. What they do is make people very rich. I'm going to tell you the real secret to weight loss:
THE ONLY WAY TO LOSE WEIGHT HEALTHILY
IS TO USE MORE CALORIES THAN YOU EAT
It's as simple as that.
But of course it's NOT that simple, is it? And that's why the authors of diet books and sellers of diet products are millionaires.
We all want a quick fix. But a quick fix won't keep the weight off. A quick fix might change our body chemistry in the short term but it won't stay that way. As soon as we go back to our 'normal lives' the pounds creep back on.
What we needed to do is create a new normal, with new HABITS. And that's where Noom entered the room.
Noom is a healthy living coach app that you download onto your phone. It combines food tracking, exercise coaching and group support (if you want it) to help you set new healthier habits so you reach your weight-loss goal. And the basic version is free. Yep, free.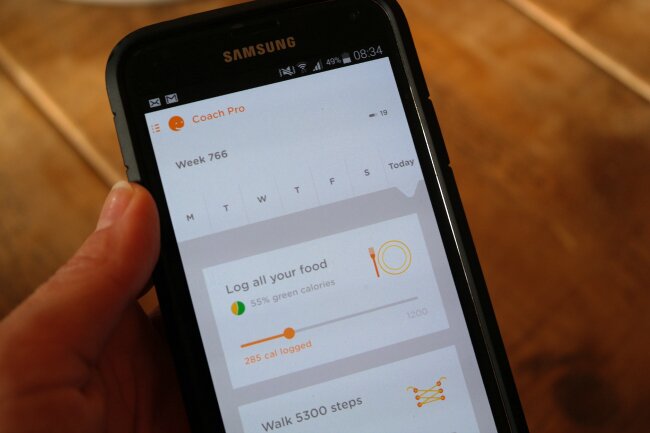 Noom helped the husband and I us lose 60lb between us, but we haven't stopped there. Noom is part of our lives now and we're still tracking our food and exercise to maintain our goals and make sure those habits stick.
… AND NOW FOR SOME EXCITING NEWS!
I met the Noom team earlier this year and I'm excited to say that after hearing our story they've asked me to work with them on the UK launch of  a new body-confidence and habit-changing challenge that everyone can take part in.
I'm really happy to do this because Noom is a tool that I use every day and that I believe works.
In the coming weeks I'll be posting more about the challenge and how you can sign up for it! 
In the meantime, tomorrow I'm going to tell you six things I love about Noom including exactly how I used it to lose those 22lb…
Linking up with Brilliant Blog Posts over at HonestMum.com, Striking Mums at Kate on Thin Ice, All About You at Mama and More, Tried and Tested at Family Fever and The Mad Mid Week Blog Hop at Super Busy Mum