A great girls night in… plus my foolproof risotto
When the cat's away the mouse has a supper party with her girlfriends!
With the husband away travelling this week (he's taken his Mother away for a break at the luxury lodge near Loch Lomond that we holidayed at this Summer), I planned a get together with some of my lovely Mummy friends.
I love these ladies – they're smart and funny and we always have a great time when we meet up. They welcomed me into our local toddler group when we finally came home from our expat adventure in China and I'm so grateful for their friendship. By the way did you see the guest post about my memories of living in Shanghai that's over on Circus Mums?
Back to last night!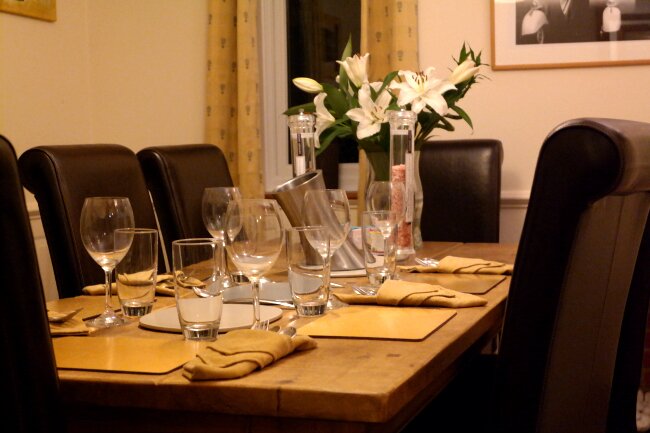 It was lovely to use our dining room for something other than storing boxes of clothes that need to be taken to the charity shop – the Little Man is growing out of everything at the moment thanks to a growth spurt. I dressed up the table a little bit – it's nice to have a bit of glam when you have guests, isn't it? I love using my napkins as cutlery holders – smart and practical. You can see how to fold this diamond pouch here.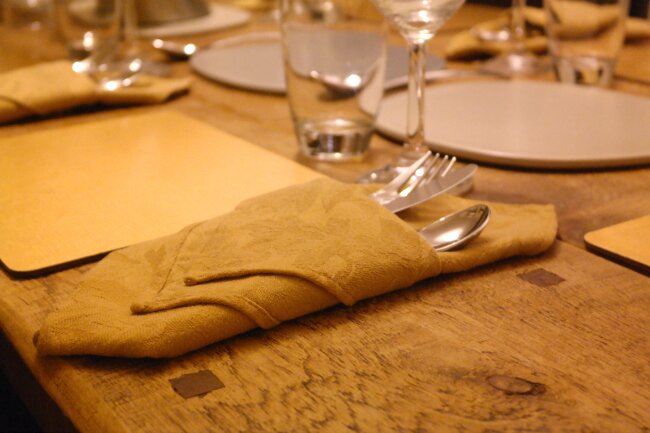 And flowers of course, always flowers. These gorgeous lilies perfumed the air all day and well into the evening.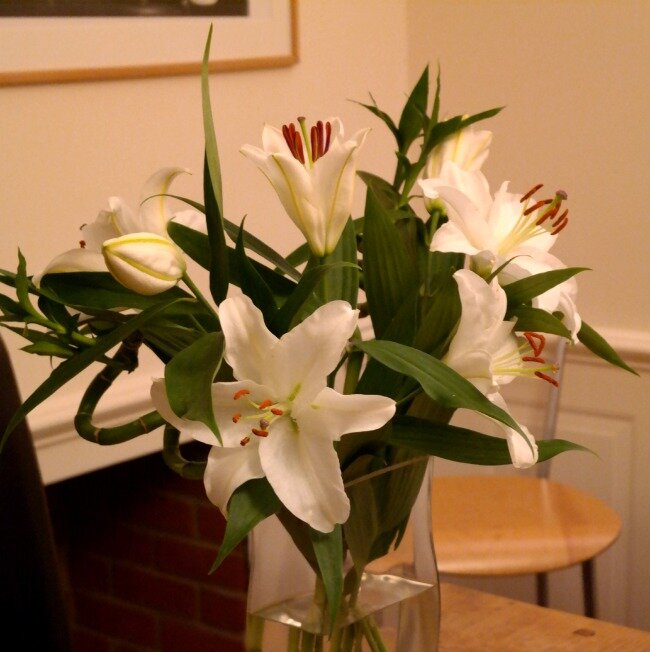 For supper I cooked a salmon, prawn and pea risotto. It's one of my favourites. I do all the prep before hand, grilling the salmon and cooking the peas and then I can stand at the cooker stirring the rice with a glass of wine in my hand while I chat to my guests! All the ingredients get thrown together at the end. If you've always wanted to try making risotto but are worried it's too time-consuming or complicated… don't be! Here's my foolproof recipe:
Michelle's salmon, prawn and pea risotto

For 4 people you'll need:

Olive oil
300g Arborrio rice
1 litre chicken stock (a stock cube is fine) in a saucepan on a low heat to stay warm
1 onion finely chopped
1 clove garlic (not absolutely necessary but I love the flavour)
1 glass of white wine (wine you'd drink yourself, not cooking wine)
a knob of butter
freshly grated Parmesan to taste
3/4 fillets of salmon
a few handfuls prawns (I used jumbo king prawns)
small bowl of frozen peas

Method:

In a heavy bottomed saucepan sweat the onion (and garlic if using) in olive oil until the onion is soft.
Add the rice and coat it well until it becomes a little transparent.
Add the wine and stir well until it has evaporated. Add a ladleful of hot stock, stir well and let the rice simmer. IMPORTANT: don't let the rice stick – you really need to keep an eye on this dish the whole time, but it's worth it! As the stock is absorbed by the rice it will release starch which makes the risotto lovely and creamy.
Keep adding a ladleful of stock at a time when necessary and stirring so the rice doesn't dry out or stick. This should take about 20 minutes. The rice is ready when it's soft and creamy but the grains are still a bit firm in the middle.
Unless you've done it beforehand while the risotto is cooking, grill the salmon, stir fry the prawns and cook the peas. Keep them to warm.
When the rice is ready stir in the butter and Parmesan along with the other ingredients and test for seasoning, adding salt and pepper if you need to.
Cover and leave it to rest for a couple of minutes to let the salmon, prawns and peas warm through before serving.
I served the risotto with tender stem broccoli and asparagus tips for some fresh, green goodness. And a glass of wine or two of course!
For pudding I whipped together an indulgent treat – Eton Mess. This is probably my favourite pud, I love the different flavours and textures and it's SO easy to make, the perfect end to a lovely supper party. Here's my recipe – I left out the blondies this time and it was just as delicious.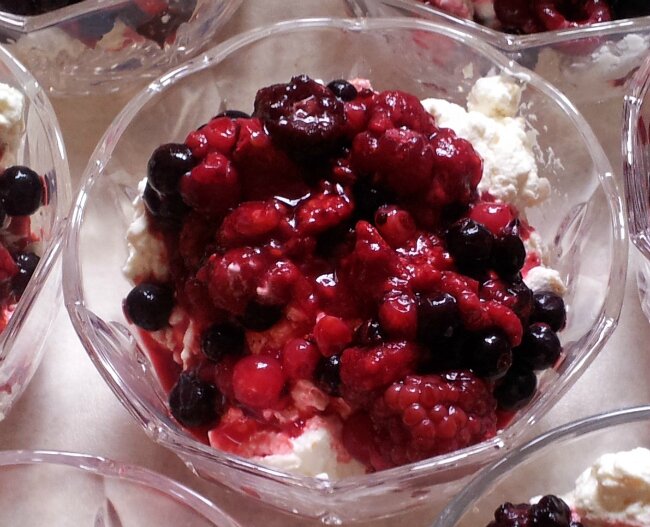 What about Noom?
Eton Mess IS a very high calorie desert and if you're thinking "How could she eat all this when she's using Noom to stay in shape?" let me put your mind at rest; life is about balance – treats are allowed!
I planned ahead and logged my whole day's food in Noom in the morning, knowing that with a high calorie dinner I would have porridge for breakfast to keep me full all morning and just a salad for lunch. Even with 2 glasses of wine I was only a few hundred calories over my daily allowance. (If want to read more about Noom and how my husband and I used it to help us lose 60lb read this and this. My story has also been featured in the local press this week – exciting!)
What's your favourite supper party dish?
Linking up with Welcome to the Weekend over at ClaireJustine, Post Comment Love at Verily Victoria Vocalises and Tasty Tuesdays at Honest Mum.