Can Boucleme tame my curls?
Regular readers here know about my love/hate relationship with my curls. As a child I hated my hair – brushed to a mass of 70s frizz it either stuck out of my head like a pelmet or was plastered to it like a curly swimming cap.
It wasn't until I became a regular at my now favourite hair salon, Silhouette Du Barry, run by my gorgeous friend Zoe and her husband (stylists to the stars at London Fashion Week and X Factor no less) that I learned to look after, style and love my curls.
That said I'm always looking for new products to help me make the best of my 'do' and I've written before about the ones that made my top 5. So when I saw that there was a new girl on the scene – Michele Scott-Lynch, founder of Boucleme – I was keen to try out her range. (I'll also be sharing my interview with her here soon.)
Lately I've been cheating on my curls with my straighteners and it's wrought havoc with my curl pattern so I was keen to see if Boucleme could bring back some bounce to my bouff!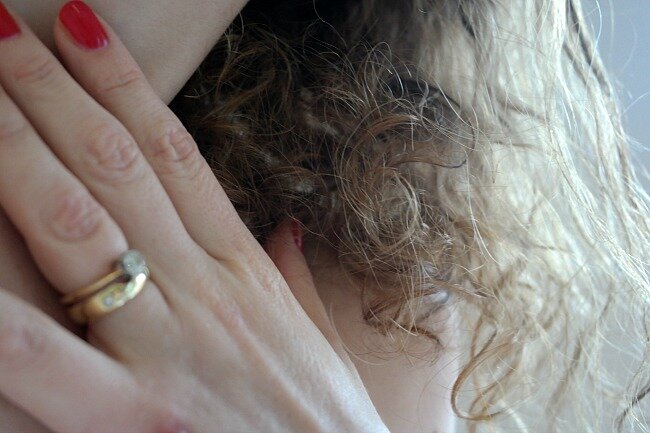 The range includes a Curl Cleanser, Curl Conditioner and Curl Defining Gel and unlike so many so called 'natural' curl products on the market all three are completely free from sulphates, silicones, mineral oils, petroleum, propylene glycol, PEGs, parabens, artificial fragrances and colours.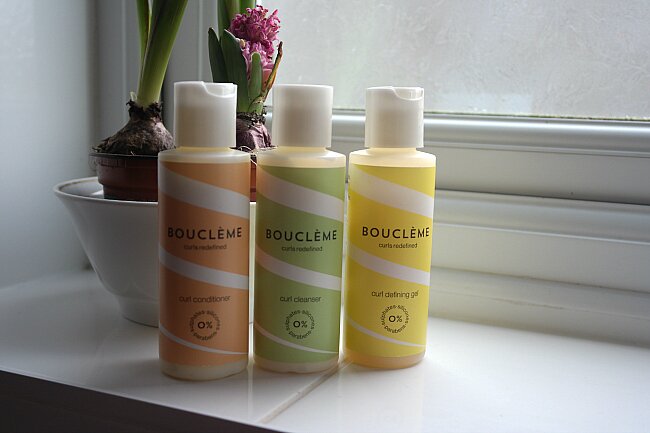 Both the Curl Cleanser and Conditioner have a lovely rich consistency and smell divine. You can see below just how yummy and moisturising they look! My curls were SO ready to drink in all this goodness I can tell you.
The Cleanser immediately felt different on my hair to a normal shampoo – there was no squeakiness, no foaming, in fact it felt more like a conditioner than a shampoo. Michele explained to me that was because normal shampoos actually strip curly hair of moisture – which is just exactly what our hair needs!
After rinsing out the Cleanser I used the Conditioner and rinsed this out too before applying another small amount to the mid lengths and ends and leaving it in. Michele advised me to play with the amount I left in to see what worked best – there are different curl types and textures and they all need varying amounts of moisture. (Read more about this and work out which curl type you have at the Boucleme site.)

The next step was to apply the Curl Defining Gel which Michele explained again needed to go on WET rather than towel dried hair to lock as much moisture as possible within the curls. The consistency reminded me of the Paul Mitchell Round Trip liquid that I've been using for years but it did smell nicer, I have to admit.

My hair is just below shoulder length when it's wet and I used about half of the amount you'd need to cover an Oreo cookie, combing it through with a wide tooth comb before flipping my head upside down and scrunching the hair from root to tip, 'clumping' the curls together to encourage them to form bigger curls rather than separating out which can cause frizziness.
MICHELE'S TOP TIP: Revive 2nd day curls by spritzing hair with a mixture of cool boiled filtered water and Curl Defining Gel.


The next step was patience! I don't tend to use a blow drier on my hair as I prefer to leave it to dry naturally – but this can take a good couple of hours. Michele says it's important to resist the temptation to touch your curls until they are completely dry as that can lead to more frizz.
One thing that is a little disconcerting is that as it dries the Curl Defining Gel creates a 'cast' around the hair, making it hard or crunchy to the touch. But Michele explained that once the hair is dry I just needed to scrunch this 'cast' off to leave my hair shiny, super soft and bouncy.

Love this handwritten note from Michele – there's nothing like the personal touch is there!

My patience definitely paid off! Once my hair was completely dry I scrunched away the crunch and there were my curls, definitely less frizzy and more completely formed than before. I'm still not completely happy with the way my curls have a different texture on the top, sides and underneath so I must admit I do use a curl wand to create a more consistent look but these photos show my hair untouched by heat products so you can see the natural me!

I've been using the Boucleme range for just over a week now and I've really noticed a difference in my curls. They feel and look healthier and more moisturised and there's less frizz for a much better curl shape. It's amazing how something as simple as as feeling good about your hair can lift your spirits! Huge thank you to Michele at Boucleme for showing me – and now you! – how to use the range to best effect.
For full details of the range, and to buy online, visit Boucleme.
What products do you use on your curls? Do you have a special routine you follow to make the most of your tresses or do you fight the frizz and straighten it?
---
Linking up with Image of the Week at Truly Madly Kids, PoCoLo at Verily Victoria Vocalises, Welcome to the Weekend at Claire Justine, All About You at Mama and More, Tried and Tested at Going on an Adventure, Share with Me at Let's Talk Mommy, Brilliant Blog Posts at Honest Mum