7 tips for running your first 10k race
Two weeks ago already. I can't believe it's been that long since I put on my Lullaby Trust vest and set off in the rain to park my car in a field and prepare to run my first 10k race since both the kids arrived.
The whole day was fantastic. I prepared well, enjoyed the race, ran a personal best and to date I've raised £340 – nearly £100 over my original target – woo hoo!! A huge thank you to everyone who has sponsored me, you all ROCK. (There's still time to raid your piggy bank by the way… just saying!)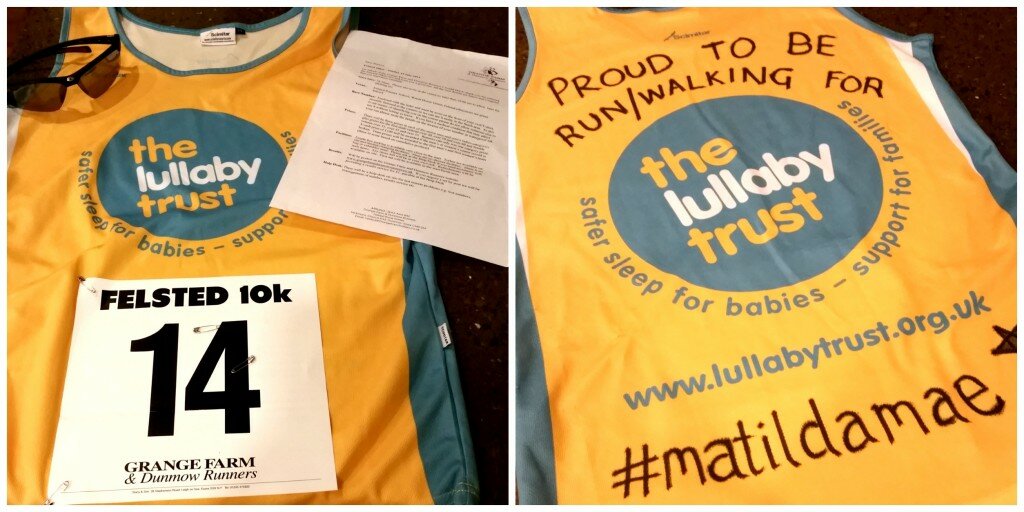 The whole experience of preparing for and running a race can be really daunting so I thought I'd share my top tips – hope these help you if you're considering taking part in a 5k, 10k or even longer race!
It was humid the morning of the Felsted 10k and the air was heavy and damp. I felt my nerves tingling as I left my car with just my running bottle, my car keys and my iPod, hugged my brother-in-law who was marshalling and walked briskly to the start line. I was early with plenty of time to warm up.
Top tip #1: WARM UP. The excitement at the beginning of a race can pump you with adrenaline and have you setting off at a faster pace than you would usually – which can leave you flagging at the end and increase the chance of an injury. Arrive early enough to have a 10 minute warm up. A gentle jog along the beginning of the route, if you can, is great. It will familiarise you with what's coming and get all those muscles nice and warm. It also has the added bonus of putting to good use any nervous energy you might have, calming you down and focussing you for the race.
Once I was nice and warm I checked out the loos and found the queue was enormous! Luckily I didn't need to go but I did feel for the people at the back who were nervously checking their watches with only 5 minutes to go until the race started.
Top tip #2: LOO STOP. Don't leave your loo stop until the last minute. The queues can be very long so plan ahead – there's nothing worse than needing to 'go' at 5k and having to hold it the rest of the way.
The race organiser's voice bellowed out of his megaphone to tell us to line up at the start line and my adrenaline peaked. Eeek! Had I prepared enough? Was I going to make it round? Would I be last?!! With decidedly dodgy knees since I was a child, exacerbated by ski-ing and too many high-impact aerobics classes (legwarmers anyone?), I was run/walking.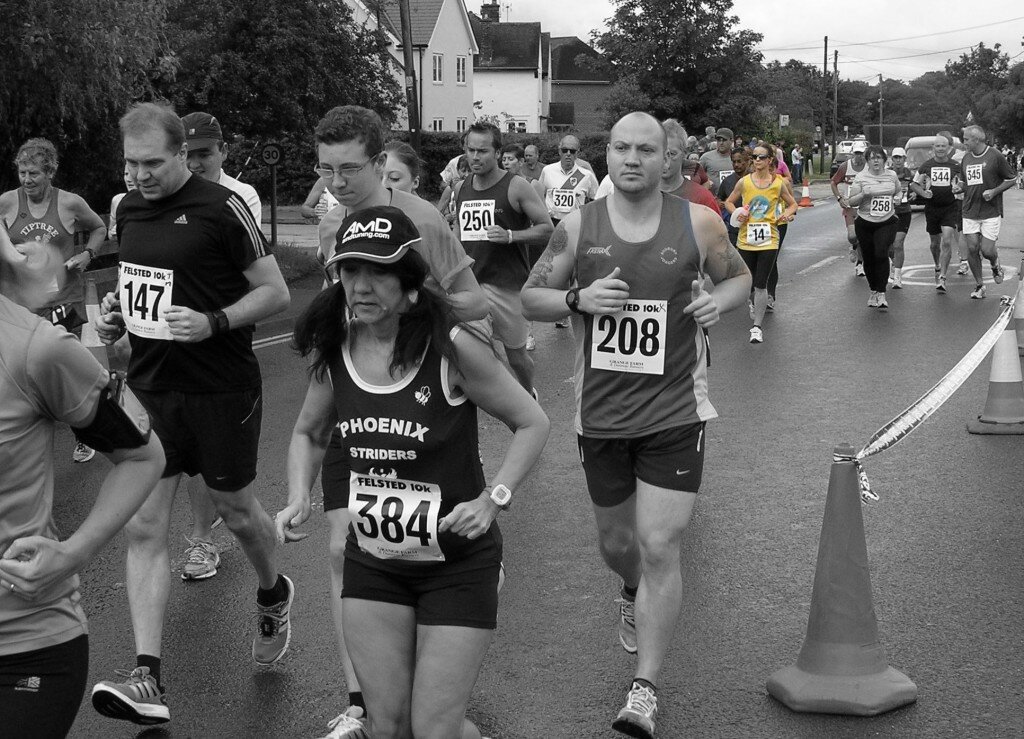 In my training runs I'd worked up slowly to 4 minutes running + 1 minute walking which gave my knees time to recover in between each run section and rounded up to a nice 5 minute burst. I knew that I could carry on like this for over an hour and I'd run the 10k distance a couple of times so in theory there should be no reason why I couldn't do this.
Top tip #3: TRAINING RUNS. Prepare for the race by planning in training runs that build you up to the distance you're going to do. If you've never run before, or not for a while, start by run/walking to ease yourself into it. Build up the running section over time as your stamina grows. Run the race distance a couple of times before the race itself so you know you can do it – it's a great confidence boost.
The Felsted 10k has lots of club runners taking part – serious runners who are competing against the clock and each other. I knew they were going to be setting off at a fast pace and didn't want to be in their way so I waited a few moments while they organised themselves at the front of the start area and stood near the back. Not RIGHT at the back, but with a group that looked about my pace.
Top tip #4: RUNNING BUDDIES. If you can, find someone to run with you that runs at your pace. Or if you're running alone, like me, use your warm up time to check out other runners who look like they run a similar pace to you. Then position yourself near them at the start of the race. There's nothing worse than standing with a group of runners that leave you standing when the whistle blows! When the race starts don't concentrate on all the faster runners who are steaming off into the distance, focus on running your OWN race and pace yourself.
Finally, after a bit of milling around when I thought I was going to be sick with nerves, the whistle blew and we were off! There was some jostling for position at the front and I was glad I was near the back with the 'fun' runners. As I suspected the excitement had me setting off a bit quicker than I would usually and I was glad that my muscles were already warmed up. For the first 2k the group I was running in stayed more or less together. A few people passed me. I passed a few people. We were all finding our own race to run.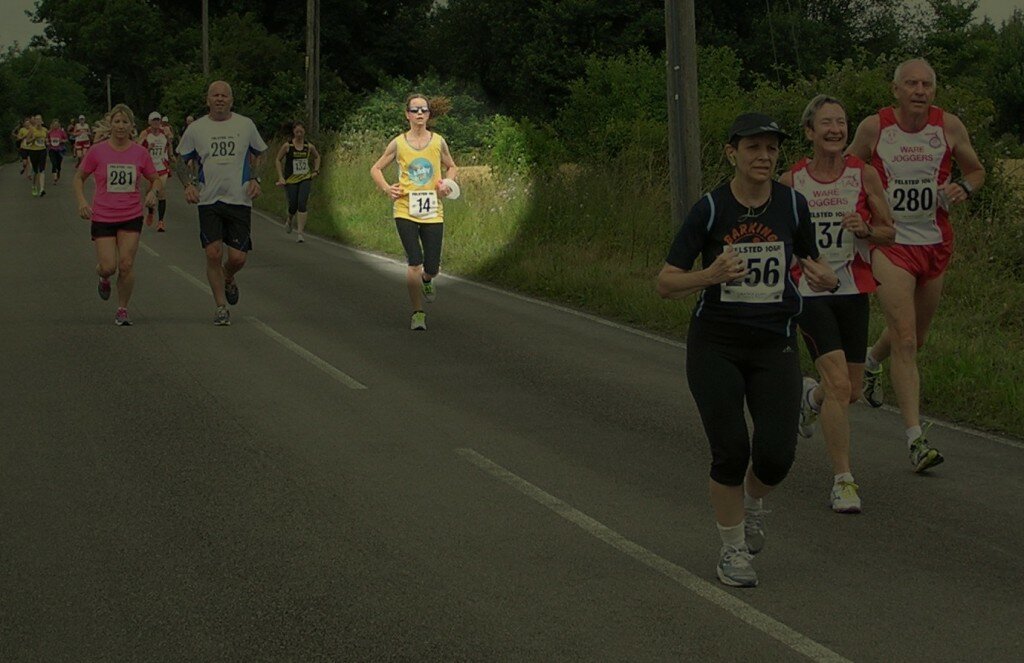 At about 5k my group started to separate, with some falling behind and others pulling ahead. There was a water station at this point with a few runners standing gulping down a quick drink but as I'd planned ahead with my water bottle I didn't need to stop.
Top tip #5: SIP WATER. Don't be tempted to gulp down half a litre of water during the race. It will feel heavy in your stomach, make you want to wee and could make you feel sick. Getting dehydrated can contribute to getting a 'stitch' too. Instead run your training runs with a cheap running bottle () and during the race take sips every so often the whole way round. That way you'll stay hydrated and won't lose time having to stop.
By 7k we'd thinned out until I was run/walking with the same 3 or 4 people that I stayed with for the rest of the race. I knew that because I was run walking I would be passed by runners every time I walked and that people might be concerned or encourage me to keep running – there's a lot of camaraderie! To prepare for this I wrote on the back of my running vest in big black letters "Proud to be run/walking for The Lullaby Trust" so anyone running behind me knew what I was doing. I also used a  to manage my time for me (you could use an app on your phone for this too) and during the walking section I counted down the last 10 seconds out loud so anyone around me knew I was about to speed up again. It became a bit of a running joke with the two people that kept passing me over and over again!
Top tip #6: TIME YOUR RUN/WALK SECTIONS. Use a timer to manage your run/walk for you and lose the watch-checking. Set the timer for your pace: in my case 4 minutes followed by 1 minute and the 'alarm' will tell you when to slow down or speed up. That way you can concentrate on the the most important bit: the race itself.
Each 2k of the race was flagged with a sign so I knew when I was entering the very last section. After a steady race my knees were starting to ache and the humidity was sapping my energy. I knew that I wanted to have a fast 'flying' finish to boost my time so I was glad that I hadn't steamed off at the beginning of the race and saved a tiny pocket of energy for the end. At this point I was running with a club runner in a green vest. We were matching each other for pace so I settled in behind her shoulder. At the last bend I took a deep breath, summoned up every last bit of energy I had and sprinted for all I was worth to the finish line! The line of spectators cheered me in and I felt fantastic!
Top tip #7: FLYING FINISH! Save a little bit of energy, somewhere deep down, for a flying finish. Sprinting the last few metres will pick up your final time and give you an amazing boost. And if there are any crowds watching, they'll love you for it and cheer you home!
In the end I ran a personal best of 1 hour 44 seconds – woo hoo! – and had a wonderful morning. I raised money for a charity that I believe in, had fun doing it, and, through training for the race, I've improved my running too. I'm even considering entering the Stebbing 10 mile race in November.
But before then I've been challenged by the 10k race organiser (posing with me below) to knock that 44 seconds off my 10k time….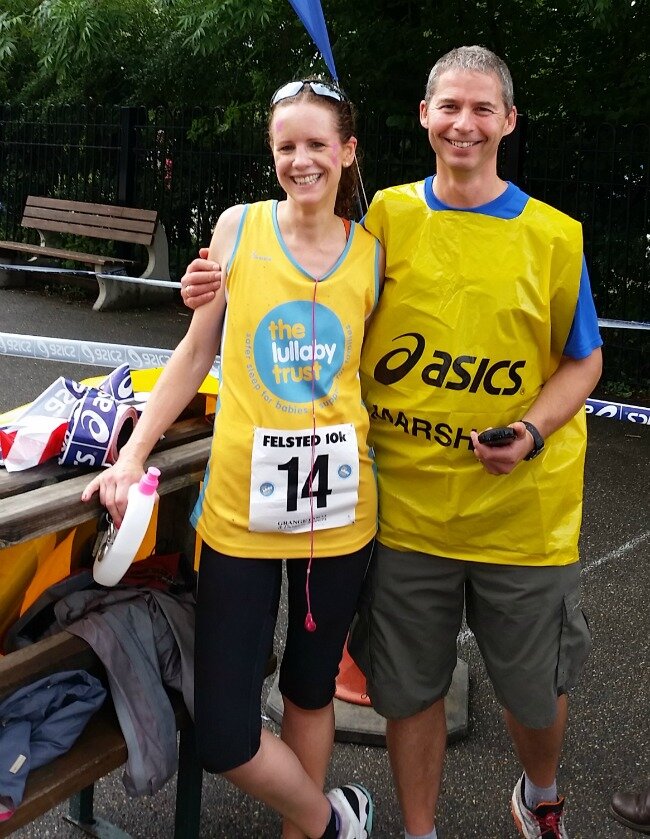 If you're planning on running a 10k race I hope these tips help you! I'd also recommend this article from Runners World.
What are your top tips for running your first 10k? Go ahead and share them in the comments!
P.S. Be sensible and check with your doctor before you start any new exercise plan.
---
Linking up with Vicki's Brilliant Blog Posts and Fitness Tuesday at Fitness 4 Mamas