For years I hated the way I look on top…
Do you love the way you look on top? No, not there *blushes*, a bit higher up, on your head. Do you love your hair? For years I hated mine. It's a mass of curls that with the slightest whiff of moisture becomes a frizzy mess. When I was a child it was cute, I looked like Shirley Temple with a tight ball of blonde curls. I daydream that if it had been left to grow I would have ended up with a blonde version of Merida's beautiful head of hair from Brave. But it wasn't to be. When I went to school I was scalped by a hairdresser that had no idea how to cut curly hair, how much it shrinks when it dries, and I was transformed overnight into Mia Farrow. Except I looked more like a boy. Not a good look when you're about to hit puberty.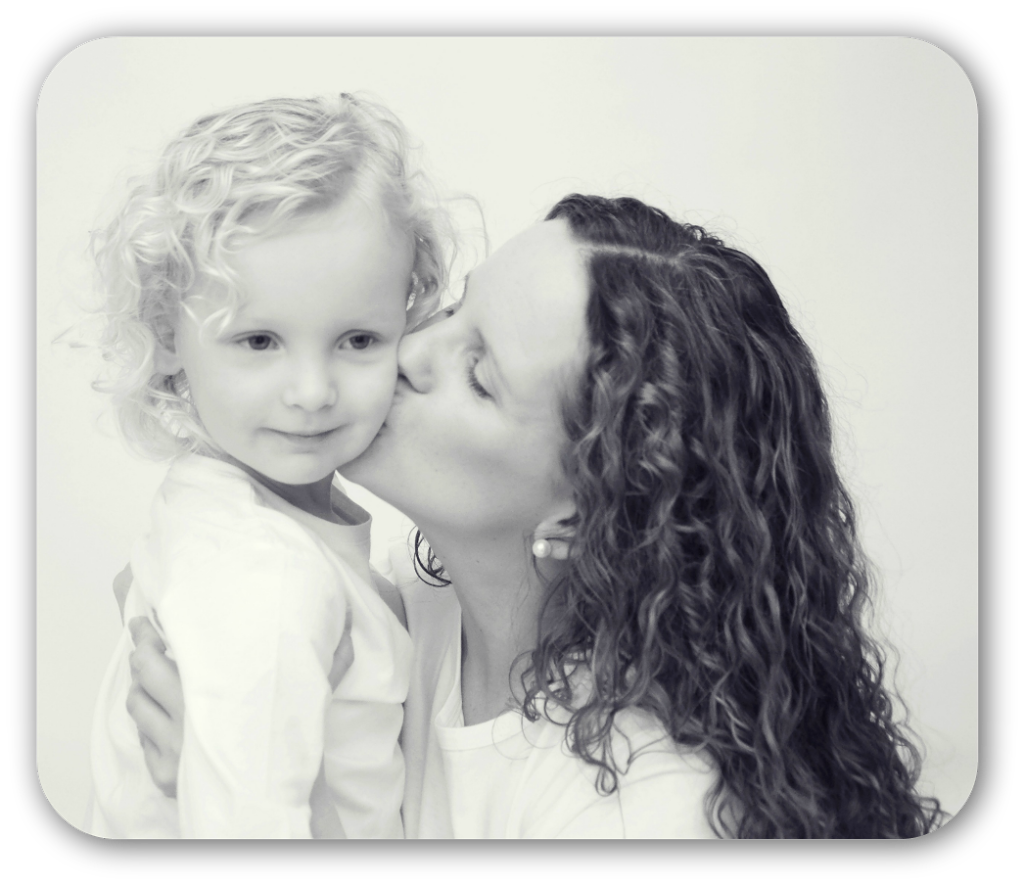 Me and my mini-me – both Curly Girls
Recently I wrote about my love/hate relationship with running and from the day of that haircut my feelings about my hair have been the same. I hated it all through my teenage years, trying and failing to style it myself, brushing it until it stuck out sideways from my head like an umbrella. (Small animals would seek shelter from the rain under one disastrous fringe episode.)
The fabulous Franglaise Mummy (I swear we were separated at birth) wrote about her curls and how important it is to find the right hairdresser to sort it out and I concur completely. A good hairdresser is worth their weight in gold when you have frizzy, curly hair. It's hard to cut and hard to style. It's often dry and drinks moisture, before spitting it out as frizz. You need lots of the right products to make it behave but the wrong ones will either make the frizz worse or flatten it to your head like a swim hat.
I searched for literally years to find a hairdresser that knew how to colour, cut and style my curls. I put my trust in so many that let me down and left me with hair that I hated. And then, just before I got married over 10 years ago, I met celebrity stylist Zoe Jasztal. And my life was quite literally transformed.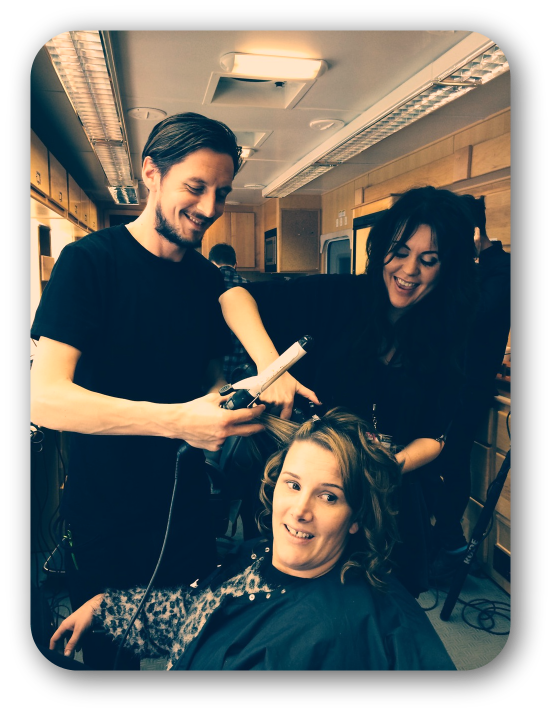 Zoe and Nathan from Silhouette Du Barry – celebrity stylists… and mine!
Zoe styled my hair for my wedding and I fell in love with myself. Since that day I've actually had FUN with my hair, trying all sorts of styles and colours under her expert guidance from long curly blonde hair extensions to a short, straight chocolate bob. I put myself in her hands. I trust her.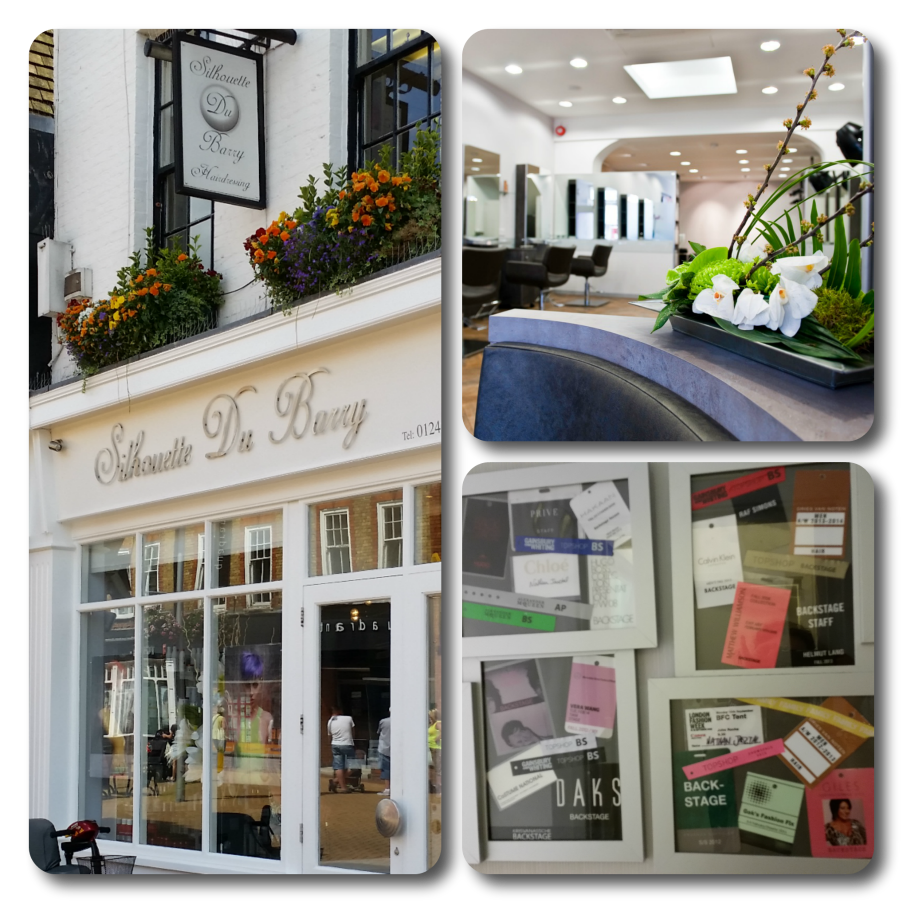 Love coming here to hang out – check out the back stage passes!
In preparation for next week's Britmums Live conference in London, Zoe has transformed me from mousy brown to glossy brunette and next Friday one of her expert team, Johnny, will coax my tight curls into glamorous waves with a wave of his magic brush.

Zoe and her husband Nathan, who own the Silhouette Du Barry salon in Chelmsford, are in great demand, styling the X Factor contestants, working with Gok Wan on his Fashion Fix series and even *gasp* Rihanna.

Here's a tip, when you darken your hair, check your eyebrows. If they're not similarly darkened it can look unbalanced. Yesterday I treated myself to a session with Blu, freelance make-up artist and HD Brows expert who matched my thin and weedy brows to my hair and then styled them into these lovely arches. Blu also showed me how to pencil them in carefully to fill out the brows without looking too 'done'.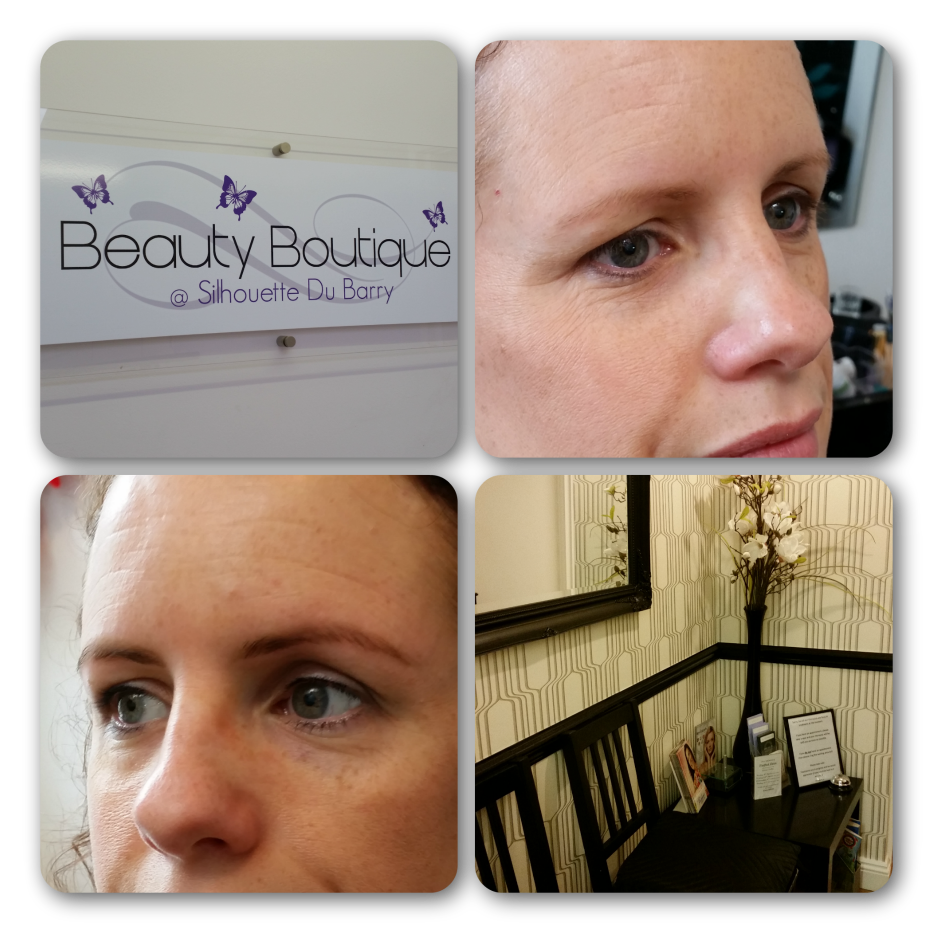 Before and after brows n lashes – what a difference!
So I've had my outfit styled by the lovely personal styling team at John Lewis in Cambridge (I'm the blogger on the ground for them next weekend), my hair styled by Zoe and her team and my eyebrows expertly shaped by the lovely Blu. Ladies and gentlemen, I'm ready for Britmums Live.
Do have a love/hate relationship with your hair? Have you found the perfect hairdresser for you? What are your preparations for Britmums Live 2014? 

---