Can I be a Hands Free Mama?
­
I'm seeing messages in everything I read at the moment which, aside from making me an ultimately boring dinner companion!) tells me I'm on the right wave length, that I'm receptive to learning how to embrace my Journey to Joy this year, how to make it my own and how to use other's tools to craft something amazing for myself.
One of the messages that has resonated so much with me is the danger of DISTRACTION and how it can stop me from being PRESENT when it really matters. Not the big, important times, like school sports day, Christmas morning or birthdays which are easy to focus on, but the everyday moments when my family just wants to connect with me.
Over the past few weeks I've written about the four books that set me off on my Journey to Joy and this week I want to share the last one: Hands Free Mama by Rachel Macy Stafford.

I first came across Rachel on her blog of the same name – Hands Free Mama – when I read the post that has become a phenomenon on The Huffington Post "The Day I Stopped Saying Hurry Up".  It sparked me to write this post and I knew I wanted to read more from Rachel straight away.
Hands Free Mama is a guide to grasping what really matters in your life by letting go of distraction, putting aside to-do lists, phones and perfectionism. It's a simple message. But how often do you jump when you hear that beep, beep? Yep, me too.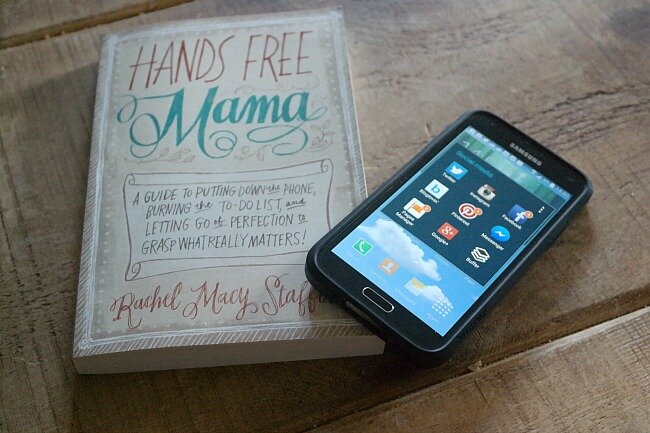 Like so many books that have lessons we really should learn, picking up Hands Free Mama was a bit scary. And I'm not the only one who felt that way. As Glennon Melton, author of NY Times bestseller Carry On Warrior wrote in her own review of Hands Free Mama;
"The truth is I was afraid to read this book, because I didn't want to put down my phone. I wasn't sure I wanted to know the things that Rachel had to teach me. " – Glennon Doyle Melton
THIS!
If I hadn't started reading the other three books that stimulated my Journey to Joy this year I might not have fully embraced Rachel's story as my own either. Denial, as the joke goes, is a deep and powerful river and it's hard to step out of it's imposing flow.
But when I read this first, gripping line…
"Maybe it was the recurring disappointment in my children's faces when I told them I didn't have time. May be it was the superficial hellos and hasty goodbyes offered to my spouse." – Rachel Macy Stafford
…it hit me like a bolt of lightening and left me reeling with recognition. That was me there on the page. I was that person, being too distracted, not being present at the right times with the right people – my family.
"Not right now, darling, I'm busy."
How many times had I said those words? What moments had I missed?
And so I'm working my way through Rachel's book. The guide is formatted to be followed over the course of a year with each of the twelve chapters explaining another step in becoming distraction-free illustrated with stories from Rachel's own journey and ending with a set of weekly intentions and reflections to work on yourself.

Importantly this is not about sacrificing my goals, my dreams, giving up pro-blogging and social media consulting or living under an oak tree in Kansas with slippers made from reeds. Not going to happen people!
My aspirations, my work, my time – it's all still important to me – vital even – but it has it's place. What I'd let it do was leak out over everything else, permeating every moment. My phone had become an extension of my hand, my fingers poised to pounce on every beep and buzz.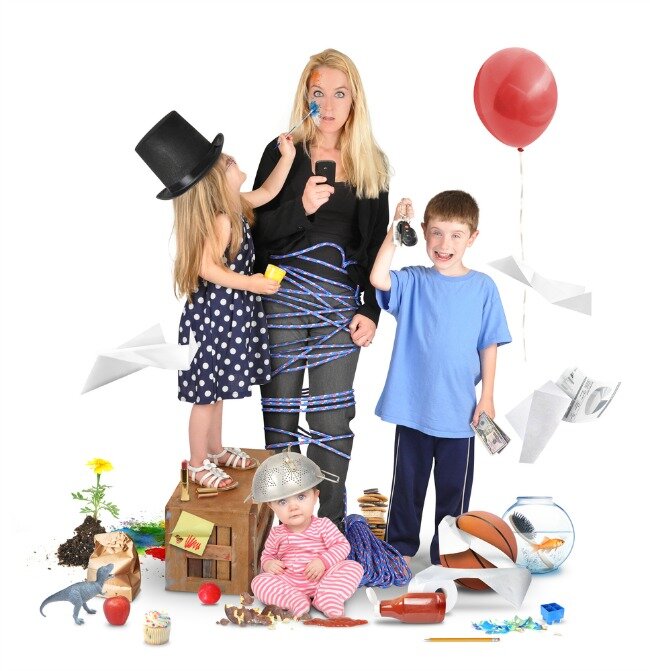 Rachel writes about her own arrival to awareness
"What if one day you realised the best moments in your life come in the mundane, everyday moments?" – Rachel Macy Stafford
And it is these mundane everyday moments – bathtime, tea time, books at bedtime, milk bottles in the morning on my lap when the Little Man's sleeping baggy is still warm and smelling of sleep, dancing the conga around the living room with Curly Girl just because – that I was not always wholly present for. Oh I was there, of course, but they were towns I was passing through on my way somewhere else.
"Where did I think I was going that was more important than each and every one of those special and magical destinations?" – Rachel Macy Stafford.
But heck I'm not saying it's going to be easy. I LOVE what I do and I feel the pendulous swing of the bar in my hands as I balance like a tightrope walker between presence and absence.
No-one CHOOSES to be absent, it just sort of happens. It becomes a habit, like my ingrained negativity that I'm also working through. And habits can be broken. (I know this from using Noom to lose 60lb with the husband last year.) As Rachel says
"Change begins with a spark of recognition within ones heart." – Rachel Macy Stafford
So with that recognition firmly under my belt I'm working through the chapters one at a time (I'm on chapter two at the moment) and starting with Rachel's suggestion of an intention to be present and distraction-free for set periods of time in every day. I switch my phone onto silent at those times – for example in the evening when the husband and I are sharing some quality time (and wine) and at meal times when we should be heads-up and chatting rather than heads-down and tapping.
[Tweet "At mealtimes with your children are you heads-up and chatting or heads-down and tapping?" – bodfortea.co.uk]
Another of the techniques that Rachel talks about in her book is Sunset Moments, those moments in time when you grasp what really matters with both hands because you realise just how beautiful and special it is – like a perfect sunset that is gone in minutes and so easily missed.

I'm making a concerted effort to record my sunset moments every day – to capture them in my journal, to celebrate them and be thankful for them.
Simple things like Curly Girl coming to me in the kitchen and asking for a 'sit-down hug', enfolding her in my arms as she settles in on my lap for as long as she needs to.
Like following Little Man when he shouts 'Come Mummy come!' and marvelling right along with him at whatever has grabbed his attention.
Like receiving a thank you email from a friend with kind words that make me gulp a little.
Or a kiss with my husband that lingers for just a few seconds more.
Each and every one, however small or simple, is a moment to savour and remember.
I'm only at the beginning of the Hands Free Mama guide, only two chapters in, but already I'm finding it hard to put down my phone when so much of my work is online and I do still race around some days trying to catch my tail and stress out about being late for this or that.
But when I DO choose to be present and avoid distraction, slow down my pace and release myself from perfectionism I'm less frantic, less scattered, less impatient and, yes, happier. I think at the end of the day it's about priorities – the right choice at the right time and Rachel's book has certainly made me more aware of finding that balance.
What moments in your day would you like to become more present in? What distractions can you put aside to make that happen?
---
Have you written a post that makes you smile? I'd love you to link it up over at my Share The Joy linky – all genres welcome, new posts or old favourites. Let's share the joy together!

---
Busy Mum image copyright: Angel Waye/ Shutterstock.com
Linking up with Post Comment Love at Verily Victoria Vocalises, Welcome to the Weekend at Claire Justine, Tried & Tested Tuesday at Family Fever, All About You at Mama and More, Image of the Week at Truly Madly Kids, Brilliant Blog Posts at Honest Mum, Share With Me at Let's Talk Mommy
­