Ideas for Summer holiday learning


The last school term was tough for us at Bod Towers. Fun, but tough. The fun part was the great activities Curly Girl got to take part in at school; the Summer concert, day trip to the beach, sports day and some fab crafting. The tough bit was the fatigue from a long school year. I think we all needed a break and the Summer holidays are a great time to unwind, chill out and forget about the pressures of school life.
But I was surprised to learn that over the course of the longest holiday in the school year our kids can experience a loss in academic skills and knowledge which has been estimated to equal 30 days of school learning. 30 days. Wow.
Curly Girl has worked hard this year and her reading, writing and number work has improved so much that I really don't want her to lose these skills over the course of one holiday. Going back to school in September after almost 9 weeks of fun and frolics is going to be hard enough without the added pressure of going back a step or three.
So I was happy to sign up for the 'Summer with Gold Stars' challenge from Parragon Books when I visited their stand at Brit Mums Live back in June. The challenge is to complete one page of their Gold Stars book every day for 30 days over the Summer holidays. With repetition leading to familiarity and comprehension, the idea behind this 'little and often' approach is that it maintains their interest and ability in academic skills while being fun.

Curly Girl has also been asked to keep a school holiday diary by her new teacher and we've joined the local Library reading scheme so I'm being careful not to overload her with tasks every day. Summer holidays are meant to be fun after all and jeepers, she is only just five years old. A page a day feels do-able and I've designated the weekends a 'homework' free zone.
We're using the Gold Stars Ready for School Big Workbook which is suitable for ages 5-6 and supports Key Stage 1. It covers English, phonics, and maths and so far we've had lots of fun with the exercises. From colouring in a rocket by picking out words that rhyme, to matching pictures to numbers, working on her telling-the-time skills by drawing the missing hands on a clock and writing out the days of the week by answering some simple scheduling questions – each activity supports a skill. Every time we complete a page as part of her Summer holiday learning there's a space to add one of the 100 gold stars from the front of the book onto the bottom corner – and Curly Girl LOVES doing this. There's nothing like a sticker to build motivation!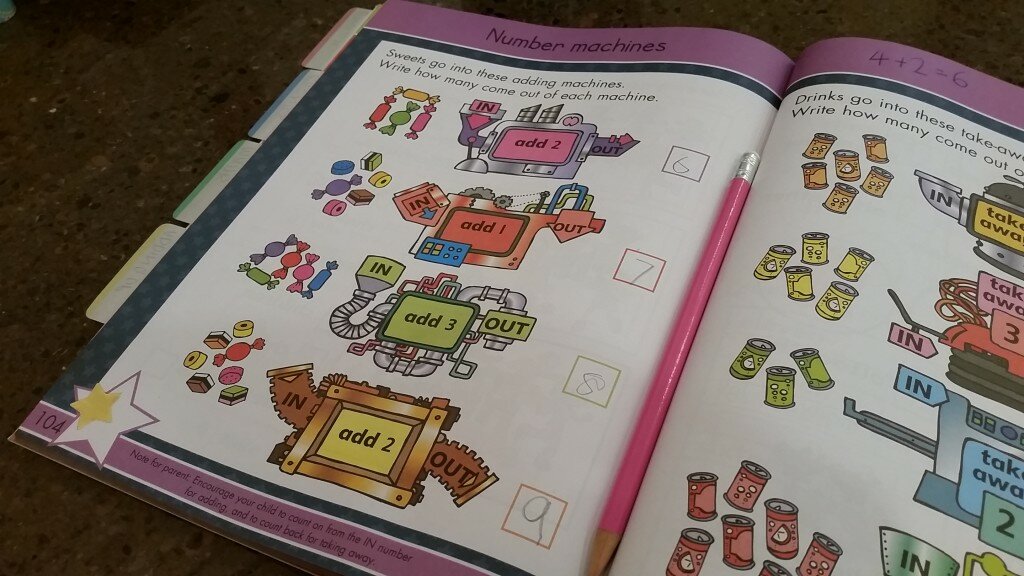 I'd definitely recommend the Gold Stars challenge, but I'm keen to integrate learning into our every day as well. So here's ten more ideas for keeping kids 'topped up' over the Summer break:
#1 Play number, letter and word spotting while you're travelling somewhere – who can be the first to see the number 12?
#2 Get kids to write out a small part of a shopping list (just a couple of items depending on their age) and then search for those items themselves in the supermarket, find out how much they cost and add up the total amount you need to pay
#3 Keep a summer diary 'box' – decorate a shoebox and fill it with items they've collected throughout the holiday from shells at the beach to interesting leaves in the garden or drawings they've done
#4 Spot 3D and 2D shapes when you're out and about
#5 Write Summer postcards to friends and family
#6 Get your kids to tell you when it's 12 o'clock (lunch) 5 o'clock (tea) etc to help with telling the time
#7 Write down the name of 5 objects, 5 actions and 5 simple endings (the funnier the better) on pieces of paper and put them in 3 containers – ask kids to pick one from each and make up a story using the three words
#8 Play a maths matching game – write simple sums and their answers on separate pieces of paper and turn them over. Kids have to find the matching answer to the question
#9 Lie on the grass and count clouds – talk about their size and shape; which is bigger, smaller, fluffier, more transparent
#10 In the car play the 'I went to the shop and I bought…' where each person adds a new item on to the list and see who can remember the most items – a great memory booster for adults too!
What do you do to keep your kids learning over the Summer holidays?
Disclaimer: We were gifted a copy of the Summer With Gold Stars to take part in the challenge but all opinions are my own. Gold Stars by Parragon Books is available nationwide from retailers including Sainsbury's, WH Smith, Morrisons and Wilkinsons.
Linking up with Vicki's #BrilliantBlogPosts over at Honest Mummy