Last night I slowed down to a dead stop
In the frenzied bath-time routine I dashed from room to room, throwing clothes in the laundry basket, handing out toothbrushes, washing hair, warming milk, taking off my make-up, preparing uniforms for the next morning.
I concentrated on the Little Man, as he's the youngest, knowing that Curly Girl is more than capable of undressing herself and getting into the bath without my help.
But still she called me for the fifth time; "Mummy, can you help me?"
I felt frustration start to pull gently at the edges of my voice and concentrated on keeping it sing-song-calm.
"You can do it, take your vest off, pop it in the laundry, ok?" I called back, willing her to get in the bath so they wouldn't be too late for bed on a school night.
Once the little one was in the bath I strode next door wondering what was taking her so long.
And in my daughter's room, she sat quietly on the floor, on her knees and simply said
'Mama'
I stopped to look at her and realised something. That at THAT moment, she might have been the oldest, but she WANTED to be the youngest. She WANTED that help, that time with me, my attention, my time.
So I helped her get undressed and I held out my arms to her and said
"Do you want to be a baby for a few minutes?"
She lept into my chest and held on tight like a koala, repeating "Mama" over and over again with such relief and joy it sprung tears into my eyes.
We walked into the bathroom and I sat down on the closed loo seat, her still clinging to me and we just snuggled, her head on my shoulder, her lips on my neck.
My husband wandered past the door and glanced in looking puzzled.
"What's she doing?" he asked.
"Hugging." I said, simply.
After a few moments she lifted her head and watched her brother playing in the bath.
"I'm ready to get in the bath now," she said. And I gently lifted her in.
I'd slowed down. The rest of the evening continued as normal.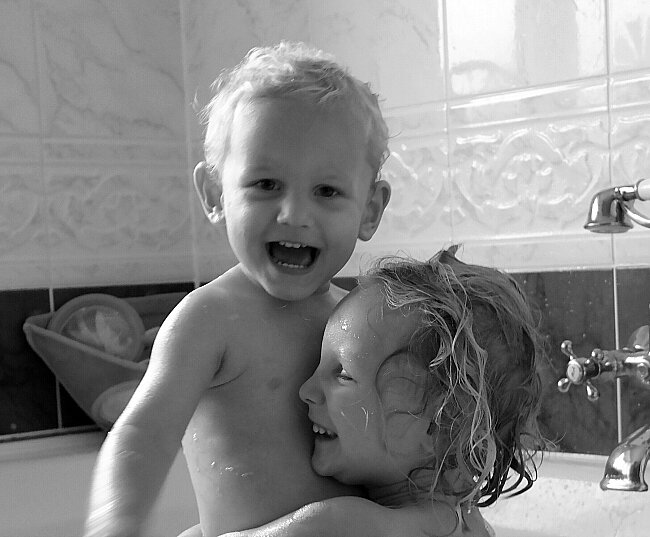 And then in some strange moment of kismet this morning I read this followed immediately by this. It wasn't a flash, bang, immediately-everything-started-to-make-sense-to-me moment. I KNOW I do too much, rush too much, fill my days, my to-do list, my life. I balance on a knife edge, almost falling, righting myself.
I DO need to slow down.
But I'll admit that I'm not ready yet.
In the meantime I'm going to try to slow down just once a day. To actually listen. To spend a moment longer in that hug. To let my children be the children that THEY need to be.
Are you ready to slow down?
Linking up with Brilliant Blog Posts at Honest Mum, Post Comment Love at Verily Victoria Vocalises, The B&W Photography Project at PODcast, Welcome to the Weekend at Claire Justine, Magic Moments at The Olivers Madhouse and Ordinary Moments at Mummy Daddy Me