Exploring Murcia – Santiago de la Ribera
We never actually intended to visit the coastal town of Santiago de la Ribera last week. Originally we wanted to spend the morning in La Manga, just a hop skip and a jump across the tranquil inland sea of Mar Menor. We took the drive along the coast from the Luxury Mar Menor Golf Resort we were staying in as guests of James Villa Holidays full of excitement, expecting a lot from this famous area in Murcia, Southern Spain.
La Manga is a strip of land 21km long and 100m to 1km wide, unique in that you can touch two different seas within a few minutes walk of each other – with differing water temperatures, salinity, waves and calmness; the Mediterranean on one side and Mar Menor on the other.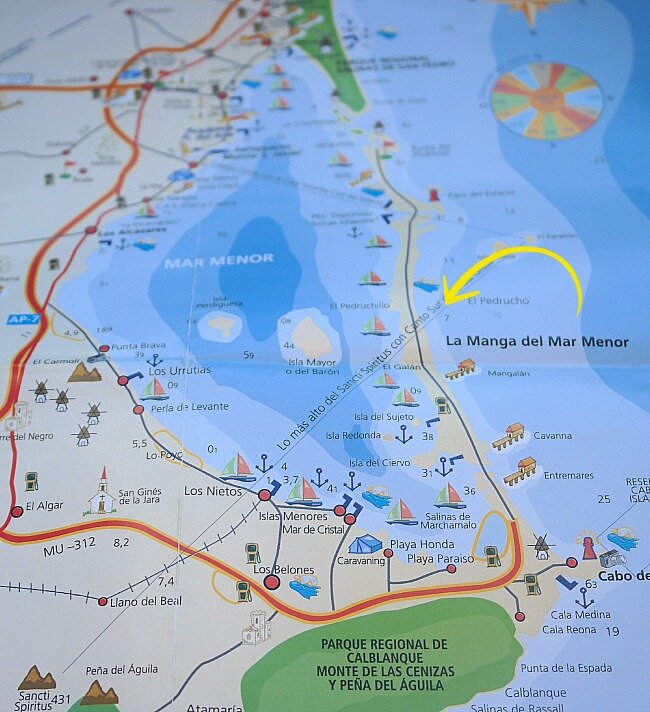 When we arrived and drove down the main and somewhat deserted street we were a little disappointed. It's very built up and quite touristy with hotels, restaurants, clubs, bars and castle-shaped apartments very different to our lovely James Holidays Villa. A typical seaside resort really, having capitalised on the revival of tourism in the 1960s, and perfect if that's what you're looking for. I suppose we should have expected it but after the stunning Los Alcazares and Cartagena it didn't feel so authentic.
In high season the occupancy here can increase ten-fold, in fact this small area has 50% of the total accommodation of the whole region, so we were probably viewing it at the wrong time. That said, the views across Mar Menor are stunning as you can see and there are over 40km of beaches to choose from…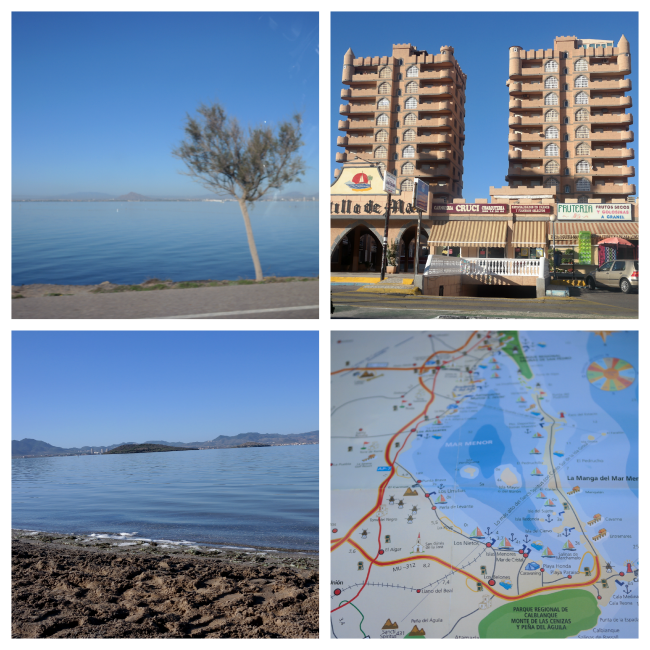 We decided to drive back down La Manga strip and around Mar Menor to Santiago de la Ribera, a fishing village which evolved into a premier Summer-holiday destination for well-heeled Murcians who built houses along the coastline.
It's almost directly opposite the end of La Manga on the map and close to San Javier, home to the nearest airport to our villa (we made a note of this for possible future visits!). The Air-force training school shares the runway and we enjoyed a free display of planes flying overhead from time to time, although it wasn't at all disruptive.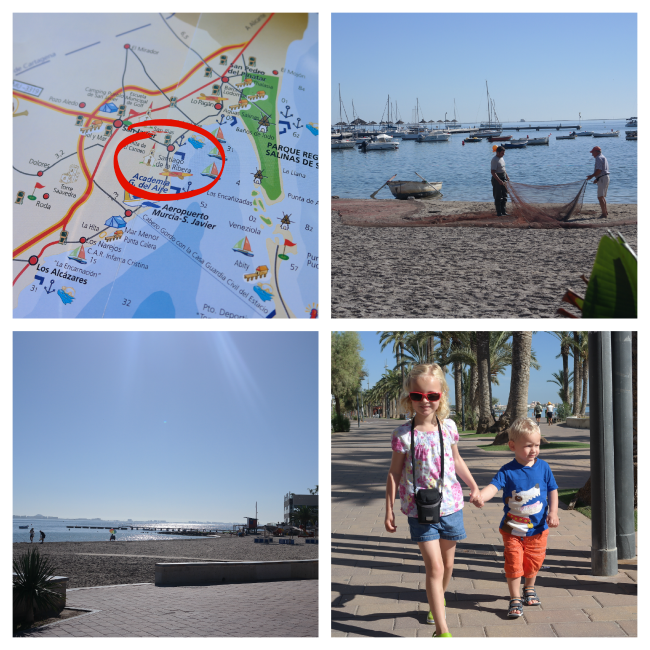 We strolled along the promenade, flanked by palm trees, taking in the stunning sea views and watching fishermen checking their nets on the sand. I LOVED watching our two little ones holding hands, Curly Girl looking out for her brother, him pottering along beside her and occasionally doing his 'happy dance'. They bonded so much on this family holiday!
By lunchtime delicious smells were wafting out of the restaurants along the pedestrianised esplanade and we grabbed a table at Restaurante El Torero.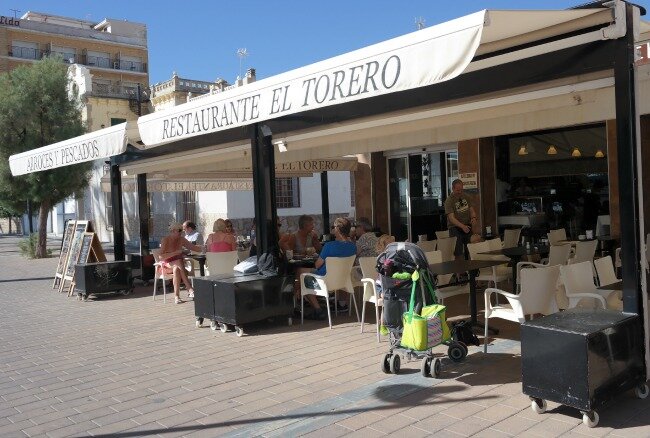 Our friendly waiter brought us the most delicious aioli and bread which Curly Girl tucked into with gusto while we munched on a fresh and crunchy house salad until the amazing paella arrived. A tip here; expect to have to wait 20 minutes of so for good paella. If it arrives at your table immediately it's been reheated rather than cooked freshly for you.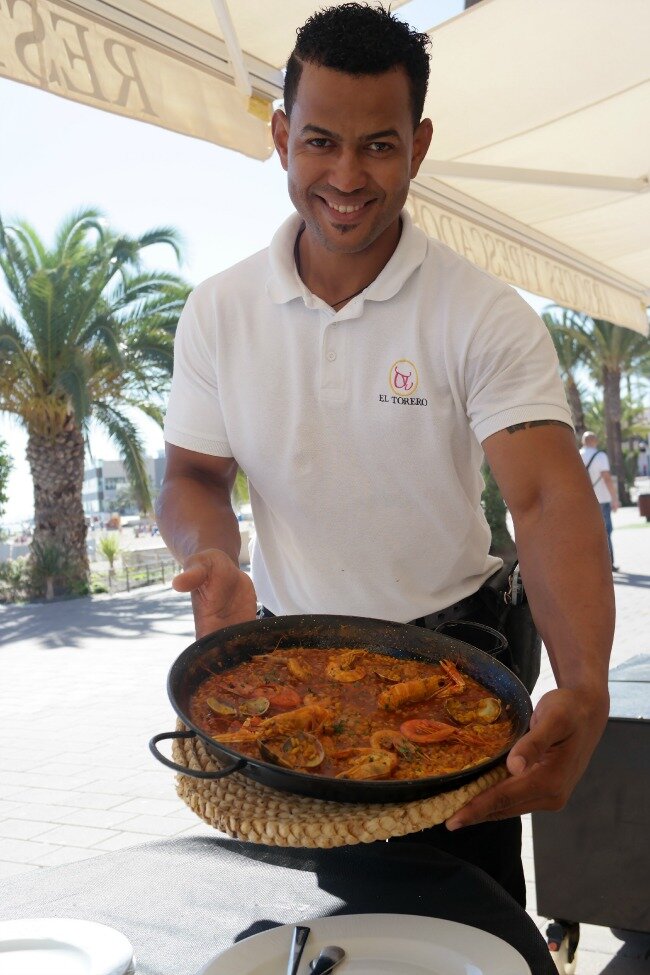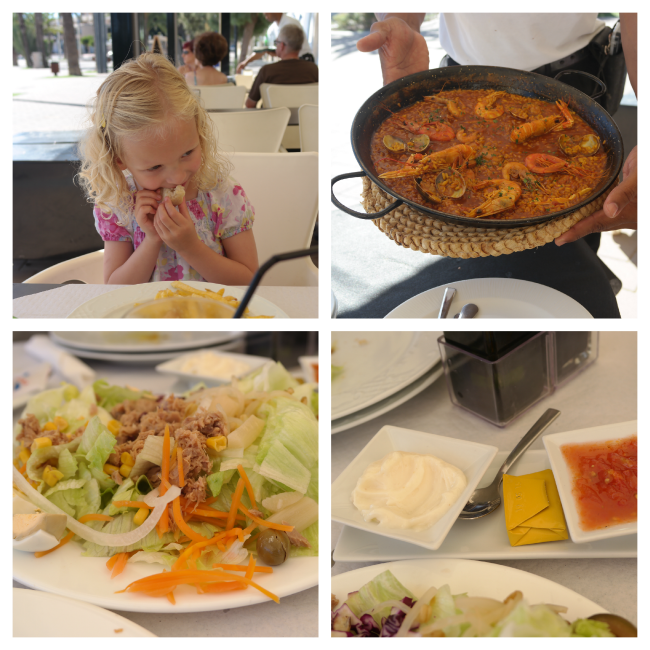 After lunch we walked off the delicious food for a while, enjoying the sunshine and the beautiful views again. I loved this stunning villa – the older architecture sits alongside ultra modern buildings creating an interesting mix of old and new but without too many high rise apartments. Alongside the promenade there are wooden walkways that we lead to raised platforms with steps down to the sea. We learned that some of the platforms have changing rooms and showers and are open to anyone to use. How brilliant is that?
The beach alongside the promenade, Playa de Colon, is 1000m long with soft sand and calm waters, very much like Los Alcazares and perfect for small children.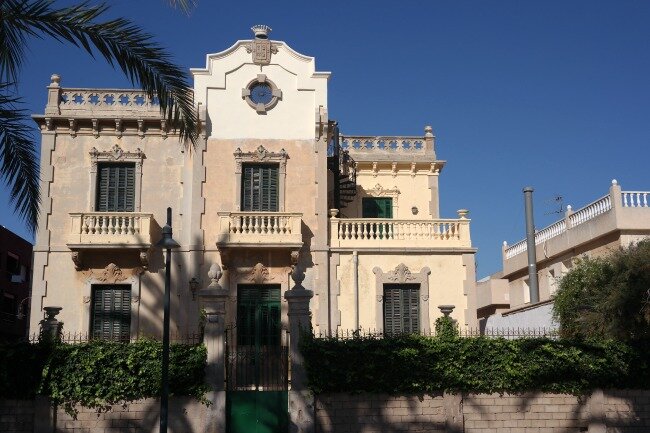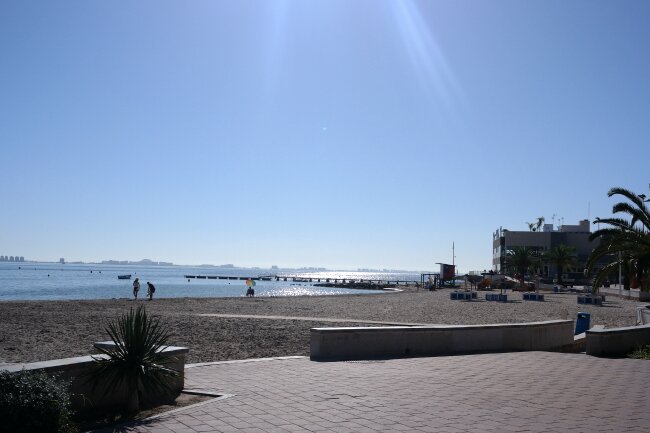 Sometimes the unexpected can be a real delight and we were so glad to have found Santiago de la Ribera – it really is a beautiful town and well worth a visit if you're holidaying in Murcia.
Linking up with Brilliant Blog Posts at Honest Mum