Eton Mess with a twist


I love Eton Mess in all its calorific glory. Crushed meringue and double cream oozing with summer fruits. What could be better?
Well, if you'll indulge me, perhaps this; my twist on Eton Mess with added crunchy chewy bits of vanilla blondie.
I made a batch a while back for a friend's birthday party and had a few left over (plus the harder bits I always seem to get round the edge) so I froze them. When I fancied making making Eton Mess for a family lunch I defrosted the blondies and blitzed them in the food processor until they were small chunks (but not totally crumbs) and added them to the meringue before stirring through the other ingredients.
OMG. Heavenly.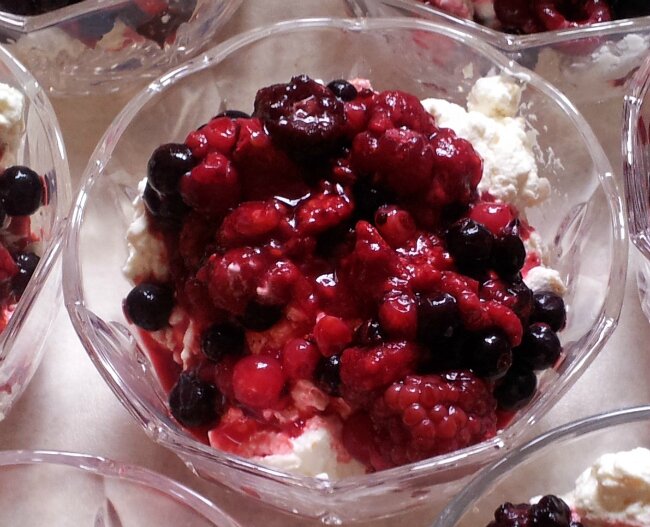 Here's the full recipe if you fancy giving it a go.
You can of course make it with or without the blondies but for a great vanilla blondie recipe I'd recommend Vanessa Kimbell's book ''.
Michelle's Eton Mess with Vanilla Blondies (serves 6-8)

What you'll need:

4 large or 12 mini meringue shells
2 tbsp icing sugar
600ml double cream
500g mixed berry fruits
Vanilla blondies blitzed into small pieces (optional)

Method:

Put the meringues into a plastic bag and bash them with a rolling-pin until they're small chunks. Great for releasing all that pent-up anger (err… just me?) but don't whack them so hard that they turn to dust. The chunks are the best bit.
Whip the double cream with the icing sugar until it forms soft peaks, not too stiff though.
Add the meringue and blondies (if using them) to the double cream and fold together.
Then either add the berry fruits and fold once or twice only or add the fruits to the glasses afterwards as I've done in the photo. Either way you want to see some of the fruit without it being totally hidden by the cream.
Spoon into pretty glasses 

lick out the bowl

and serve to your guests.
Yummmmmmm…..