Can Murad predict the future for my skin?


I've always been lucky with my skin. Apart from the inevitable spotty break outs in my teens I haven't had to worry too much about acne or blotchiness, blackheads or oily spots. I laughed in the face of facials – clearly they weren't for me. Then I hit my 40s and fine lines and wrinkles arrived carrying under-eye bags right along with them. Suddenly I found myself browsing the anti-wrinkle creams and pulling the skin away from my eyes while peering into the mirror. I felt Miss Haversham peering over my shoulder, jeering at me.
So when Murad contacted me about their new Murad Space counter at my favourite department store – John Lewis in Cambridge – and their revolutionary skin assessment that can see the future of your skin I jumped at the chance to whizz up the A14 and experience it for myself. After all, forewarned is forearmed right?
When I arrived (feeling very summery in this mustard yellow blouse gifted from Joules) my skin consultant, the lovely Emma, welcomed me and sat me in front of the Murad 'Youth Cam'. It's a high-tech skin analysis machine that unbelievably looks beneath the surface of your skin to measure five key skin health markers: fine lines and wrinkles, pigmentation, redness, inflammation and skin pores.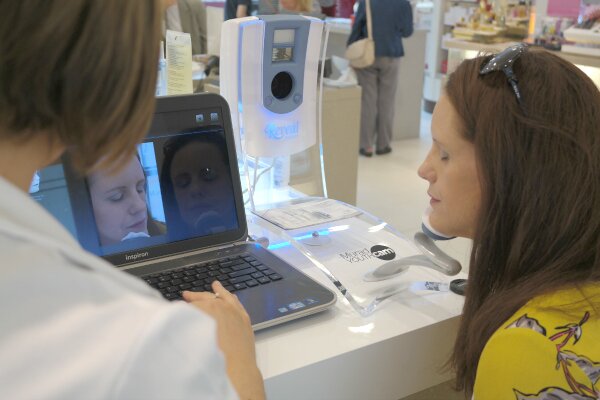 Pop! Went the camera and after a few moments the Youth Cam showed these images of my skin: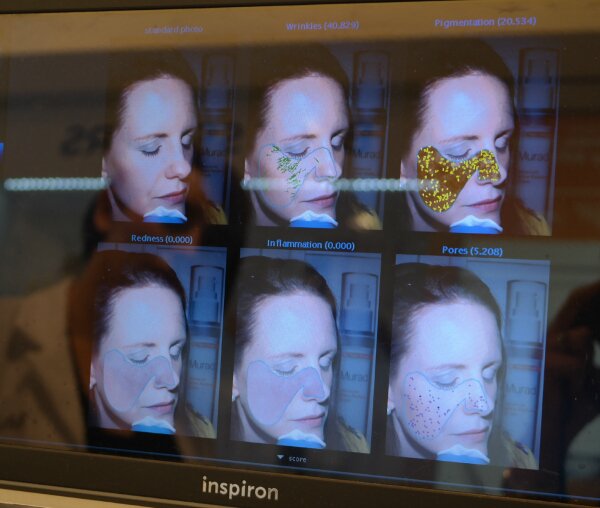 The first shows the normal me but the second shows the fine lines and wrinkles (the green lines) that aren't appearing on the surface of my skin yet – they will over time *gulp*. The third shows pigmentation; essentially skin damage caused by exposure to the sun – and I use an SPF every day people. (Note to self – time for a higher factor one.) This surprised me because I hadn't really noticed the pigmentation until Emma pointed it out. The remaining three show the levels of redness and inflammation and how visible my pores are. Pretty comprehensive.
Then this happened:
"I can also show you what your skin will look like in 5-10 years time." Emma said.
Now, if someone told you they could look into your future and tell you what you'll look like in your 50s what would you say? Would you run away screaming, not wanting to see the older you? Or would you want to peek into the crystal ball and cross your fingers that you'll still have your youthful glow, a la Dorian Gray? Personally, as a defensive pessimist, I like to be prepared. That's me, a blogging Scout (dib, dib, dib).
So here I am, in 5-10 years, if I don't apply a suitable SPF and follow a good skincare regime *faints*: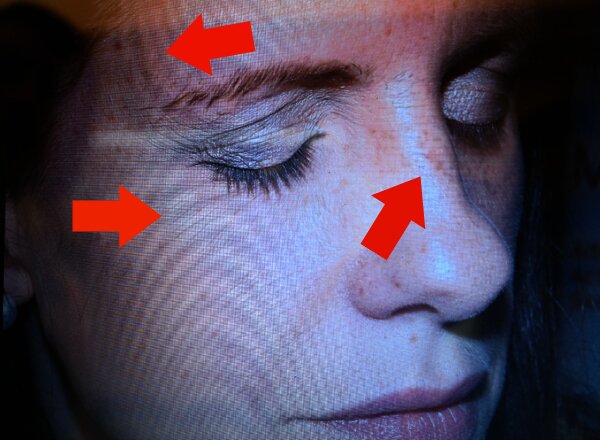 I've added the red arrows to highlight the wrinkles and pigmentation as taking a photo of a computer screen doesn't give the best result. Believe me, the wrinkles were much clearer (unfortunately!).
The end result of the skin assessment was a personal recommendation of the Murad products that will target the areas of my skin that need the most help. It follows a traditional cleanse, treat/repair and hydrate/protect formula and I was advised to use the Rapid Collagen Infusion (£78) to fight my early wrinkles and Perfecting Day Cream (£39); an SPF30 day cream with powerful antioxidants.
To help renew my skin overnight, when it's most receptive to treatment, I should use the Essential-C Daily Renewal Complex (£87) and Night Moisture (£57) creams.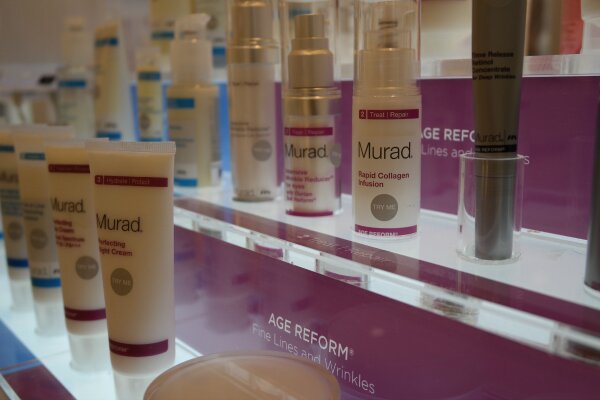 I'll be trying out some of these products over the coming weeks so watch this space for a full review.
After my skin analysis Emma game me a mini-facial using Murad's Essential-C range. Because the Murad Space counter is in an enclosed corner of the beauty area at John Lewis Cambridge, it feels quite private and I had no qualms about lying back and putting my face in Emma's hands, literally. (They also have a separate treatment room.)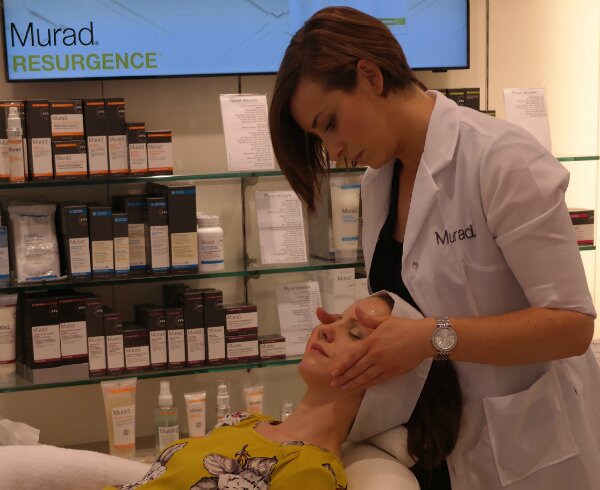 The Essential-C cleanser and toner removed all traces of my make-up and felt clean and fresh without that horrible tightness that toners often give my thirsty, dry skin. Emma then applied an Essential-C Radiance Peel to remove dull, dead cells and encourage new, healthy skin growth. As soon as the thick gel hit my skin I felt the cooling menthol and a slight, but not unpleasant, tingling sensation that she assured me meant it was working. I enjoyed the bliss of relaxing for a few minutes while the peel did it's job before Emma removed it and gently patted on Essential-C day eye cream and day moisturiser which is SPF30 and a light cream suitable for the Summer.
When I looked in the mirror my skin was glowing and fresh and the skin around my eyes felt plump and firm. My first ever facial – but definitely not my last – I'm a convert!
Murad differs from many skincare brands because it doesn't just focus on products that you apply to your skin. Howard Murad MD, the brand's founder and dermatologist to the stars in L.A. believes in what he calls 'Inclusive Health' – an inside-out approach that includes supplements for improved nutrition and even recommendations for emotional well-being. After all, when your stressed, your skin gets stressed too.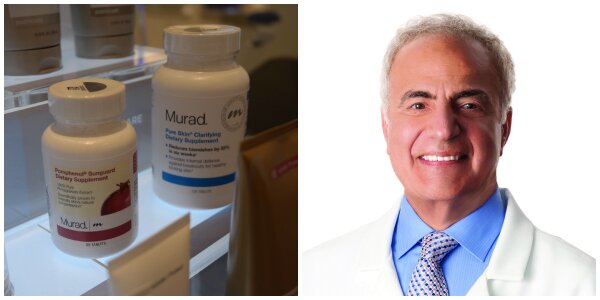 I didn't get a personal mantra to take away with me and recite twice a day but apparently if I hopped on a plane to L.A. that could be part of my prescription! Well looking at Dr Murad – this man is in his 70s, look at that glowing skin – it's clearly working for him. Murad also has a fab blog with lots of useful hints and tips about skin health – what's not to love about a brand that recommends chocolate in your skincare regime!
The Murad range is expensive, as you would expect of a high-end dermatologist range, but if you're in Cambridge this Summer I'd recommend popping by to see if Emma can reveal the secrets of your skin's future. I may not have liked what I saw in my Murad crystal ball but like a time-traveller in my own personal sci-fi movie, now I can start making changes to ensure that my skin's future remains in the future for as long as possible.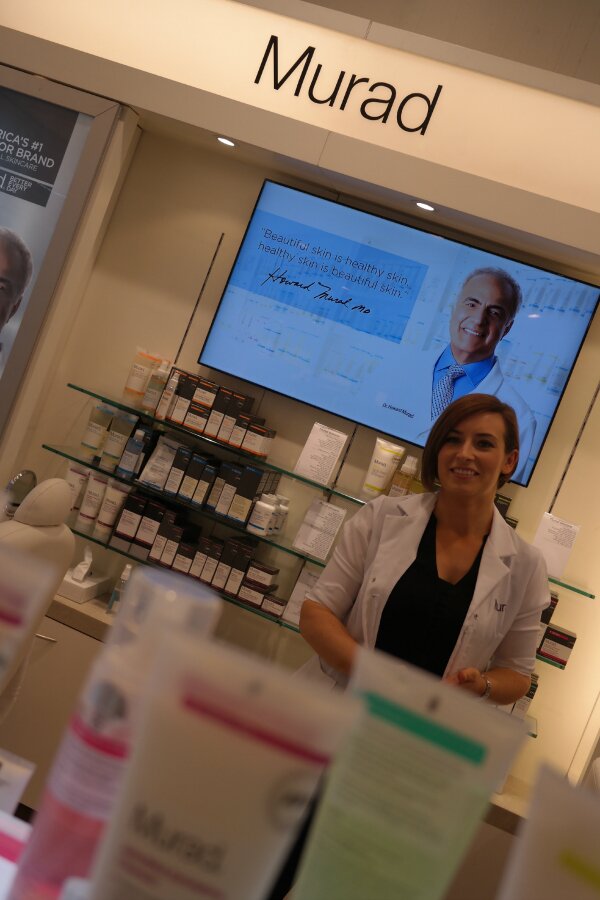 Disclaimer: Murad invited me for a free skin analysis and mini-facial. All opinions, and wrinkles, are my own.
Joining in with #brilliantblogposts over at Honest Mummy , #allaboutyou at Mama and More  and Tried and Tested at Family Fever.