Countdown to running 10 miles: 8 weeks to go


I love running.
I love the headspace it gives me and it keeps me fit. I credit running with helping me, along with Noom, to lose over 20lb since December last year.
This summer I ran/walked my first 10k race (just over 6 miles) since the little people were born. I ran to raise money for The Lullaby Trust and in memory of little Matilda Mae. I loved it, finished in a personal best time and raised £340 – almost £100 over my target! Afterwards I wrote my top tips for preparing for and running your first 10k race.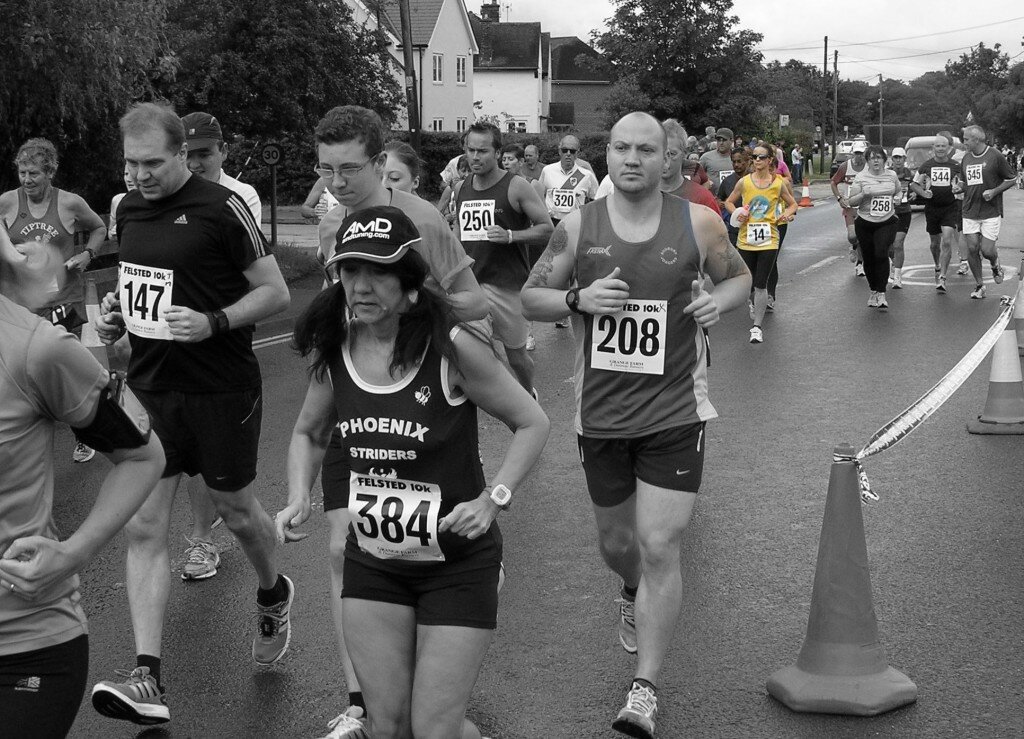 Why not further? I thought.
So I've set myself a new challenge – to run for 10 miles. Well, not exactly run, but run/walk. Hey it still counts!
But still, it's the longest I've ever considered running.
So here I am, preparing to take part in the Stebbing 10 mile race on Remembrance Sunday in November. I thought I'd share my journey with you, my training plans, my gear and my thoughts and feelings about running. I can only run at the weekends when the husband is around to look after the little people so this will be a weekly update. I hope you'll join me on my countdown to 10 miles!
With eight weeks to go I'm currently running about 7.5 miles. I plan to extend my run by 1/2 mile every two weeks so that with one week to go I'll be at 9.5 miles. I hope that the excitement and adrenaline on race day will carry me through the last 1/2 mile that I won't have run before! By increasing my distance little by little I hope to get the miles into my legs steadily without getting injured… or noticing it too much.
Running item of the week – trainers
Each week I'll be sharing my favourite pieces of running kit. These are the things I use week in, week out so they're definitely tried and tested!
This week – my trainers. Arguably the most important bit of running kit, they should cushion not only your feet but help your joints with a soft, springy ride while being supportive and light. I like to think that you shouldn't notice them when you're running (although I do find that after about six miles I sometimes have to loosen my laces as my feet start to swell).
I went to a specialist running shop to get my trainers – Sweat Shop – and with their guidance I chose these: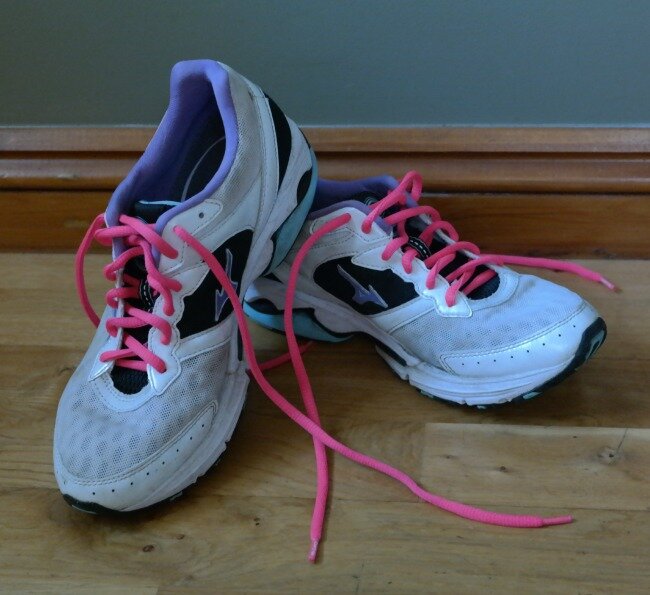 Mizuno Wave Rider 16 (£70) – I'm on my second pair of these and I love them. They're super light and comfortable and as I have a high arch which gets compacted and sore when I'm running, cutting off the blood to my toes, I've also invested in a custom moulded reusable insole which slips inside the shoe and gives me extra support. It's made the world of difference to my running and I'd highly recommend it if you have the same problem.
I've customised my trainers with fluorescent laces to make me more visible when I'm out and about – and yes to co-ordinate with the rest of my running kit. Hey, I still want to look my best even when my face is red and sweaty!
Next week: My running kit
This week's run
This week I extended my training run from 7.5 miles to 8 miles. A 1/2 mile doesn't sound like a lot more, if you say it quickly, and that's what I was hoping my legs would think too!
I'm lucky to be able to run through the beautiful Essex countryside and I'm so grateful for that. Running outside along the lanes lets me watch the seasons come and go and experience weather in all it's forms. Crisp, cool and bright is my favourite, although I quite like running in the rain too, as long as it's not a torrential downpour! I try not to let the weather dictate whether I run or not though, you'll find me out plodding the road regardless. Except for snow, that is. I don't do snow.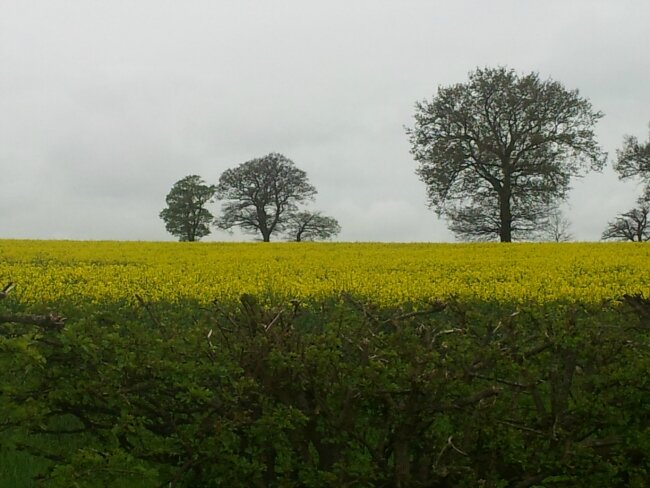 Yesterday the weather was pretty perfect for running. Not too hot, not too cold, completely dry. I set off around noon with my 1 litre water bottle full to the brim, iPod Nano packed with tunes to keep me going and new Garmin running watch to track my distance and time (I'll be writing more about this in the coming weeks).
I plodded for the first mile as I've got a niggle in my left ankle that I'm trying to treat kindly, the second, third and fourth were uneventful and fun. The route I ran has a double loop which is a little boring but the tunes carried me through. Most of it was flat up to this point with one short sharp hill that I had to run twice. A little tip here: I tackle hills by dropping my hands to hip height and pumping my arms – literally pulling myself up the hill.
Miles five to seven are my 'wall'. That's when my muscles start to talk to me, to remind me they're working hard, to suggest that perhaps we take a break? Unfortunately yesterday this coincided with a long, slow hill. You never really notice these 'false-flats' in a car, but you can't fail to when you're running! This one saps my reserves both physically and mentally.
And that's one of the hardest things to overcome when I'm increasing distance – the mental barrier. That little voice that says – 'yeah, you can stop now, you've done enough.' I have to ignore it and keep going, keep putting one foot in front of the other, keep singing, keep planning blog posts, keep doing anything to take my mind off the extra miles and just keep going.
Because mile seven is what I call a 'flying mile' – I literally flew along, full of extra energy and happiness! LOVE it when this happens!
I rounded the bend at the bottom of the last hill, thankfully I ran it downhill as it's super steep, and saw the final straight stretch and a red letterbox. My end point. I checked the Garmin I realised that I needed a little extra distance to hit eight miles, so I ran half the distance and then doubled back before flying along to the finish.
8.1 miles. Done.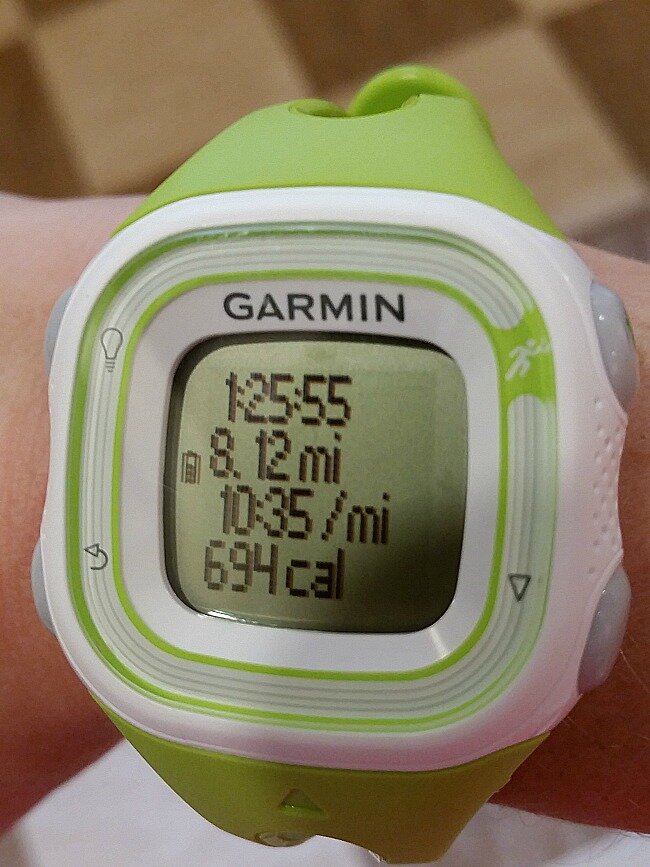 Linking up at All About You at Mama and More, Wellbeing Wednesday at Autism Mumma, The Mad Mid Week Blog Hop at Super Busy Mum and Share with me at Lets Talk Mommy.