Can the Co-Schedule editorial calendar help me blog better?
You know me, I love being organised. From planners and lists to productivity software I love it all. It's part of my genes because I inherited this trait from the Queen of list-makers – my Mother.
I've used a simple excel spreadsheet to plan out my blog posts and social media messages for both this blog and my clients.  It's been a useful way to see what I've got coming up.
Has it stopped me being spontaneous and posting whatever pops into my head? Nope. I still do that. But when it suits me I can view and manage the balance of my posts.
Of course, I still need to go back to WordPress, Twitter, Facebook, Pinterest, Google+ and Linked in to schedule all these posts. Blogging takes time y'all! And this combination of activities takes time away from what I really want to be doing which is writing and sharing – and spending time with my family!
I was keen to see if there was another way. A blog organisation tool that didn't take up all my time. That let me be productive without overtaking my very-limited-with-two-small-kids writing time.
So I've been trialling Co-Schedule for a while to see if it helps me manage my blogging life more productively. Co-Schedule is essentially a drag-n-drop calendar that puts blog posts and social media messages on the same schedule. (Here's about it to give you an overview.)
And I really think it has started to save me time. Why? Because I don't need to leave the Co-Schedule app to plan or schedule any posts. Or social media messages. It's all right there within the application.
Here's 5 things I love about Co-Schedule:
#1 I love the calendar view – we've been using calendars for eons right? Co-Schedule sensibly decided not to reinvent the wheel and uses a simple calendar format to display all my blog posts and social media messages past, present and future. I can see at a glance what's coming up and what's gone out.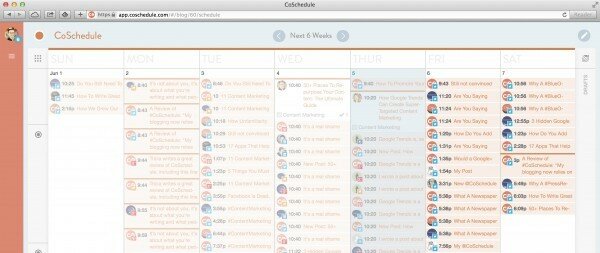 #2 I love that it helps me share my blog posts – I can write a blog post, plan when it's going to go live and schedule a Twitter, Facebook, Google+, Pinterest and/or LinkedIn update to go out right along with it. Or one day later. Or three days later. Or, in fact, any time later. I can promote the post across all my social media accounts right from within Co-Schedule. And because it's drag-n-drop I can drag a post from one date to another and the social media messages move right with it – not just in the calendar but for real. Why is this useful? Because it allows me to create a series of messages that promote my posts on a rolling schedule – and then get on with my life. It also adds a Bit.ly link to my posts so I can track each message (you do have to take your own shares out of this number), after all you can't manage what you can't measure.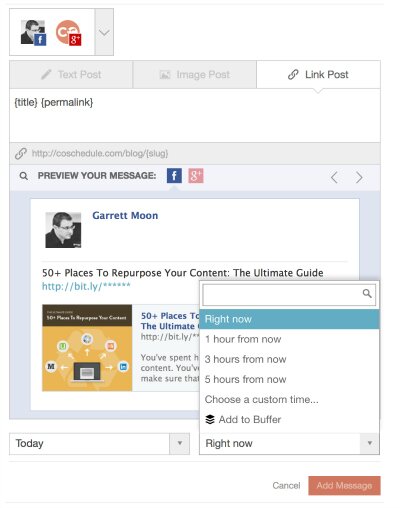 #3 I love that I can use it to send 'stand-alone' social media messages – I work with some lovely clients and I can use CoSchedule to plan their social media messages in advance too – just like HootSuite and Tweetdeck. All the messages appear on my calendar so I can see what's going out when at a glance and track them using the Bit.ly links.  (See what I mean about streamlining?)
#4 I love the integration with WordPress – when you set up Co-Schedule you link up your blog and all your posts magically appear in the calendar. This is awesome on it's own but because I've also installed the Co-schedule WordPress plug-in I can access the app right from my WordPress account. Everything is on one tab in my browser and it's seamless.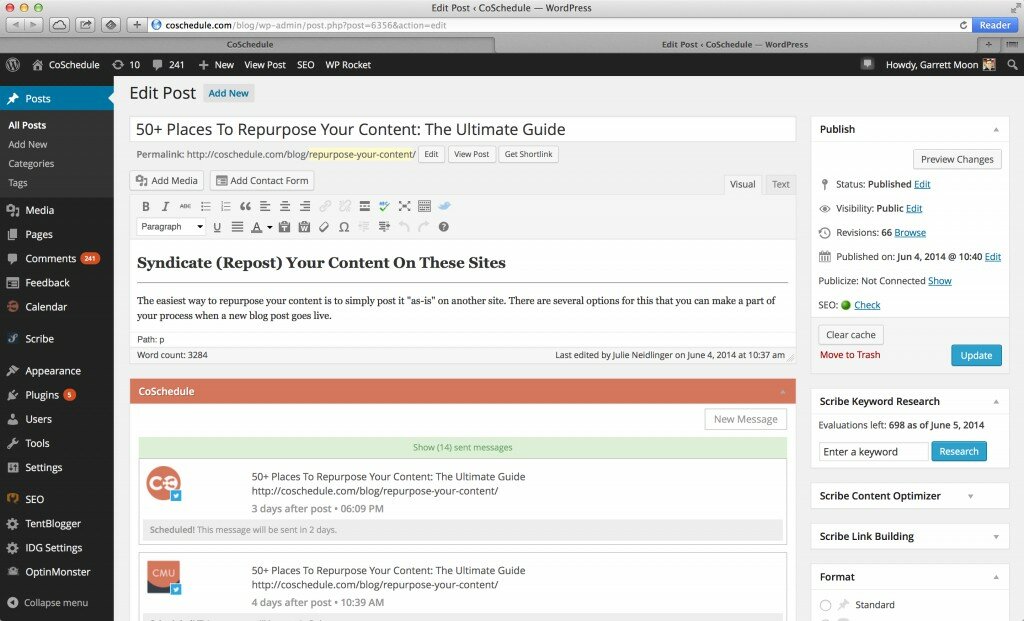 #5 I love that their Customer Service ROCKS – unfortunately a lot of online companies can be faceless when it comes to Customer Service but the smart ones harness the power of the internet to integrate customer service within their application and make sure it echos their brand. Co-Schedule does this well – I've sent three or four messages now with ideas for improvement (and one bug fix) and I've had a reply back each time by email from a real person within 48 hours. Not automated, not an avatar. A. Real. Person. (And they're super nice too.)
Nothing in life is perfect of course and there are some areas that could be improved. Like being able to colour-code blog posts and social media messages by project/topic and client and better integration with Twitter, Facebook and the like so you can pick people from your followers list and add them to a message without leaving the Co-Schedule site to check you've got their username right. (Yep, I've made these suggestions).
But overall I'm a new fan of Co-Schedule. At first it was a fun and useful tool but it's quickly becoming just the way that I manage my blog. And, in my book, that's the sign of a great app.
Do you use an editorial calendar for your blog? Do you find it useful or does it take time away from the real business of writing and sharing?
P.S. I just wanted to let you know that the links to Co-Schedule in this post are affiliate links. 
Linking up with Tried and and Tested over at Family Fever.