Capturing magic moments from my leaky bucket
­
"Mummy, when did your Nana die?"
When my eldest asked me that question over the half term break I was stopped in my tracks. When did her Great Grandmother die exactly and how old was she? I realised that I didn't actually know for sure. But I DID know, at one time.
When do these important details leak out of our minds? I sometimes think my brain is like a bucket with holes in the bottom and thoughts, facts and figures constantly pouring in the top.
Doing too much, not being present, everything leaking out.
Then that night when I went to bed, early after the dreaded lurgy that's been circling our family members finally took up residence with me, I was drawn to my old notebooks, sitting on the shelf in the corner of our bedroom.
These Moleskines, filled with sketches, notes, cuttings, thoughts and feelings, reminded me that it's only through writing these magic memories down that I really capture them. Not just the dates, the numbers, but the moments shared, the laughter, the tears, the joy, the pain, the fear and even the loathing.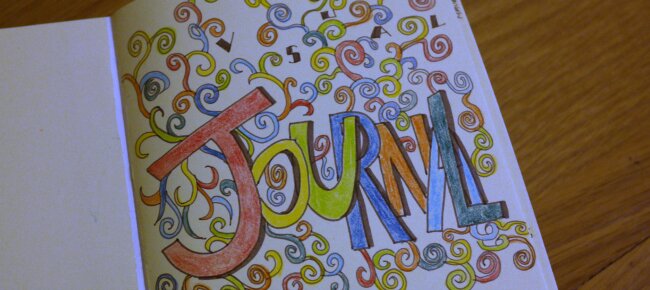 I spent some time flicking through those notebooks, reliving moments in my life that had dripped away without me realising. Moments like the sketch I made in Tuscany on our James Villas holiday in 2008 before the children came along…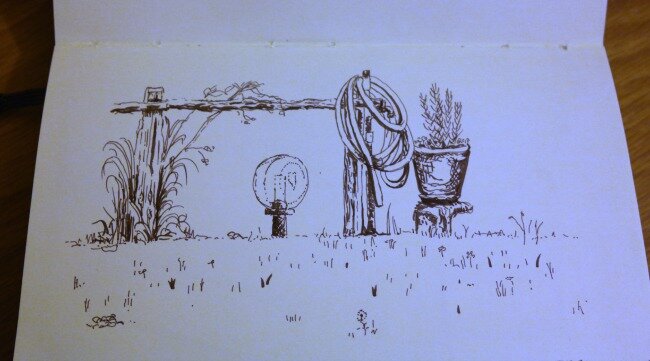 … like the caricature of me done in my PR days by the famous Jed Pascoe which I copied in my notebook to remind me of those debauched but oh-so-fun days…
… like the cartoon of me pinching together the skin on my stomach just before my second at-home hormone injection, my special needle pen safely in the fridge with disposible needles and alcohol wipes as we continued our infertility journey in Shanghai, China…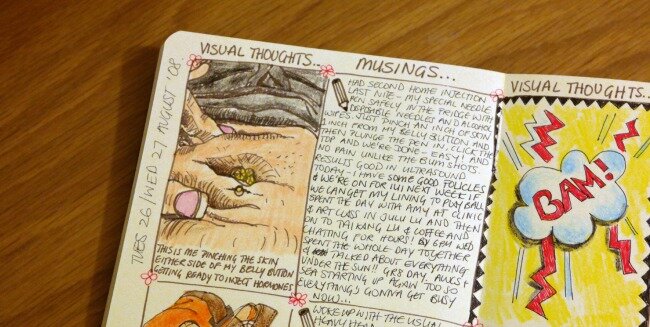 … like the photograph of two boats at the Tongli Water Town, three hours drive from Shanghai, where my expat girlfriends and I spent time together wandering the narrow streets and marveling at local life in the sunshine…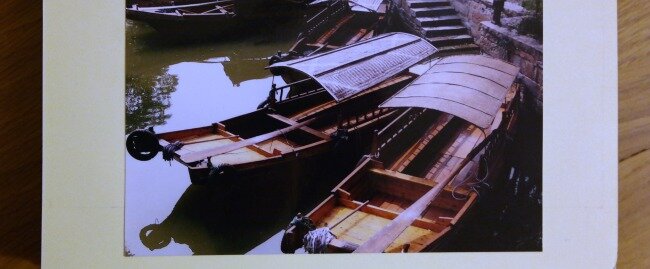 … like the line drawing of the view from one of the bedrooms in our China apartment where I worked as a freelance writer, bashing out articles for expat magazines…
… like this postcard of Yoko Ono from her 'Fly Exhibtion' where my friend Amy and I took a tour of her work before making wishes and hanging them to a tree that was then sent to Ireland and buried under the John Lennon 'light'.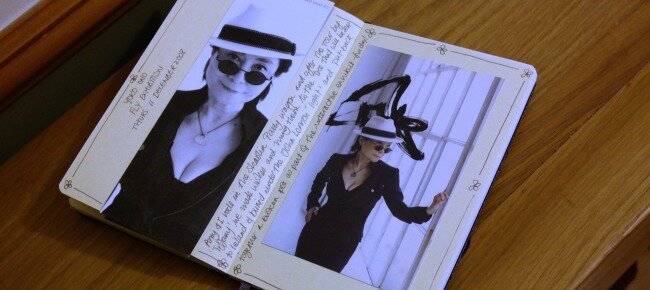 All these memories, all these moments in time. If I hadn't captured them would I have remembered them? Or is the very act of capturing them enough for my brain to release them to make space for the day-to-day?
Reliving them again brought me so much joy!
So I asked my own Mother, when did Nana die? And she told me. It was 2008 and she was 95. Sadly she never got to meet her granddaughter.
I don't want to forget these important things. I want to pass them on to my children, I want the memories and the legacy to continue. And so I will continue to journal, sketch and scrapbook when I can, as well as blogging, and I will pick up my pen and capture those magic moments that might seem trivial at the time.
Because as well as realising how good things really are in our lives right now, sometimes joy comes from appreciating the amazing moments we've had in our past and how far that journey has carried us.
How do you capture the precious memories in your life? Do you sketch, scrapbook, journal, blog – or all three?
---
Linking up with All About You at Mama and More, Share with Me at Let's Talk Mommy, Brilliant Blog Posts at Honest Mum, PoCoLo at Verily Victoria Vocalises, Welcome to the Weekend at Claire Justine