Beauty on the road with a Big Green Smile
Day one of our road trip with James Villa Holidays to Mar Menor in Southern Spain saw us setting off on Sunday morning at 4.30am with two very sleepy children – one of which was quite upset at being dragged out of bed so early in the morning. I couldn't really blame her – it was still pitch black and felt like the middle of the night for all of us! But with two days on the road we wanted to get an early start.
Unfortunately we were back home at 4.35am after I realised I'd forgotten to pack enough nappies in our overnight bag for day two. Opps.
The early channel tunnel train meant we were in France by 8.30am and on our way via Rouen, Chartres and Orleans for our overnight stay in Toulouse. Food on the way was a picnic at one of the lovely French Aires – so much nicer than rest areas in the UK with a small wooded area, picnic tables and self cleaning toilets. Between Little Man only having one 20 min nap (instead of his usual 2-3 hours) and Curly Girl not feeling very well I was kept busy for the whole journey dishing out toys and replacing dvds. I did manage to capture the one moment they were both asleep at the same time though!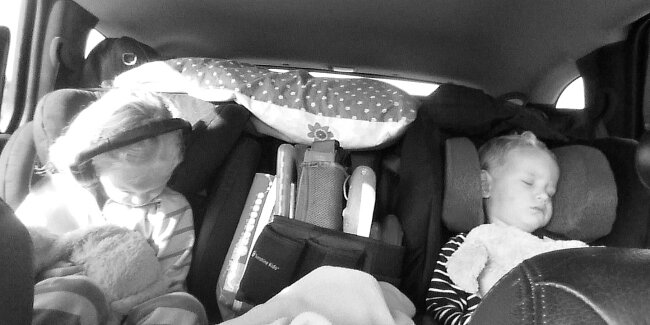 Travel tips from our road trip:
Pack enough nappies for each day on the road – then add a few extra.
Take a spare set of clothes for each child in a plastic bag in case of accidents (the plastic bag can be used to store any dirty clothes).
Bring a big plastic bowl in the car, just in case.
Have a small mirror with you so you can check on the child sitting behind you without craning your neck.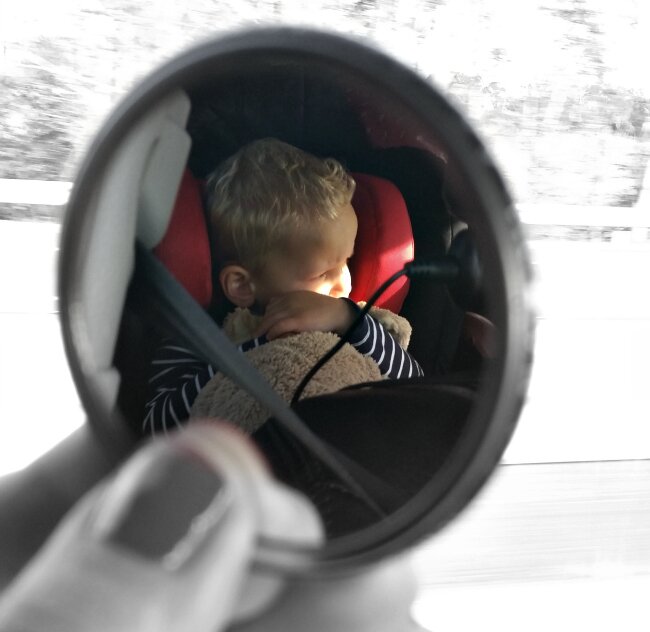 Pack copious snacks and favourite toys or DVDs if you have an in-car player
Dry Like Me liners are useful for older children in case there isn't an Aire for a few km's as is a travel potty. (We use this one.)
Rubbish bags for car – reusing supermarket bags is a good cheap solution.
Take wet wipes and hand cleaner for cleaning hands and loo roll for toilet stops as there often isn't any at the aires.
Remember that it's illegal to have speed cameras listed in your sat nav in France so make sure you delete them before you leave. The French Police are really hot on speeding and we saw them using mobile radar guns along all the autoroutes we used.
We ended day one of our two day road-trip with an overnight stay at the Ibis Styles hotel in Toulouse. A quick bite to eat in another hotel a mile or so down the road meant we were back in our room at 9pm. We needed to be on the road again at 7am the next morning which with time for breakfasting would take around two hours so a 5am start meant straight to bed.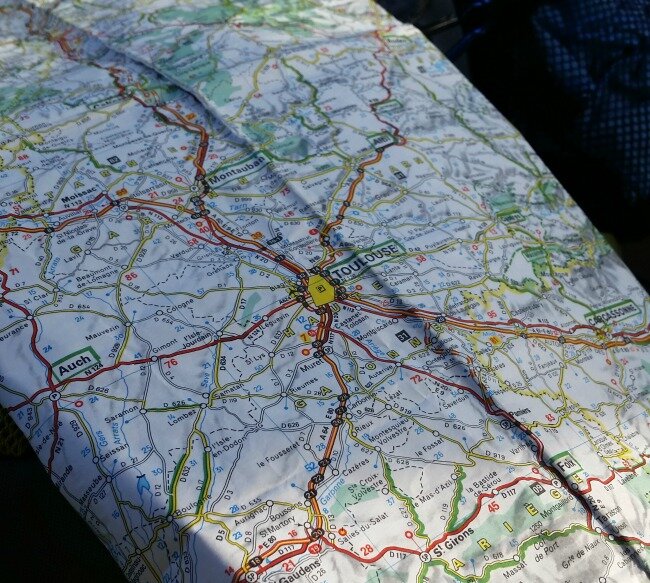 I parked Little Man in his travel cot so I could try out the Dr Hauschka Daily Face Care Kit (£17.95) that award winning website BigGreenSmile kindly sent me to review on our trip. Being on the road doesn't have to mean sacrificing my beauty routine!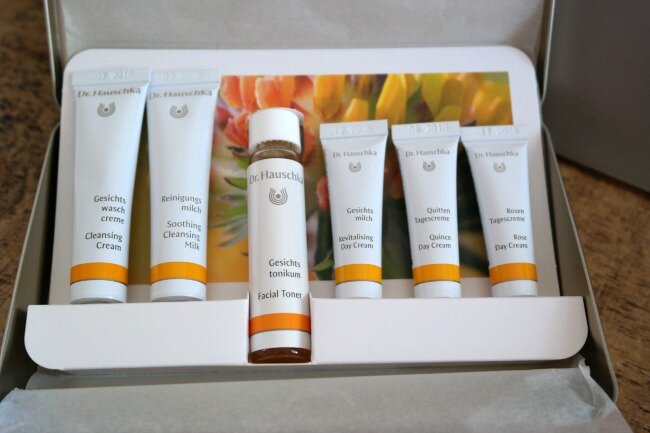 The smart and compact brushed metal tin contained everything I needed to cleanse, tone and moisturise my skin and slipped easily into my overnight bag. Just as well considering that once I'd gotten all the kids things in I had about six inches square for myself. (You can relate right?)
For this leg of the trip I used the Soothing Cleansing Milk to remove my make-up, following the instructions in the accompanying leaflet to splash my face first and apply the cream before gently wiping it off with a cotton pad. It did quite a good job of removing my Bare Minerals foundation but struggled a little with the eye liner. Thankfully Facial Toner is included in the kit too which removed the last traces of make-up and left my skin feeling fresh and clean. When it came to moisturising I had a choice of three creams – Rose Day Cream, Quince Day Cream and Revitalising Day Cream. I chose the rose as its one of my favourite fragrances – I'll try one of the others on the return journey next week. The instructions promised it would nourish and protect dry and sensitive skin with extracts of rose petals, Shea butter and avocado oil and it didn't disappoint, smoothing on easily with a richness that immediately comforted my travel weary skin. It's billed as a day cream but I would certainly use it at night too.

The vials and tubes in the kit are trial sizes but you need to use surprisingly little so it will definitely be enough for me to use on our return trip home.
We were also sent a tube of Jason Sunbrellas Kids Sun Block  SPF45 (£11.99) which is tear-free and water resistant with the full spectrum protection necessary for little people. It's a natural mineral sunblock infused with natural Chamomile and Calendula extracts to gently pamper sensitive skin and it smells divine! I can't wait to use it on our little ones.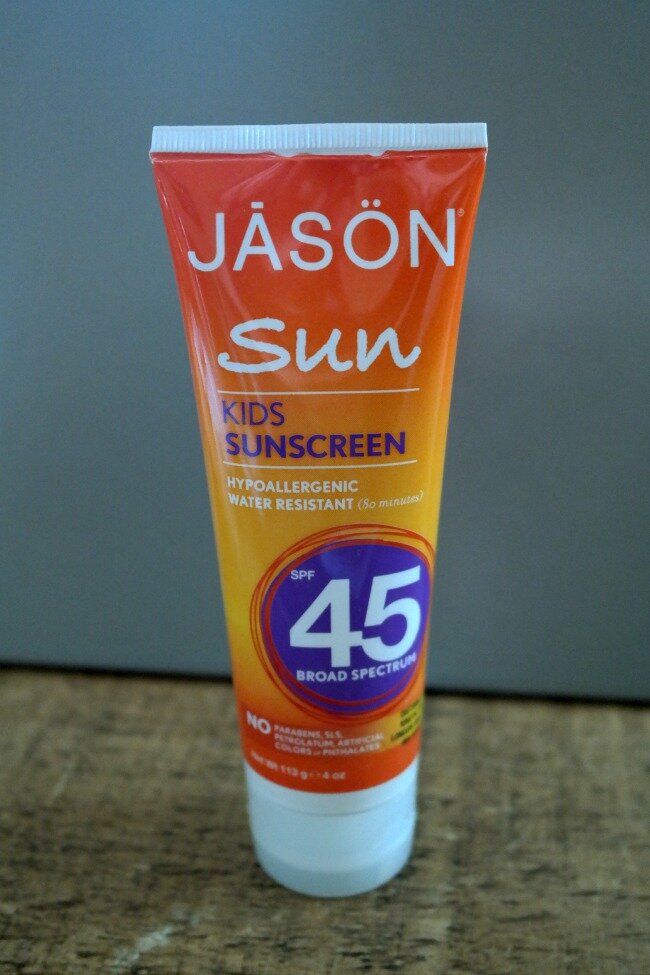 From make-up and beauty products to natural cleaners and baby food, BigGreenSmile is one of the biggest online retailers of natural and organic products in the UK. Selling more than 4,500 products, BigGreenSmile wants to make it easy for customers to get their hands on the best and widest choice of organic, natural and environmentally friendly products.
I was impressed with the wide range of beauty products they have including the Dr Hauschka range, speedy delivery and no quibble return policy. I also love the story behind the start of the company and their ethos…
"We walk, cycle and boat to work (whenever possible). We recycle everything we can (there's no recycling at our offices so we take it home). We're proud to run a paperless office. We only buy Fairtrade coffee and tea. We support local businesses in Amersham, shop organic and fresh … We use recycled loo rolls, natural cleaners and soaps. We keep the heating turned down …"
…and I respect that their goal is for every BigGreenSmile interaction to be about quality, value, honesty and transparency – all served with a big green smile. Brilliant!
Disclaimer: BigGreenSmile kindly gifted me the Dr Hanushka travel set and Jason Sunbrellas Kids Sun Block to review on our road-trip but all opinions are my own. We're travelling to Murcia in Spain with James Villa Holidays to stay in one of their villas at the Mar Menor Luxury Golf Resort. Full review coming soon!
Linking up with The List at Mums Days