China in a mouthful: easy special fried rice
Last week I wrote a guest post over at Circus Mums about the things I missed most from home when we lived in China. (You knew we lived in China for four years right?) But while it was a difficult time for us in a lot of ways due to Curly Girl's traumatic birth, there are lots of things I miss about our expat life. And one of them is the delicious food.
So this weekend we decided to ring the changes from our usual roast dinner and recreate a bit of China at home with Gok Wan's delicious Char Siu Pork and stir fried green beans from his fab tv series and . (Chef crush!!)  I made my quick and easy special fried rice to go with it.

Why is it so easy? Because I cheat. I use the leftovers of my daughter's favourite spinach omelette and microwaved rice. Ok, it's not traditional, but it's simple and delicious. (And if there happens to be any chorizo in the omelette I just pretend that it's Chinese sausage – Lap Cheong – one of my favourite things on the planet!) You can of course make it with ordinary rice but I recommend wholegrain because it's healthier and has a lovely nutty taste.
Want a fast supper dish? Add prawns or diced chicken, beef or pork to the basic rice recipe for a main meal in minutes.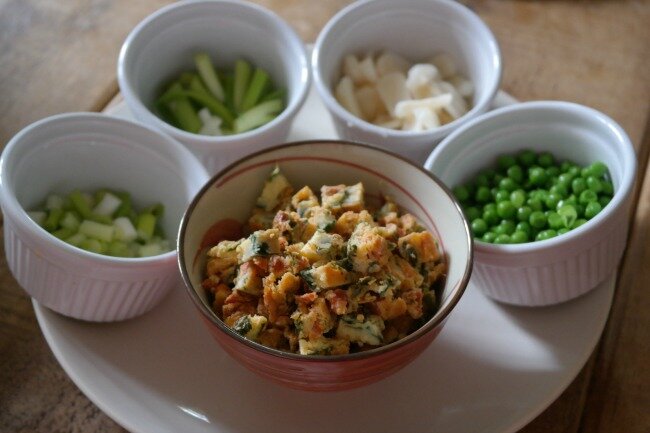 Michelle's Special Fried Rice

What you need (4 big servings):

500g wholegrain microwave rice (2 packets)
Half an omelette (or 2 eggs if you don't have any leftovers)
2 spring onions
handful of canned water chestnuts
2 tbsp groundnut or rape seed oil
small bowl frozen peas
1/2 tsp Chinese 5 spice
2-4 tsp Light soy sauce
White pepper to taste (or black if you prefer)

Method:

The day before you want to make this dish (or at least a few hours before) microwave the rice according to the instructions. Spread it over a baking tray and leave it to cool and dry out in the fridge. (This is so that it will fry rather than steam and become mushy.)
Prepare all your ingredients: chop the omelette (if using) into bite size pieces and slice the spring onion, removing the stalk and outside layer. Slice the water chestnuts and cook the peas. (If you're not using leftover omelette you can quickly scramble 2 eggs at this point and leave to cool a little while you cook the rice.)
Add the oil to a wok preheated to a medium heat and then add the rice, spring onions and Chinese 5 spice. Stir fry for a few minutes until the rice is warmed through before adding the omelette/scrambled eggs and peas.
Add 2 tsp of light soy sauce and taste, adding more if necessary. Finally add white pepper and serve in a large bowl. (You shouldn't need any additional salt as the soy sauce is salty enough.) You can also serve this in lettuce cups made from the leaves of a baby gem lettuce for some added crunch.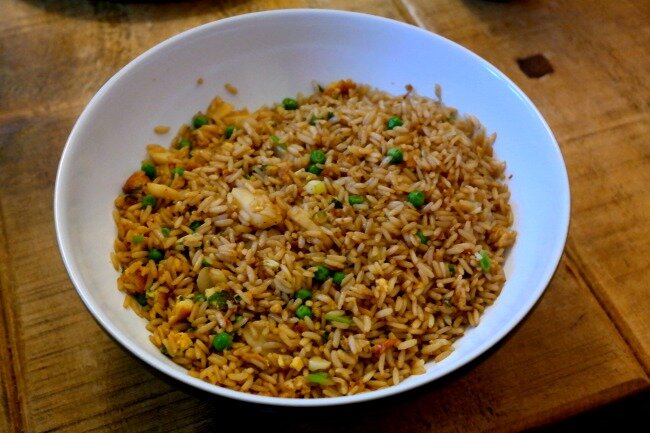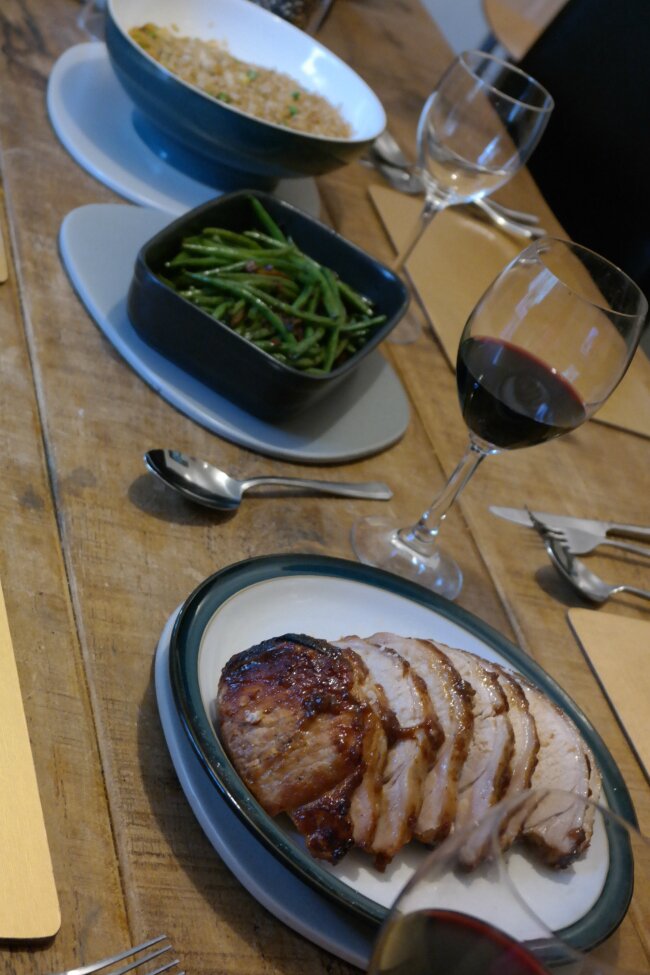 Linking up with Share With Me over at Let's Talk Mommy, Welcome to the Weekend at ClaireJustin, Recipe of the Week at A Mummy Too and Foodie Friday at Romanian Mum