Making time for pouring
­
If you're a regular reader here you'll know that this year I'm working towards reducing my negativity, looking for the fun and beauty in the smallest, everyday things and celebrating the treasured moments that can so easily pass us by in the flurry and mayhem of family life. I call it my Journey to Joy and you can read more about it here, here and here.
Last week the Little Man announced that he wanted to do 'pouring'. I was in the middle of three or four different things as usual, bustling about the kitchen and preparing for our house move in a couple of week's time, and I almost said no. I almost said that we'd do it later, another time, when it was more convenient for me.
But then I stopped.
His little face was so full of expectation, of excitement, of anticipation.
And so I put aside my tasks, dug out a stool and a couple of plastic jugs in different sizes and he clambered up to the sink.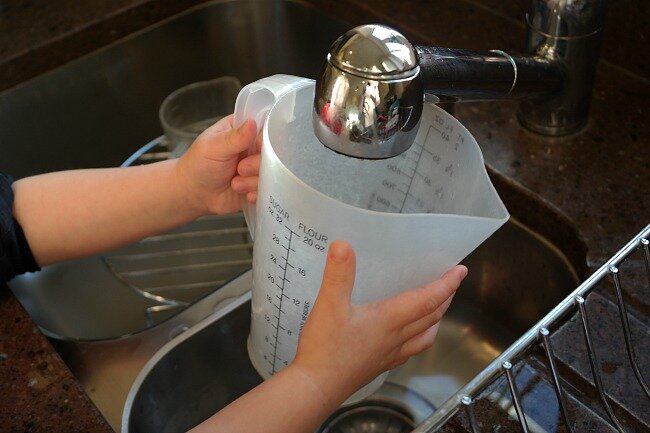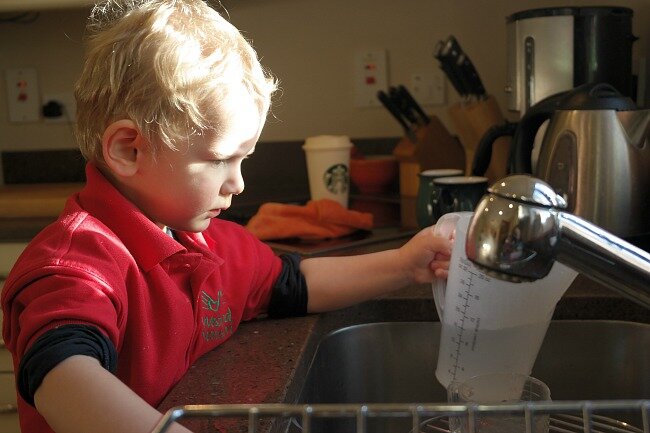 I stood back while he played, noticing how strong he's become, able to hold a large plastic jug half full of water, and his concentration as he poured from one to another, steadying the smaller jug with his other hand.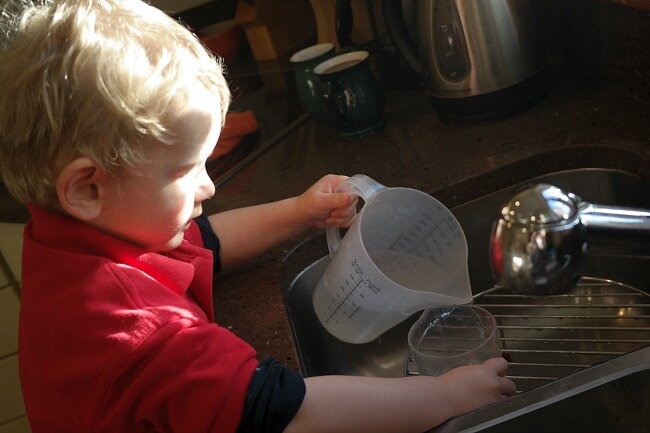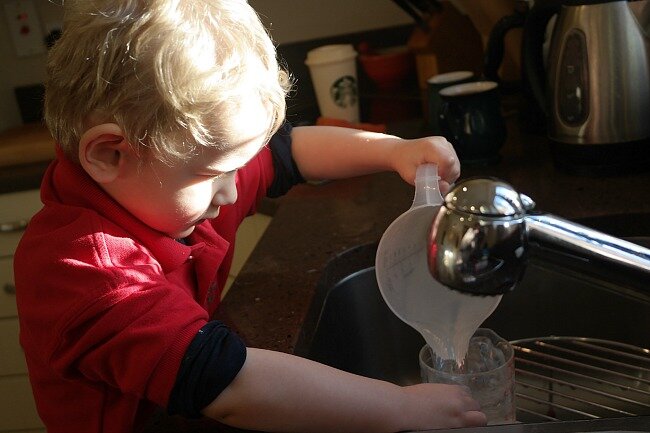 After a while he decided that two jugs was not enough so he clambered down and took himself to a cupboard, pulling out a glass jug and a larger plastic one. I almost reached out and took the glass one away from him, worried it would drop and break. But again I stopped. Instead I asked him about the jugs, which was glass and which was plastic, which was heavier and which was lighter and watched as he studied them, turning each one this way and that.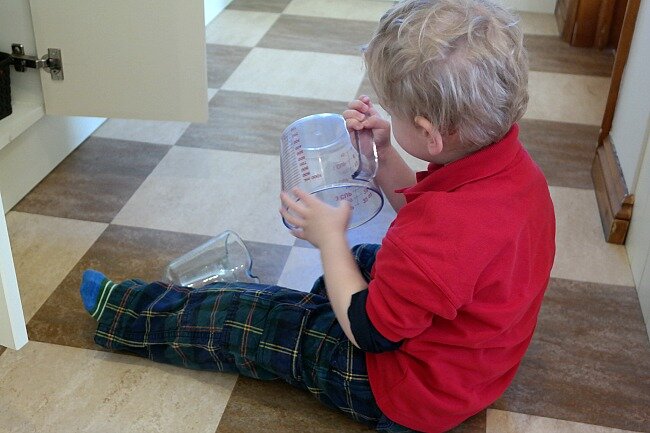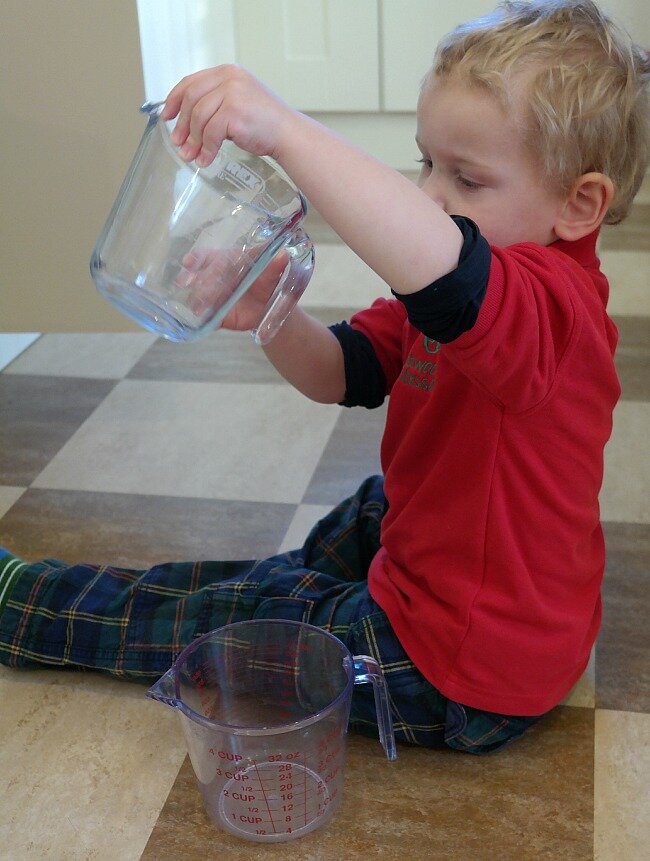 And he chose the larger and lighter plastic jug all by himself. With a lemon squeezer for variety!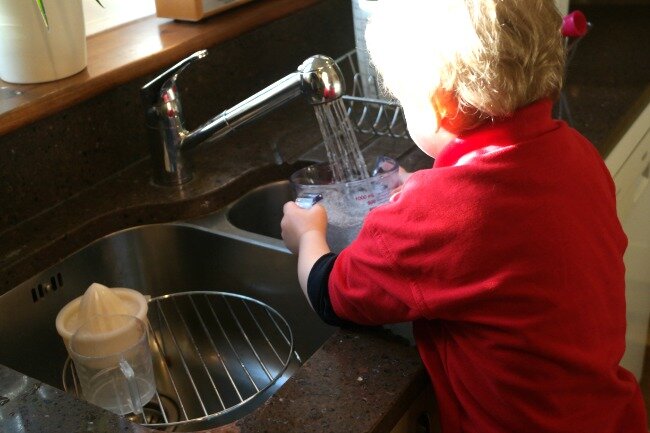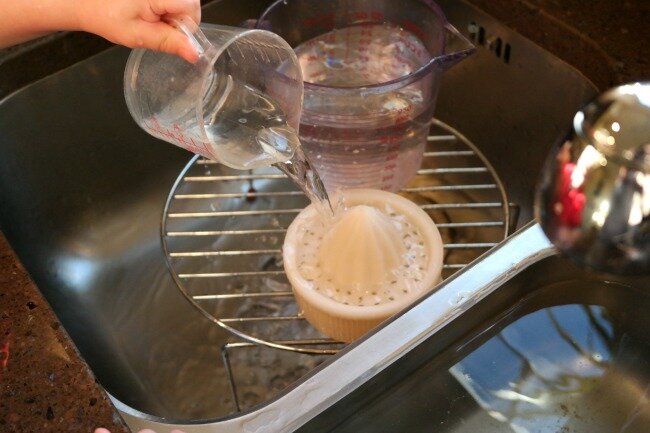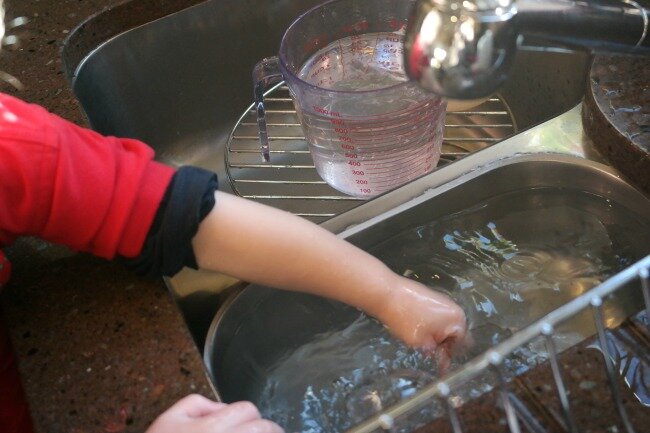 Watching our growing-up boy I remembered the joy I had as a child, pouring water into a plastic washing up bowl (my Mother says I  used to measure out cups of water for my toys and drink it all myself, saying 'decios'!) And I remembered that his sister had stood in exactly the same place as he was, pouring water into these exact jugs. History repeating itself, through the generations. The simplest of activities, bringing us all such joy.
If we just stop and make the time.
Three tips for water play:
#1 Preparation is everything. Pull together everything you need in advance so you're not scrabbling around for a towel when the inevitable happens and water spills on the floor. We use a large beach towel spread out on the floor underneath the sink and I have a few extra tea towels on hand too for good measure.
#2 Jazz it up. You can take basic water play another step further by adding in colour mixing with basic food colouring. Add a couple of drops to each jug of water.
#3 Stand back! If you're anything like me the temptation is to dive in and help when things get tricky! But standing back and letting our Little Man figure things out for himself is so much more rewarding for him and it's teaches him problem solving techniques.
Have you written about a moment that made you laugh out loud, opened your heart, raised your spirits or just made you smile? I'd love you to link it up at my Share the Joy linky. All genres are welcome, new posts or old favourites and as many links as you like. 
---
Linking up with Share With Me at Let's Talk Mommy, Brilliant Blog Posts at Honest Mum, The List at Mums Days, Count Your Lucky Stars at Potty Mouthed Mummy