Going Baking Mad with chocolate brownie Santa hats
­
Christmas is a great time to get baking and I love nothing better than switching the radio to all-day seasonal songs and getting messy in the kitchen!
The Baking Mad team were kind enough to send me a hamper of goodies to get my bake on and I had a lovely time clicking through the fab selection of recipes on their website to find something to take along to a party that we were going to on Saturday night.
What I love about BakingMad.com is that all the recipes are laid out clearly and simply with hints and tips for each stage. You can also enter 'bake mode' so that each step is on a separate screen that you just swipe through as you're baking – genius!
There are so many yummy things to make (including this recipe for a traditional Christmas cake) but as time was a bit short I decided to use this easy and delicious chocolate brownie recipe to make these cute chocolate brownie Santa hats that I original saw over at I Heart Nap Time.
So effective and Christmassy!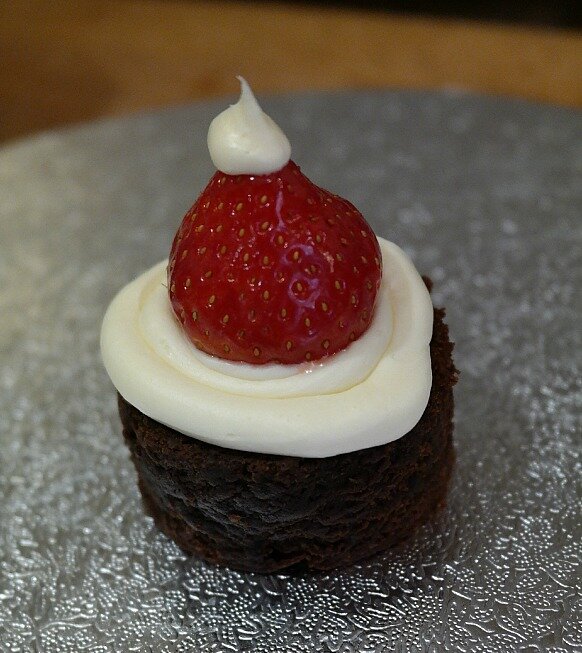 Chocolate brownie and strawberry Santa hats
INGREDIENTS
150g 

Butter (unsalted)

250g 

Dark chocolate

175g Unrefined light muscovado sugar ( I used Billington's)
3 

Egg(s) (free range) large

75g 

Plain white flour (I used Allinson's)

75g 

Almonds (ground)

Strawberries
Vanilla icing (I used a ready made one as I ran out of time but you could easily use the butter cream from this recipe)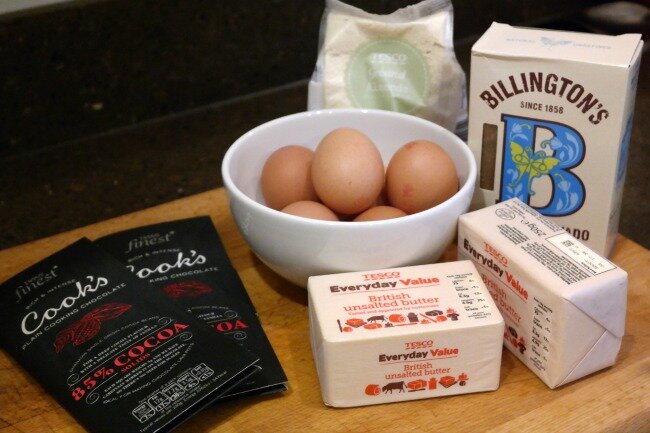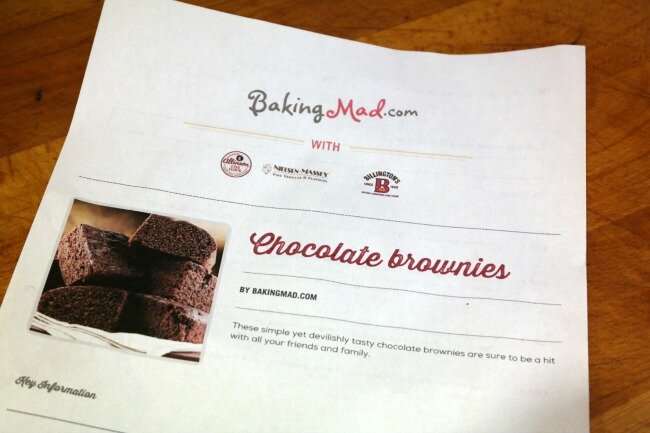 METHOD
Step 1: Preheat the oven to 170°C (150°C fan, gas mark 3) and grease and line a square 20cm cake tin.
Step 2: Place all of the chocolate into a bowl with the butter. Set the bowl over a pan of gently simmering water. Make sure the water does not touch the bottom of the bowl. Heat, stirring gently until melted. Remove the bowl from the pan and cool slightly. You can also do this in the microwave if time is short.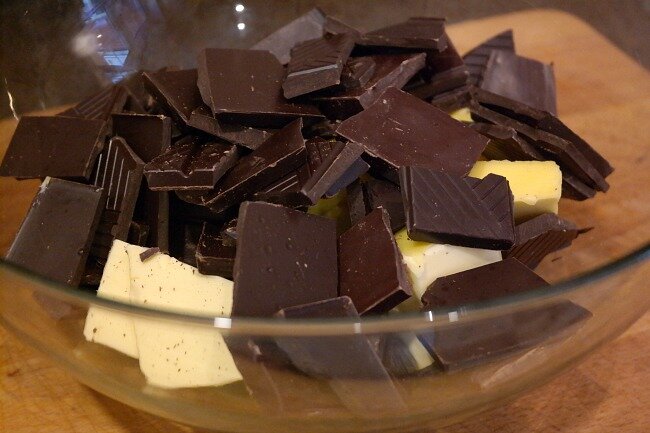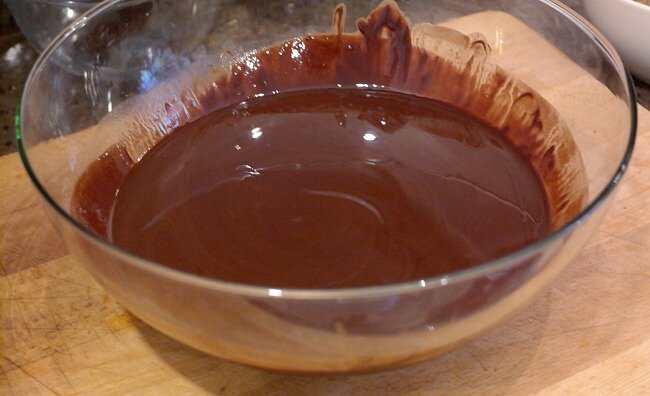 Step 3: Beat the sugar into the chocolate mixture using an electric mixer. Add the eggs one at a time until all combined. Sift in the flour and beat until the mixture is smooth. Add the almonds and mix well. I added some milk chocolate chunks at this point to add an extra gooiness to the finished brownies!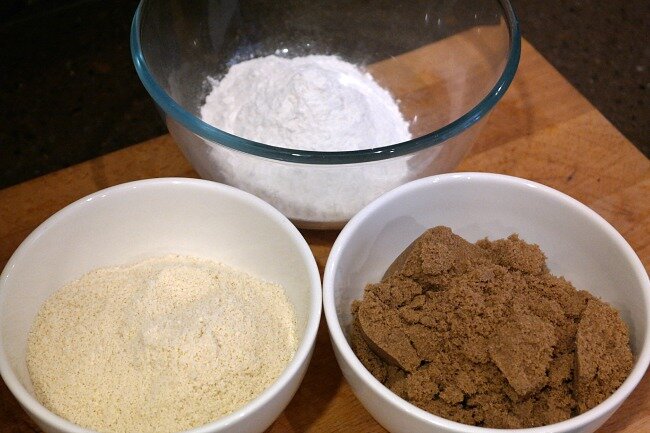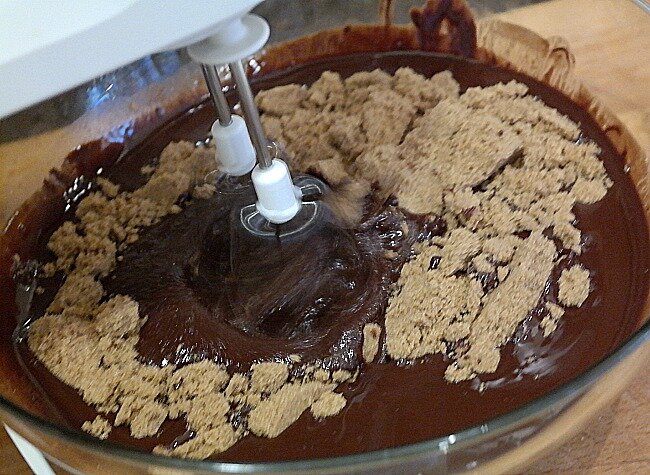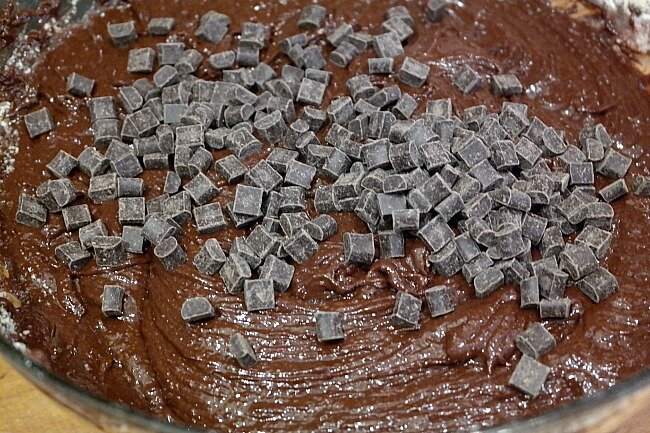 STEP 4: Pour the mix into the tin and bake for 30 minutes or until a skewer inserted into the brownie comes out clean.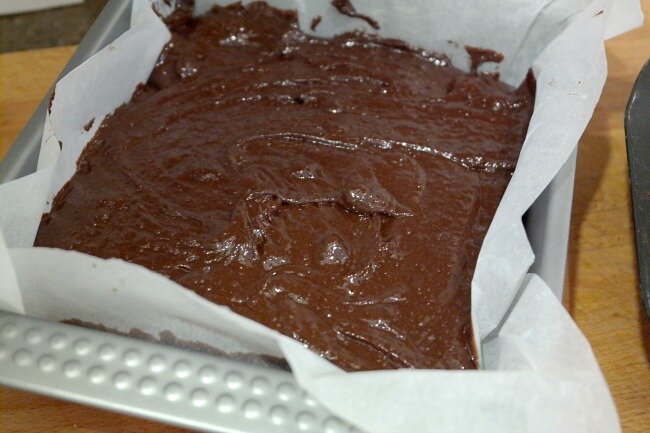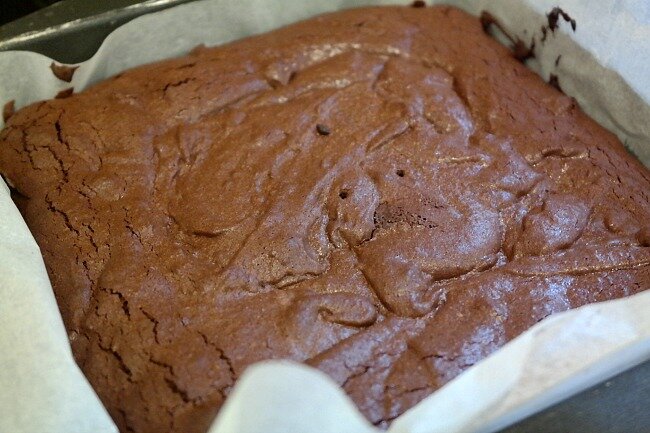 STEP 5: Next using a small round cutter, push down, twist and lift to create the chocolate brownie bases.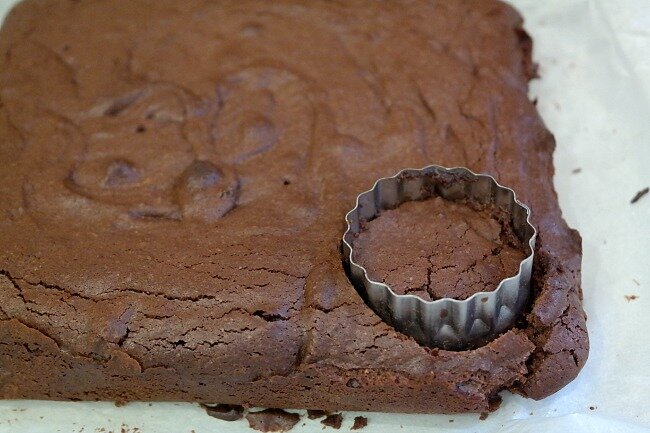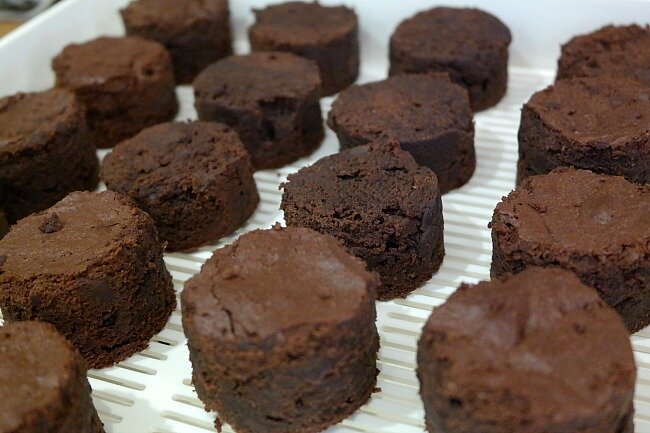 STEP 6: Put the icing in an icing bag (I use disposible ones from Lakeland) and swirl it over the brownies.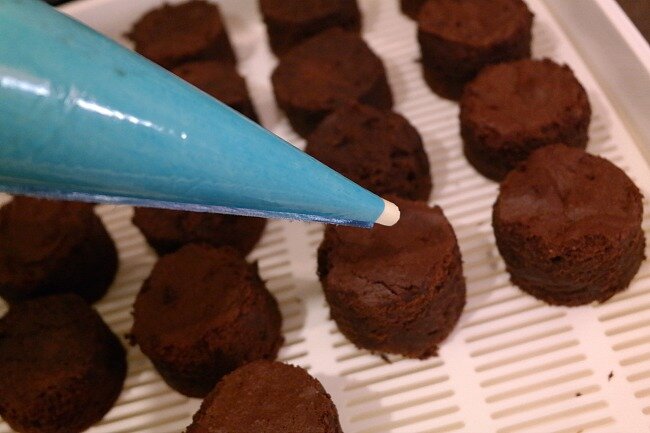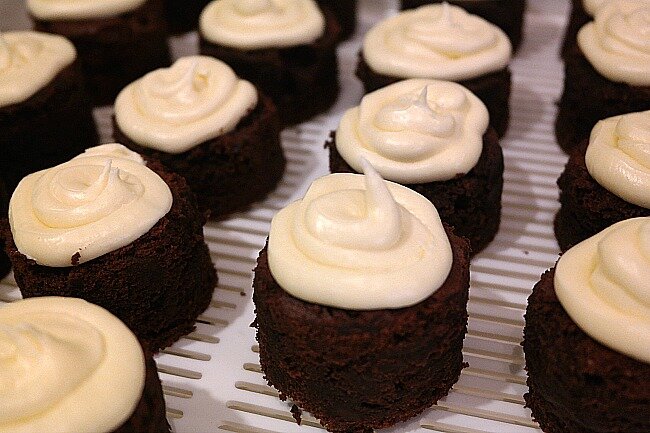 STEP 7: Cut the tops off the strawberries so they will sit flat and place them in the centre of the icing.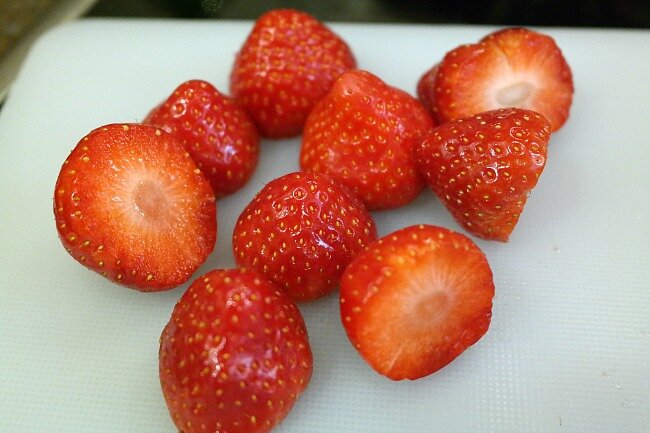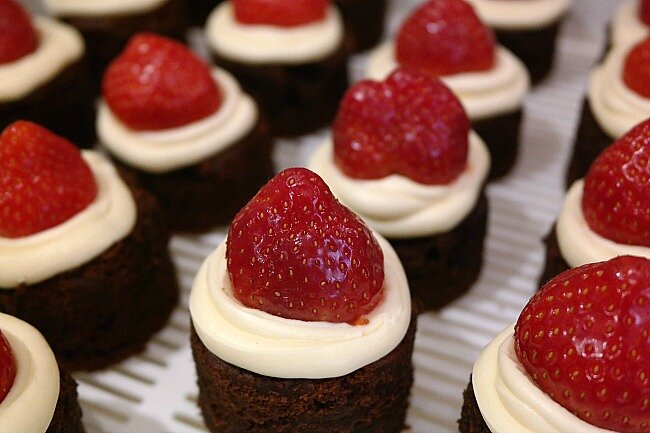 STEP 8: Finally pipe a little of the left over icing onto the top of the strawberries to complete the Santa hats!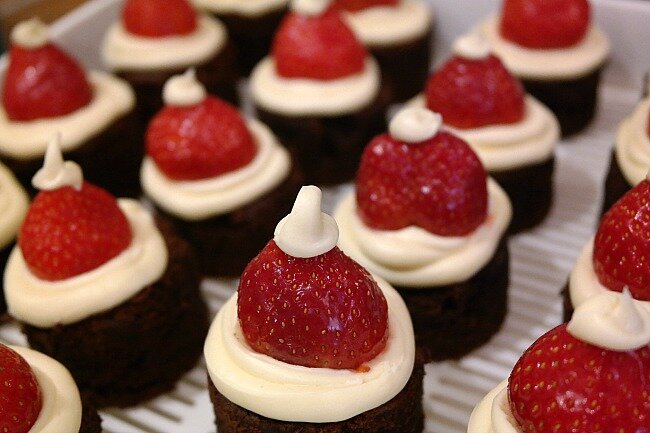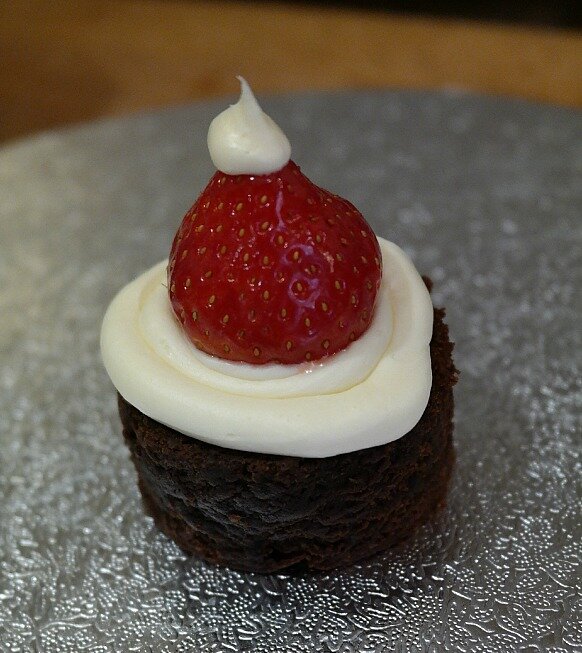 Linking up with Vicki's Tasty Tuesdays at Honest Mum, Zaz's All About You at , Jenny's Share With Me at Let's Talk Mommy and Festive Food Friday at Taming Twins
­