Motion Control Thomas – review and giveaway
Tomorrow the Little Man will be 2 years old.
He loves…
…watching Thomas and Friends on the television when he comes home from swimming class
…snuggling up on my lap at bedtime listening to Thomas and Friends books while he drinks warm milk
…lining up all his Thomas trains; Thomas, Percy, Emily, Spencer and Diesel (to name just four of many) and choo choo-ing them around the coffee table
Frankly he just LOVES Thomas the Tank Engine in all his many forms.
So when Tesco Direct kindly gifted us a new Motion Control Thomas to try out I knew there was going to be some excitement at Bod Towers.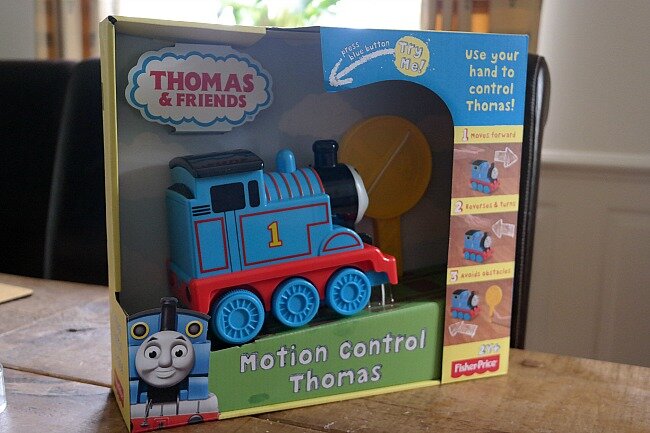 Motion Control Thomas is the biggest engine that I've seen. It's 33cm high and 36cm long so it's got real presence for a toddler like our Little Man. What's magic about it is that you control Thomas' movements with the wave of your hand. Moving your hand horizontally forwards or backwards will send him chuffing off dinging his bell and chatting away. Thomas avoids obstacles by reversing and turning with a 'Whoooa' and plays a mean game of 'Thomas says' too where he encourages you to send him in a particular direction. For the true Fat Controller experience he comes with a yellow controller paddle that you can use instead of your hand.
I wanted Little Man to discover Motion Control Thomas himself before I showed him how it worked so I left the box on the floor in the hallway and let him explore it for a few moments, pressing Thomas' funnel to hear him speak. He was SO excited that he did his happy dance up and down shouting 'Yay! Yay! Yay!' at the top of his voice!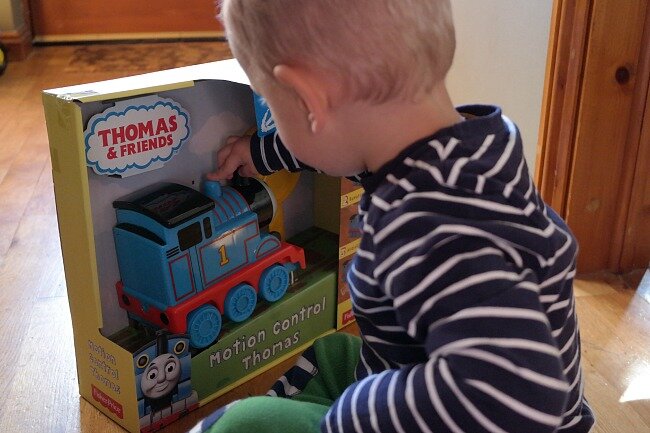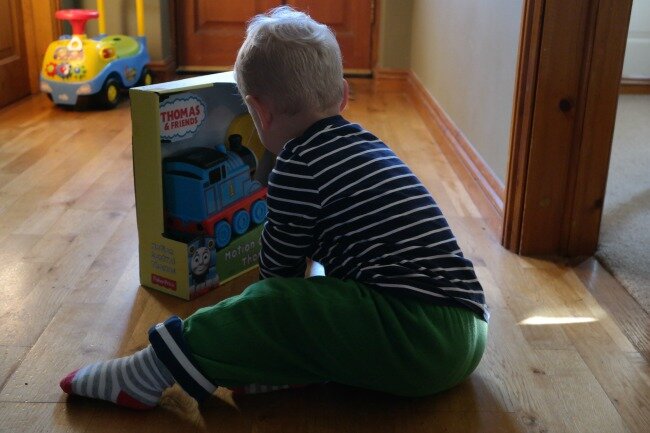 At this point there were cries of 'help Mama, help' as he tried to prize Thomas out of the box for a better look so I set to with a hammer and chisel pair of scissors and removed all the packaging so he could have a play.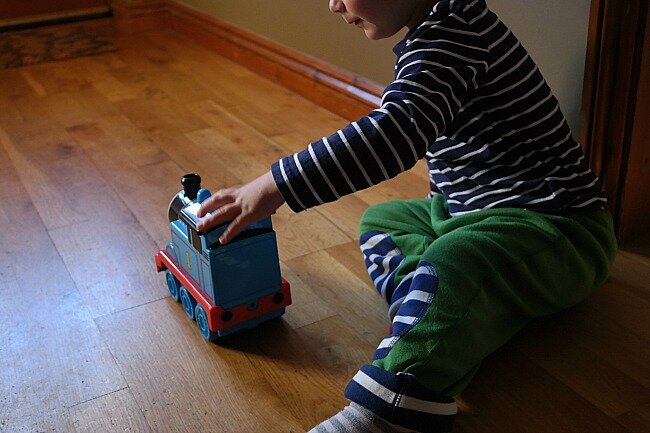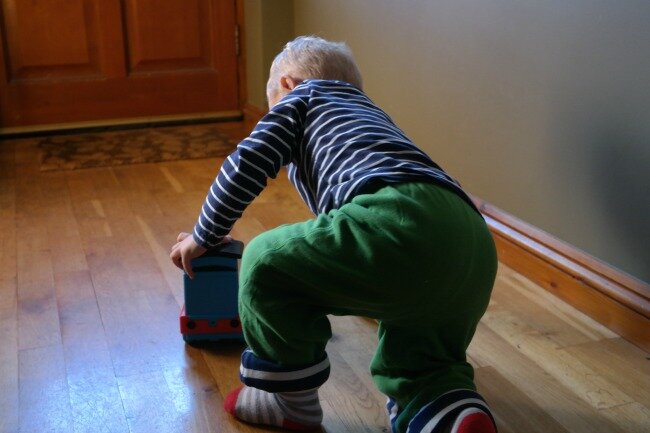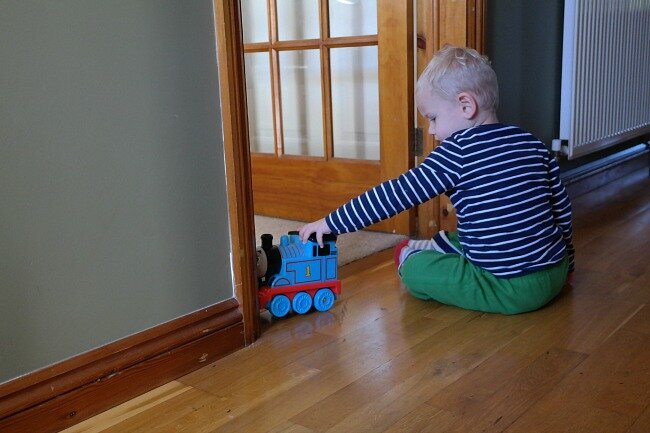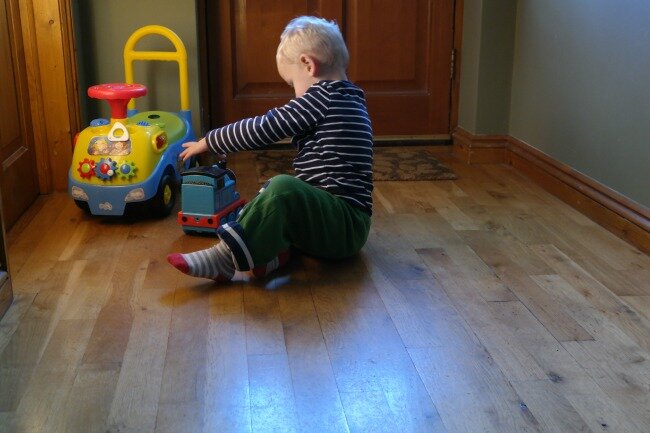 As you can see he didn't really get the hand waving at first and just played with Thomas like his other trains, pushing him along the floor. Then I showed him how it works and suddenly true delight broke across his face as though he was saying to himself 'Thomas moves on his own!' I'm SO glad I captured THAT moment.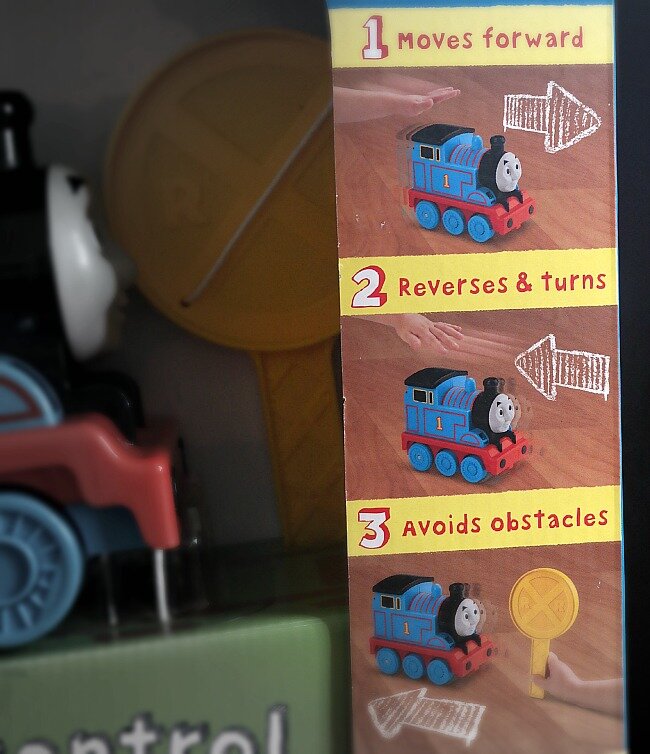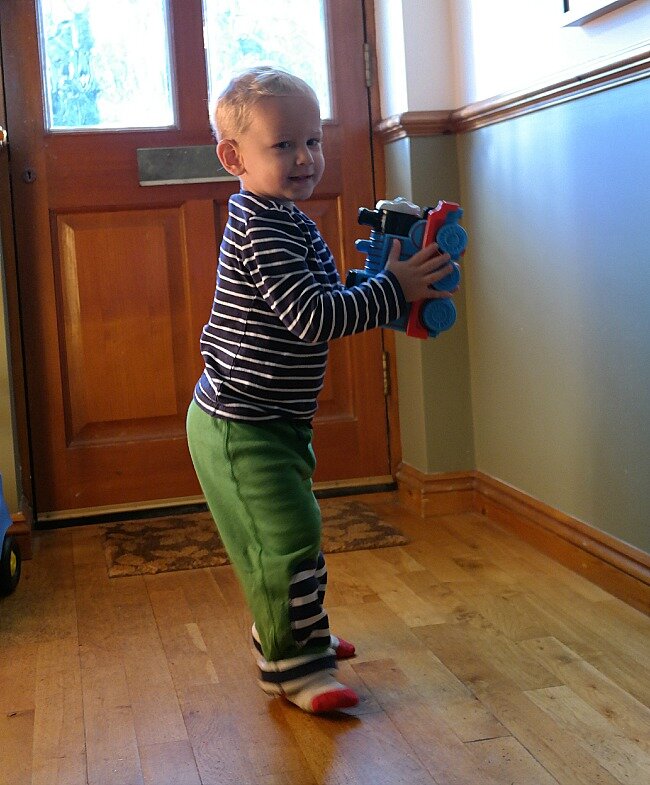 At this point Little Man decided it was time to introduce Motion Control Thomas to all the other trains in the playroom and he took himself off for some imaginary play on his own. Surprisingly Percy was undaunted by Thomas towering over him…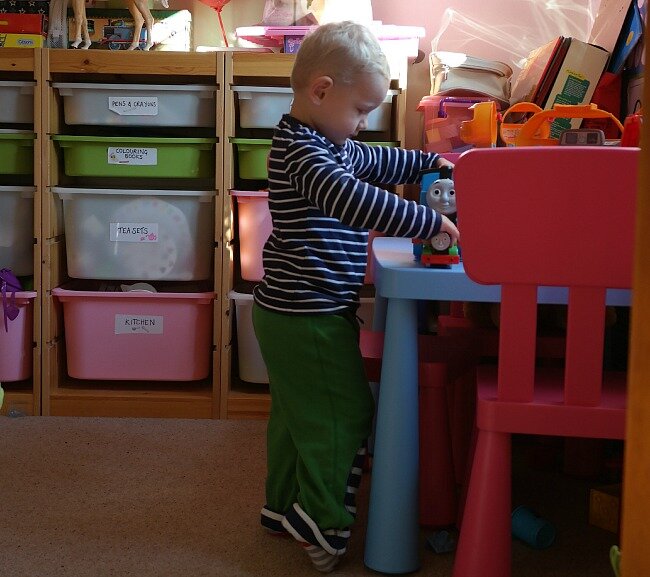 And then this happened… Curly Girl dragged herself away from My Little Pony to find out what all the fuss was about and a Mexican stand-off ensued.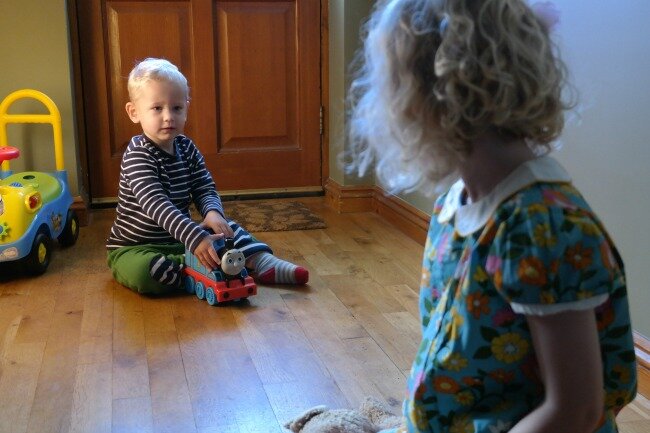 I could see that there was no way Little Man was going to part with his new found friend so finally I suggested to Curly Girl that she got one of our other Thomas trains to offer to her brother as a replacement – he does understand about sharing but it's mostly a one way street at the moment! That worked for a while so that she could explore Motion Control Thomas for herself and they played happily alongside each other.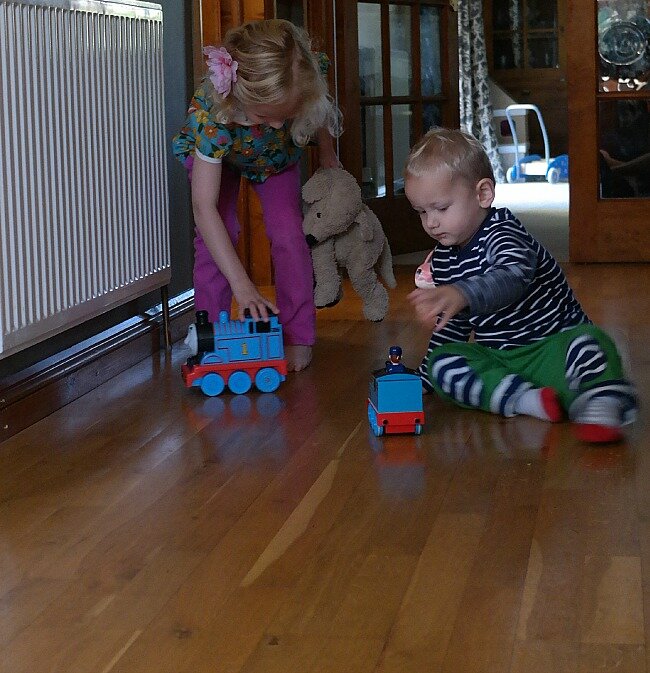 Finally Little Man wondered off to the kitchen in search of biscuits and his sister had a proper go at controlling Thomas with the paddle. She was able to make him move forwards and backwards straight away and quickly understood the 'Thomas says' game. She also discovered she could activate 'Race Mode' by waving the paddle back and forth over Thomas quickly, so he'd rev up for racing and steam off.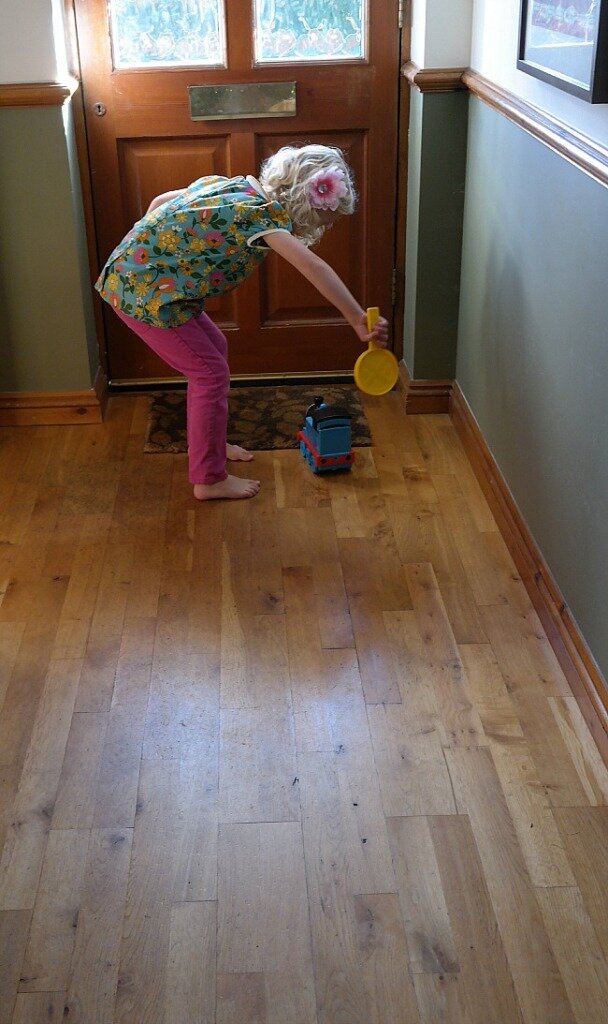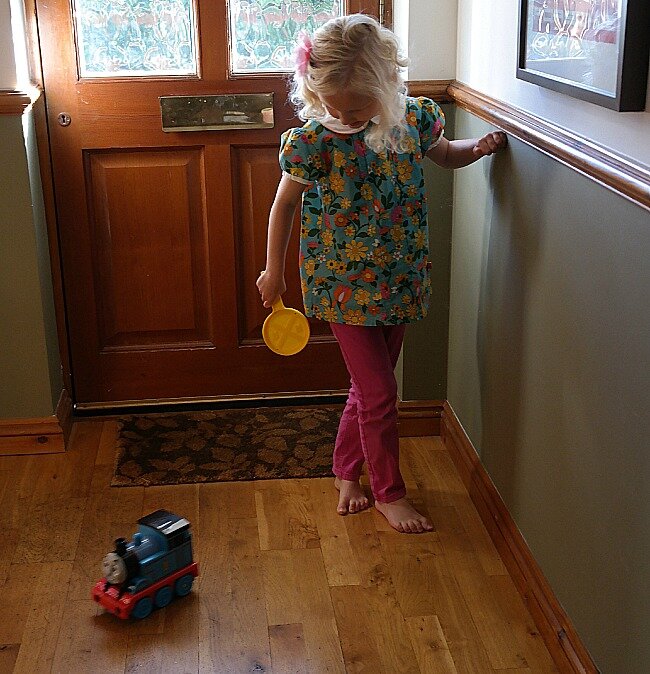 But in the end Little Man reclaimed Thomas as his own and she was relegated to the cheap seats to watch him playing with his new and favourite Thomas train.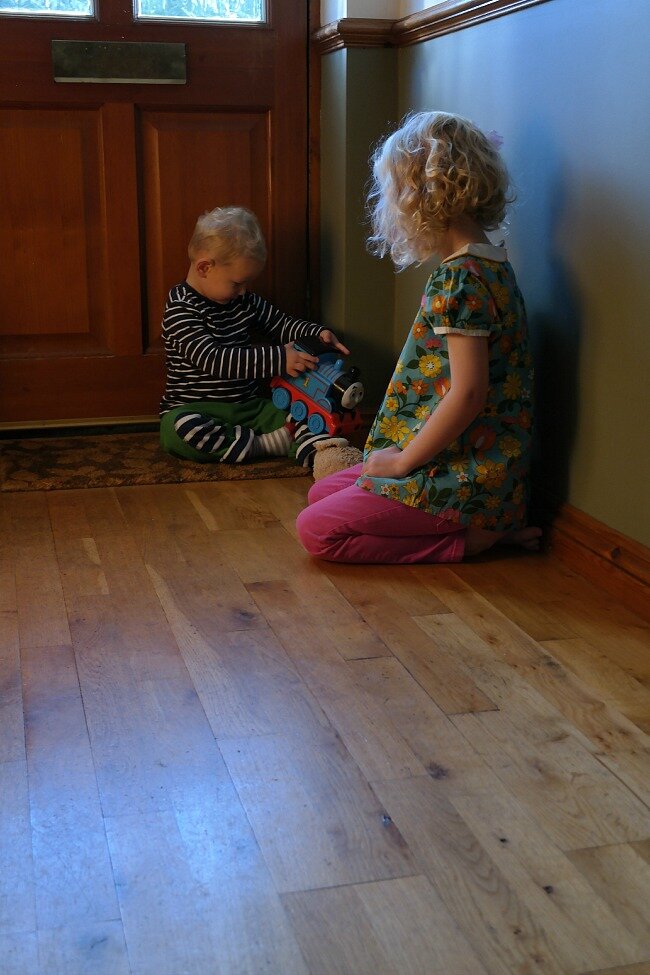 The Fisher Price Motion Control Thomas would make a fantastic present for any Thomas-fan this Christmas and it's available from Tesco Direct for £30.00 (a £10 saving at the time of publishing). It seems to be well made, Little Man has dropped it numerous times and it's still going strong. Thomas' voice is clear and just like on the television and he moves around quickly, forward, backwards and spinning around on carpet as well as wooden floorboard and tiles. We'd thoroughly recommend him.
I've got a Motion Control Thomas to give away to one lucky person! To enter this giveaway just use the Rafflecopter widgety thing below and be sure to read the terms and conditions (UK residents only I'm afraid). Good luck!
Disclaimer/terms and conditions: Tesco Direct sent us a Motion Control Thomas toy to review and one to giveaway. All opinions are our own and I have received no other compensation for running this giveaway. The giveaway is open to UK entrants aged 18 and over, one entry per household. There is no cash alternative. The winner will be chosen at random via Rafflecopter. The winner will have 48 hours to claim the prize or another winner will be chosen, again at random using Rafflecopter. 
Win competitions at ThePrizeFinder.com and Loquax.co.uk. Linking up with #brilliantblogposts at Honest Mum, Post Comment Love at Verily Victoria Vocalises and Welcome to the weekend at Claire Justine oxox