Parenting Italian style with Pasta and Patchwork
It's been crazy busy at Bod Towers for the past week with preparations for the arrival of both The Tour de France and Curly Girl's fifth birthday this weekend. Between party planning, social media planning and radio interviews I've hardly taken a breath!
So I'm grateful for the chance to kick back with a mug of coffee and imagine I'm sipping an espresso in Milan with another Parenting Around The Planet guest post. Eline from Pasta and Patchwork brings us her perspective on parenthood in Italy, weighing up the positive and negative, while she prepares to leave Milan and, possibly, Italy too. Will she stay or will she go?
You can follow Eline and her family's adventures on , ,  and of course on her blog where she summarises their life so beautifully…
We live in a 60m2 flat = every corner is stuffed to the brim and privacy is non-existent. But there is actually nothing better than having my son grin and poke me in the head through the bars of his cot when he is ready to PLAY and COME ON parents can we get up already. 

Crunch time is sneaking up on us. First it was 18 months until the end of my husband's work contract. Then 15. Now 12.
12 months until many things, possibly everything, we know will change. Because we want it to – we live in a one-bedroom flat in central-ish Milan. It's our home and it's served us very well so far, but ultimately it's just. too. small. The city is too polluted, too expensive (by Italian standards), too lacking in the kind of green spaces a toddler needs to let of steam.
So we will leave Milan and hopefully give our son his own bedroom at last. Maybe even a garden if we are lucky. But will we leave Italy? Our experience of parenting grew up here, it's all we know. And yet I try to be objective: what would we gain, as a family, by staying here? What would be difficult in the long term?
Some positives immediately spring to mind.
Beautifully fresh food
Does that sound strange? As someone who believes that good food nurtures the soul this is, nevertheless, hugely important to me: the Italians know and appreciate fresh ingredients, seasonal produce, the value of eating together as a family. It is a given to them, but a gift to us.
Every Saturday we all go to the market, and the Bean stuffs himself with freebies.
Strawberries in spring, peaches in summer, persimmons in winter. I love the idea that he will grow up knowing when things are at their best.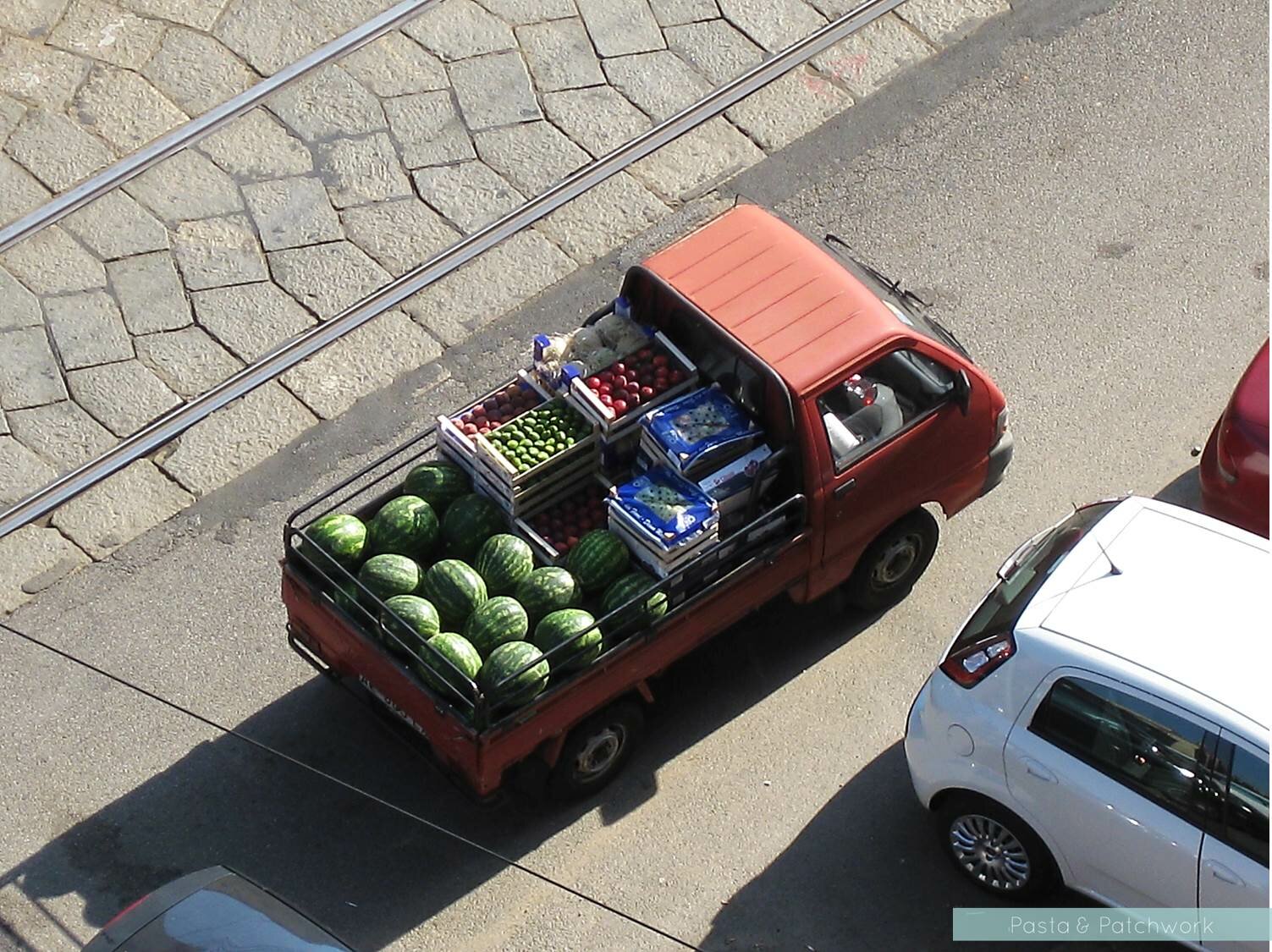 The freedom to be a child
I don't know why, but Italians seem childlike for longer than Brits to me. Even teens are friendly, innocent, only ever sulky at worst. I walk past a secondary school on the way to nursery every day, but I am never afraid of the gaggles of lanky sixteen-year-olds hanging around the school gates. In the UK, I would be terrified of them.
You also don't see preteens in heavy make-up, and university students are happy to go home every weekend rather than stay as far away as possible. Of course some sort of balance is necessary, but I like the idea that there is no rush for children to grow up, up and away from their parents too fast.
Families are everything
Not in a way that allows the politicians to bandy about the term as though it means something, but in a practical day-to-day way. I feel my toddler and I are welcome everywhere – shops, restaurants, bars. Yes, even places that serve alcohol to adults are happy for him to come in. More than that: the staff at places we visit regularly know his name, play with him.
I don't feel the need to look for 'family friendly' places as opposed to places for the rest of the population. In fact, they simply don't exist, as though to reinforce the idea that small, noisy children have just as much right to be part of ordinary life as everyone else.
An ongoing adventure
Before I moved here at almost 30 years of age, I'd been to Italy precisely once. For a week's holiday. Aged 18.
To say I was unprepared for life in Milan is a bit of an understatement, but one thing our time here has never been short of is adventure. That's the beauty of living in a country you don't see as 'yours' – even the most mundane day trips are journeys of discovery. It still makes me giddy to think the Alps are on our doorstep, and that the Bean could grow up learning to ski before he learns to ride a bike. That we can spend Christmas by Lake Maggiore or spring bank holidays in Liguria.
Of course, if we stay here I'm sure the Bean will just take all of this for granted. This adventure is mine and my husband's. To him it's just home. But I can't imagine the novelty will ever wear off for me, so maybe a little – just a little – of my excitement will rub off on my son. Or maybe not!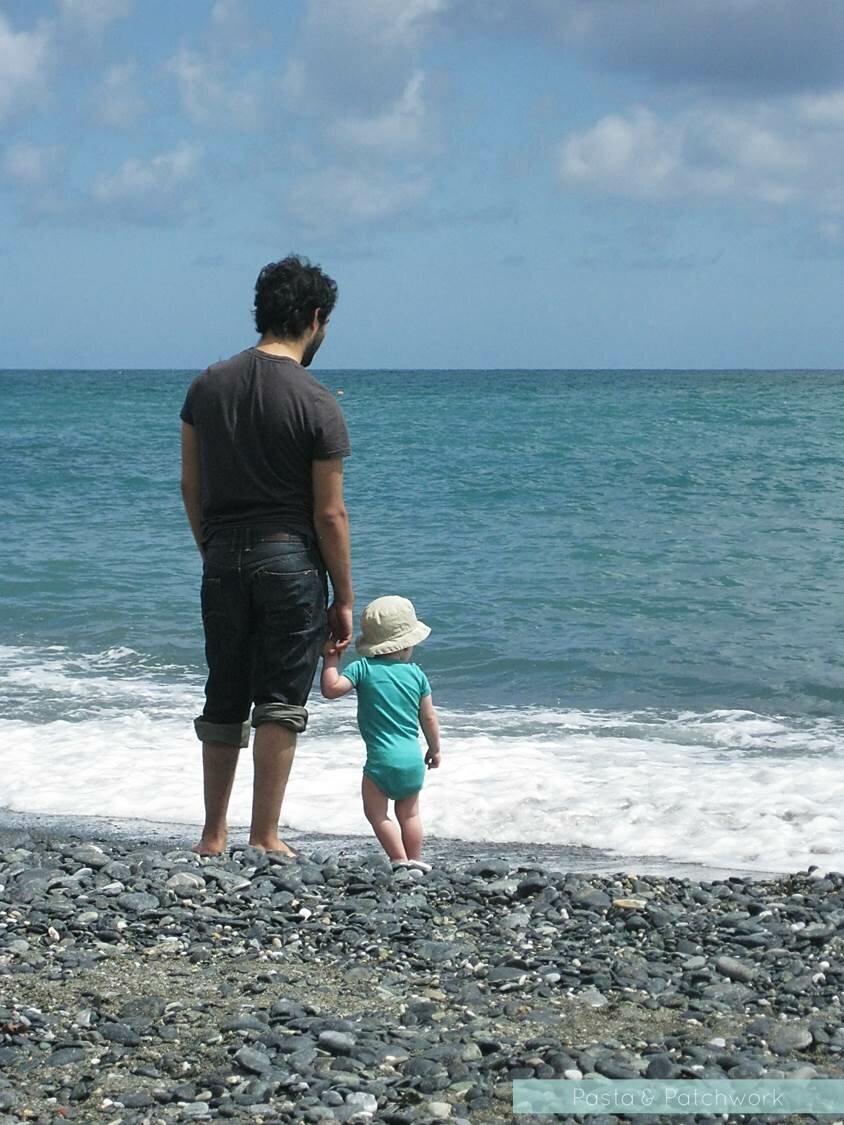 Those are the positive aspects of family life in Italy, but as with every place, there are two sides to the coin. Nowhere is perfect, and when I think of my family's future here I also see negatives.
A lack of adventurousness
Jobs are for life, gender roles are stereotypical to the extreme, food are choices safe and nice and Italian. Unless it's sushi, which is trendy.
Though I understand that there is comfort in the familiar, I don't think such rigid adherence to it serves anyone well in the 21st century. There is a reason why the Italian job market is stagnant. And, on a more day-to-day level, it's difficult not to feel there is an undercurrent of narrow-mindedness – why do you eat dinner so early, why won't you buy your child the Chicco toys that everyone else has?
The interfering
The flipside of Italians loving children and there being no need to segregate those who have children from those who don't is that everyone feels like they can add their two pennies' worth. When M was a newborn I was stopped daily, on the street, by complete strangers. They'd tell me he was too hot, too cold, crying because he was hungry, crying for a dummy, needed socks, needed water, shouldn't be in a carrier, should be carried around all day. IT DROVE ME NUTS. Now he's a toddler the unwanted 'advice' has abated a little, though people think they can enthusiastically tell him off for misbehaving, instead of letting me deal with him myself.
An education system based on rote learning
Before the Bean was born I taught in a secondary school here, and saw 8-year-olds hauling around bags almost too heavy for an adult to pick up. Full of books, full of homework, yet drained of creativity. I've seen university students wield a multitude of coloured pens, feverishly underlining the parts of the a text they would be required to regurgitate in an exam. Teachers are shouty, strict, revered and feared. It's an education system that seems stifling to me.
Of course, Italy is also the birthplace of the Montessori method. This method appeals to me very much, but would we ever be able to afford to send our child (or children) to a Montessori school?
It may well, probably will, turn out that the biggest advantages or disadvantages of staying here are ones I currently fail to see. Or that, should we leave, we come to appreciate completely different aspects of our time here. But for now, this is my reality:
a toddler who refuses to eat his pasta unless it's dripping with olive oil (the best I've ever tasted). A husband who lives off gelato and flounces past the droves of suburban commuters on his bike. Me who hand-flaps and barters with the best of the Italian Mamas (but who still cannot fathom the Milanese parking style). A family of three who all fall asleep in the same bedroom, to this beautiful city skyline.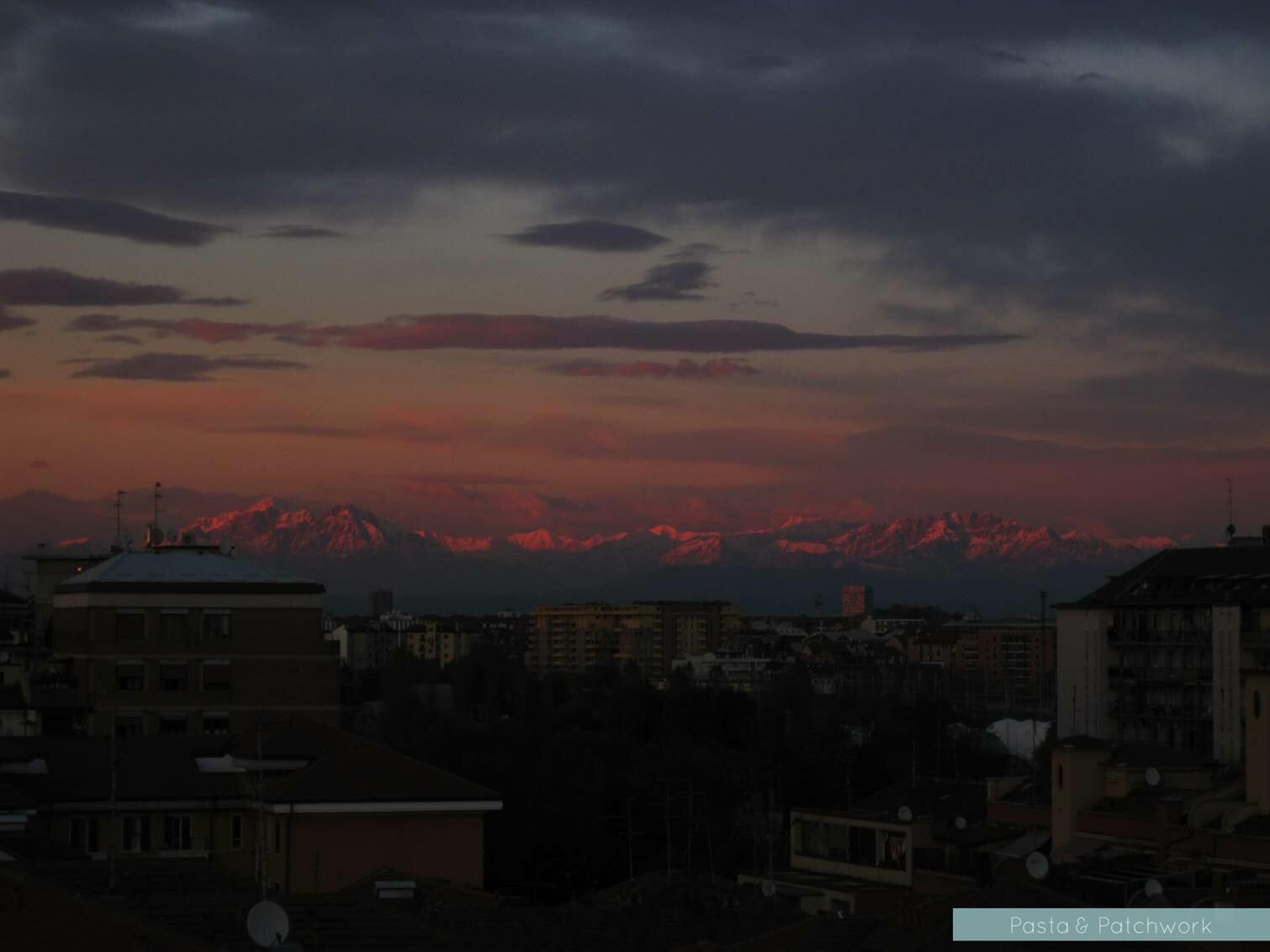 Joining up with the lovely Vicki's Brilliant Blog Posts at HonestMum.com