What is a marriage?


Eleven years ago today I woke up alone.
I seem to remember I skipped breakfast with my family who were sitting around our dining table, chattering away as only families can. My bridesmaid, Caroline, stole my Dad's toast as we ran out of the door. She made me eat it in the car on the short drive to beautiful Leez Priory.
For the next few hours I was coiffured and polished, primped and preened. There was laughter and happiness, I felt bathed in the light of love.
I stood at a leaded window, watching the guest arrive and walk across the lawn to the tower, their heels digging into the soft ground. I caught a glimpse of my fiance and ducked as he turned around. I felt silly. I giggled.
Then it was time. My Dad came to kiss me, to tell me I looked beautiful, to shed a tear.
The stairs to the top of the tower were steep, treacherous in my gown.
The music, the smiles, the swish of my train on centuries old stone.
And then we were reunited and joined forever, my fabulous husband and I.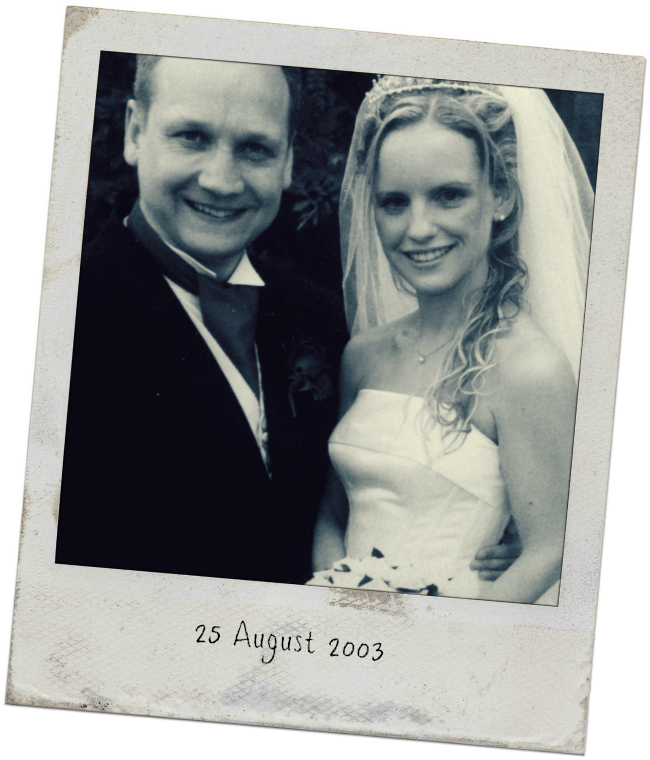 What is a marriage?
It's loving & cherishing,loyally relishing.
It's hosting & toasting & Sunday roasting
It's enduring, alluring & most reassuring
It's guessing, confessing & nightly undressing.
It's often surprising, involves compromising
It's mending, depending, & can be heart-rending
It's trying, relying, a little white lying
It's snoring, adoring, occasionally boring.
It's knowing & showing, & mutually growing
It's packing & moving, anxiety soothing
It's having & holding, the odd little scolding
It's nursing, & cursing when driving (reversing.)
It's compliment giving & always forgiving
It's planning & booking & help with unhooking
It's sharing & caring & dressing gown wearing
It's walking, it's talking & bottle uncorking.
It's tender supporting & raucous cavorting
It's secret confiding & shoulder providing
It's readily praising & often amazing
It's liking, respecting & calmly accepting.
It's cleaning, it's mopping, it's waltzing & bopping
It's needing, conceding & possibly breeding
It's chatting, conspiring & thoughts of retiring
It's playing & paying, it's coping & staying.
It's comfort when weeping, a warm body sleeping
It's lives interweaving and always believing…
That's what makes a marriage.
Copyright Joanna Miller, who wrote this wonderful poem. Joanna set up her business – Bespoke Verse in 2009. In an interview in 2012 for Jen Stanbrook at Love Chic Living (republished here with Jen's kind permission) she says:
When I couldn't find an original poem for my own wedding, I decided to write one. I composed a rhyming speech in the voice of my husband charting our relationship. It brought the house down and led to request from friends for poems, and then their friends. However, it was after the fantastic reaction to the speech I made at my 40th birthday (and possibly due to a 40th birthday crisis!), that I set up my website www.bespokeverse.co.uk.
Joanna's framed poems are available from at John Lewis and www.bespokeverse.co.uk and you can follow her on and .
Linking up with Share With Me over at Let's Talk Mommy and All About You at Mama and More.