Loch Fyne Restaurant and Oyster Bar


This Summer we spent two glorious weeks in Scotland staying at our new favourite luxury lodge and exploring the breathtaking Scottish countryside. I spent a lot of Summers there as a child and there's something very special about history repeating itself. Not that the littles always appreciated it – a five year old doesn't tend to look forward to a 7 mile walk, I find. Still, lots of exercise and fresh air does amazing things for their appetite, not to mention ours!
So on the day we drove one hour north of our base in Dryman to Loch Fyne, a sea loch on the West Coast of Argyll and Bute, we decided we had to visit the famous Loch Fyne Restaurant and Oyster Bar for lunch.
Loch Fyne is the longest of the sea lochs (according to Wikipedia), extending 65km (40 miles) inland from the board channel separating the islands of Arran and Bute. Apparently dolphins, seals and otters live in the loch and basking sharks can appear during the Summer months – although we weren't lucky enough to see any of them.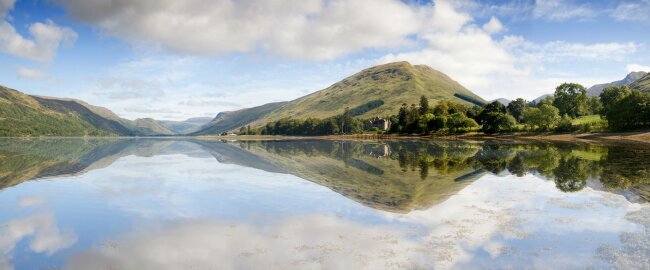 The loch is well known for its oyster fishery and the original Loch Fyne business started life as a small oyster bar on it's banks, a venture started by Johnny Noble, the owner of the Ardkinglas Estate on the west coast of Scotland, and his colleague Andy Lane; a fish farmer and marine biologist. Both men were oyster enthusiasts, and they began by growing oysters in the loch and selling them in the 1970s to restaurants all over the UK. In 1988 they opened the now famous Oyster Bar which still perches at the very head of Loch Fyne.
The restaurant has a bright and airy feel with design touches such as the whimsical mismatched chairs and freezes of quotes.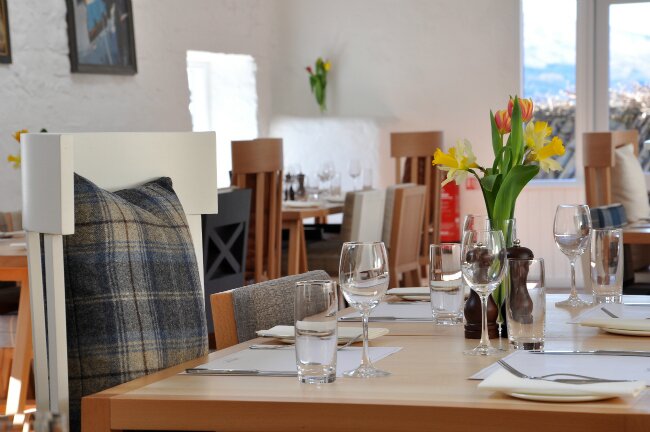 Of course there is an impressive array of beautifully fresh seafood including oysters from Islay, Gigha and Kerrara, that are allowed to feed entirely naturally on plankton.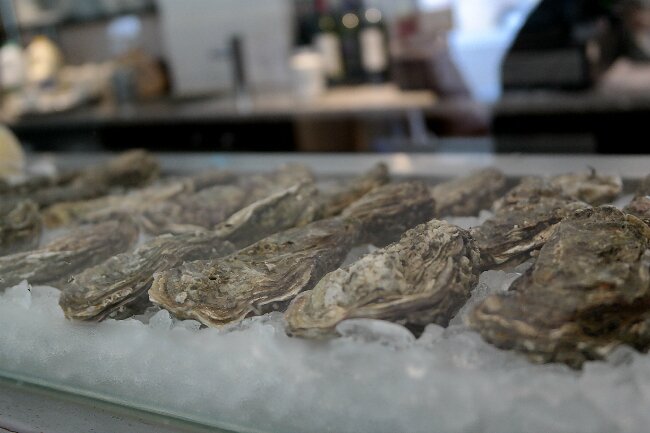 Now I'm an oyster virgin and I'll admit that I've always been a bit put off by the thought of a leathery, salty, snot-like mouthful. But in the home of one of the most famous oyster fisheries in the country how could I refuse? Plus I'm always trying to persuade Curly Girl to try new tastes and textures – this was the perfect opportunity to show her that experimenting with food is fun!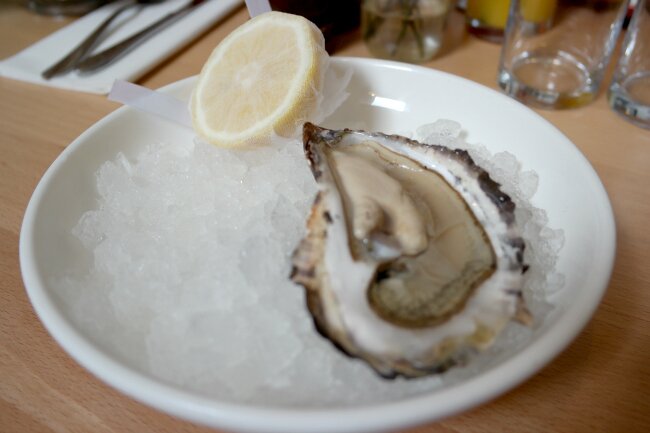 After a short tutorial from our lovely waitress I released this beautifully presented oyster from its shell and sprinkled it with lemon – wrapped cleverly in muslin to catch the pips – before slipping it into my mouth. All at once my senses were flooded with the taste of my first oyster. Creamy, oh so creamy, succulent freshness, delicately enhanced by that simple squeeze of lemon. Not at all what I expected and really rather delicious.

It may have been my first but it won't be my last. I'm definitely an oyster convert thanks to Loch Fyne although I must say it would have been perfect with a chilled glass of bubbly. Perhaps next time. Incidentally the husband hadn't had oysters for 25 years (after a bad experience in Boston) and even he was persuaded to try and enjoy one here.
After our oyster aperitif we started our meal proper with a trio of local smoked salmon, one of which was smoked on the premises and a bowl of chowder for the husband. Both were completely delicious and very filling, although the husband expected there to be more fish in his chowder; not a criticism (he scoffed the lot) more an observation.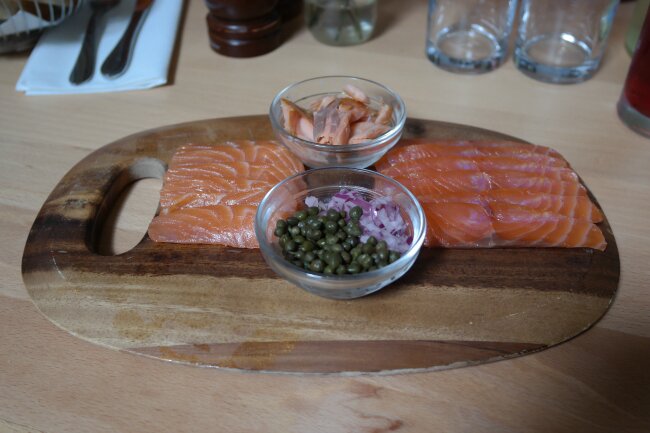 There isn't a children's menu at Loch Fyne, which worried me at first, but Curly Girl and Little Man shared a half portion of deep fried haddock and fries (still a huge plate of food) which they both tucked into with gusto. I needn't have worried as Curly Girl gave it her official seal of approval – and that means a lot coming from the princess of fussiness. I MAY have sneaked one or two fries myself, all in the interest of research of course, and they were crispy and delicious.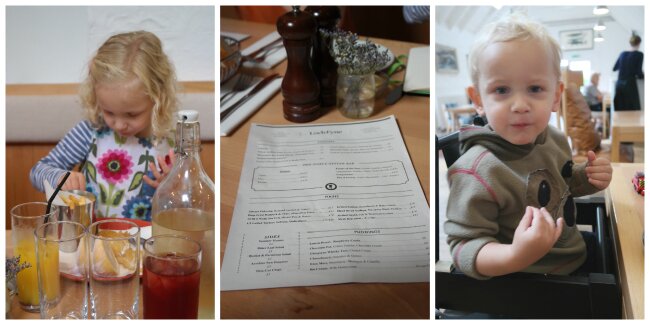 For the main course I chose the grilled squid, feta and watermelon salad, one of the prettiest dishes I've had set in front of me in a long time. It didn't disappoint in the tasting either – the smoky charring on the squid marrying beautifully with the fresh watermelon, creamy feta and crunchy tri-colour tomato.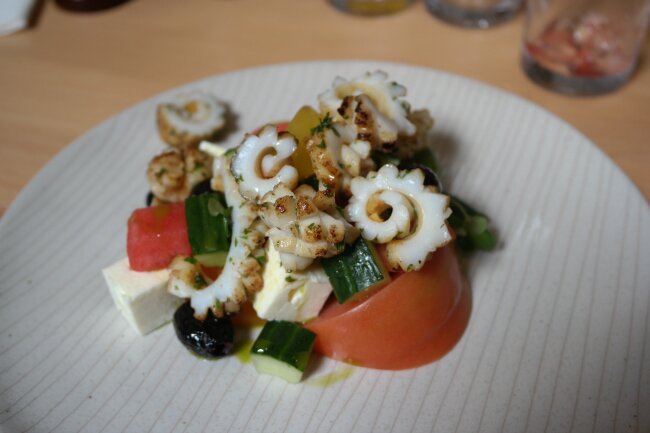 The husband chose a man-size portion of the haddock and fries that the littles had with the addition of crushed peas with mint. There was very little left on his plate, although he tends to prefer 'steak cut' chips to the American style fries we were served.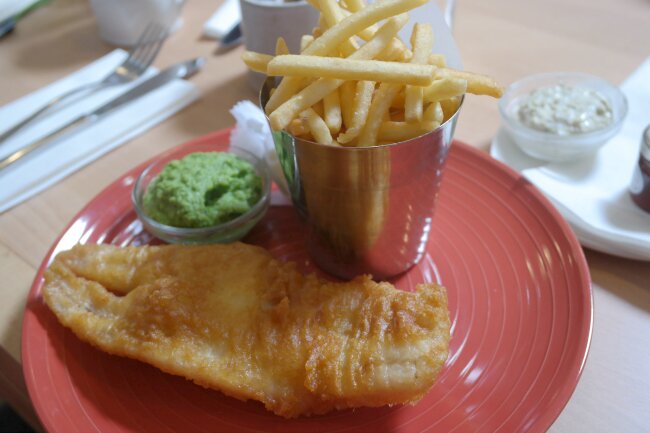 Pudding was a one-dish family affair with Curly Girl choosing chocolate ice-cream and the rest of us tucking in after she'd had enough. It was stupendous ice-cream I must say, but for me overshadowed by a simple fan of honeycomb that was super-sweet, coffee and tobacco all in one bite. Give me a plate full of that and a box set of Downton Abbey and I'd be a happy woman.
Overall we loved our Loch Fyne lunch. It wasn't cheap at almost £80 for the four of us but we considered it good value. The food was fresh and delicious and the service was professional and attentive with excellent friendly advise about my first oyster experience. We didn't get the chance to experience the amazing array of food at the on-site deli but it looked mouthwatering.
Incidentally, before lunch we walked back through the main entrance gate and followed the sign posts for the cemetery, tree house and look out point. It was a pleasant 30 minute amble to the tree house, up the side of the hill behind the restaurant, across pretty bridges and with fabulous views of the loch and surrounding area.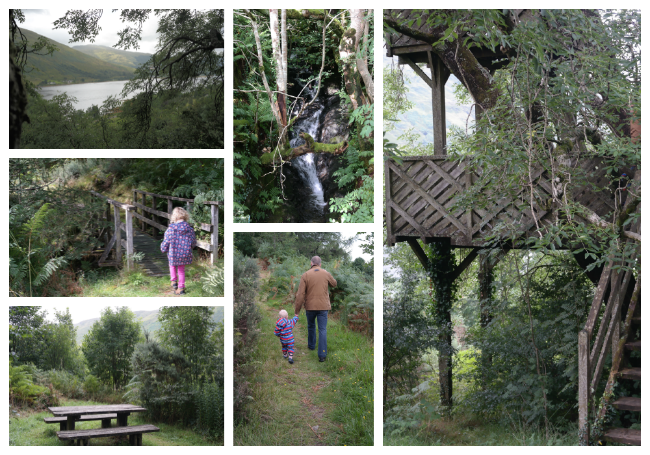 It was perfectly accessible to Curly Girl at 5 years old but a bit tricky for Little Man who had to be carried at times for his own safety. When we reached the tree house we discovered the perfect secret picnic area with a wooden table and the tree house itself – a total Swallows and Amazons experience! I definitely recommend taking this walk either before lunch to build up an appetite or afterwards to walk off what was, in our experience, a most delicious lunch.
Disclaimer: We visited Loch Fyne Restaurant and Oyster bar under our own steam, paid for the meal ourselves and this review was neither paid for or compensated.