Review: Interactive adventure story Charly the Vet
According to Ofcom half of UK households own at least one games console. Which means that at Bod Towers we live in the other half. Neither OH or I have ever really been into gaming (unless you count Pong on my ZX Spectrum, back in the day) so it's not really surprising that Curly Girl isn't either.
You might think this is a good thing but being computer literate is a key skill. Even at four years old she and her classmates use IPads and touch screens at school, dragging and dropping numbers into 100 grids or playing with colour rainbows. We often have homework to do together on the computer and it's amazing how quickly the hand-eye co-ordination needed to play games online is becoming second nature to her.
Last week a new computer game for children – Charly the Vet: Toad Rescue launched on iOS and Android devices and I agreed to review a preview version with Curly Girl. Created by independent animation and TV production company 1st Day and featuring traditional hand-drawn animation, Charly The Vet: Toad Rescue is an interactive adventure story with educational mini games and information about wildlife and nature.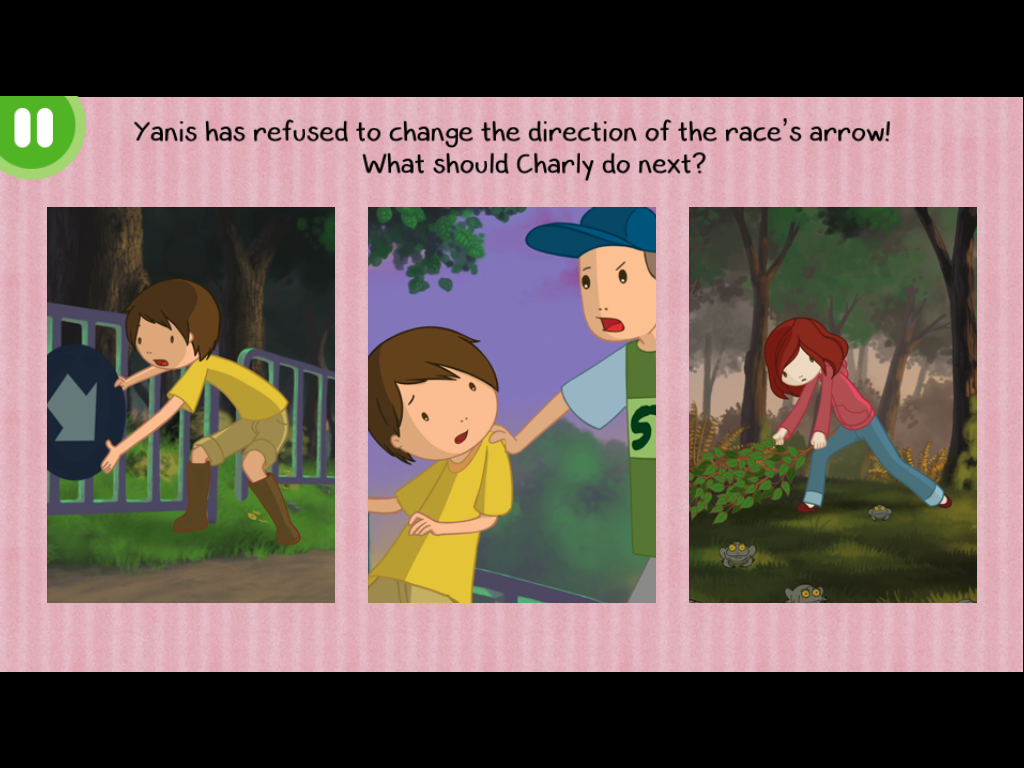 It's designed for children aged 4-7 and has a storyline where the choices that you make determine the outcome of the adventure. It reminded me of the dungeons and dragons books I used to love as a child and appealed to me straight away.
The main character of the story, Charly, is a 10 year old aspiring vet whose love of nature and the environment leads her on a series of adventures to help out animals in trouble. In this, her first adventure, Charly needed our help to rescue toads trying to reach their pond which happens to be in the middle of a bike race. Faced with a series of choices, we had to decide what to do next with each decision affecting how the story unfolded. Within the story there were also four replayable mini games with animal themes.
What we liked
Curly Girl was excited to try out the app and loved the animations and soundtrack. She clearly identified with Charly and wanted her to succeed. She could play the games (with a little help from me) and asked me questions about the nature content as the story unfolded which showed me that she was learning something while she played. It took us three attempts to get the toads home safely and Curly Girl was patient and determined to try again and choose a storyline that would succeed.
What we didn't like
At certain times during the app you leave the storyline to play one of the related games – like helping the toads to escape from a heron by dragging them to safety. The gap between the storyline and the game isn't seamless and we were left wondering if the app had broken. It hadn't, you just have to wait a little while for the game to start and then again at the end of the game to go back to the storyline.
Also the games are fun but we really only wanted to play them once in the story. If you don't succeed in getting the toads back home by making the right choices in the storyline then you have to go back and play certain parts of the story again – including the games. Thankfully I discovered that there's a menu that you can access to skip the games.

Overall, we liked Charly the Vet: Toad Rescue. It's a fun, educational game that we enjoyed playing together and Curly Girl is looking forward to Charly's next adventure.
Charly the Vet: Toad Rescue is available for iPad, iPhone and Android tablet for £2.99 ($4.99) and has both a lite and premium version. The lite version includes the first chapter with the option to download the full story. You can download the premium version of Charly The Vet: Toad Rescue or the Lite version from iTunes or if, like me you're on Android the and versions are available on Google Play.
Here's a trailer…
Disclaimer: We were given access to Charly the Vet:Toad Rescue before it was launched for the purposes of this review. We received no other compensation and all opinions are our own.