Protect your home with the Piper security system


DO WE NEED TO BECOME DIY DETECTIVES?
Recently Her Majesty's Inspectorate of Constabulary (HMIC) – the body that independently assesses UK police forces – revealed that the general public, yep you and me, are often being asked to become DIY detectives and provide OUR OWN evidence about crimes against us.
The Report by HMIC found that as many as one third of our police forces are only using desk-based investigation for certain crimes, which means that
…unless there is very obvious forensic, witness or CCTV evidence available (and the victim or caller is aware of this at the time the report is made) the crime is likely to be filed the same day without further investigation.
In fact The Inspector of Constabulary, Roger Baker, told the BBC
Some forces make little or no effort to investigate high-frequency crimes including burglary, car crimes and criminal damage… furthermore it was found that several victims of these crimes were encouraged…to investigate the crimes themselves.
We all like to think that our family home is safe and secure but in the light of this report can we be sure that the police would help catch the burglar if the worst happened and our home was broken into?
Forewarned is forearmed in my opinion so it was a stroke of luck that this package arrived at Bod Towers a couple of weeks ago.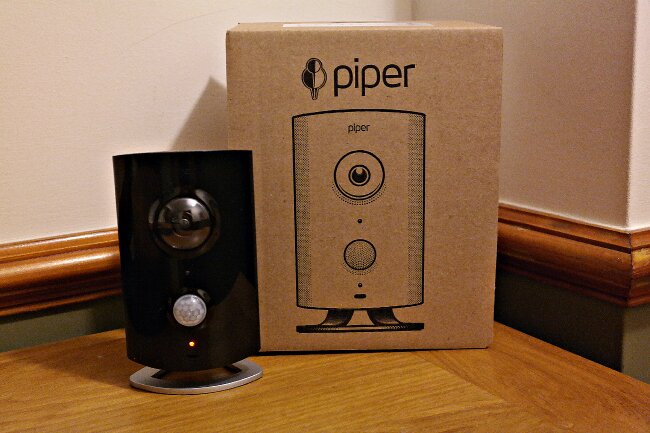 HELLO PIPER
This compact and rather stylish looking gizmo is Piper – a very clever home security system that can be used to automate and monitor security, temperature and lighting in your home.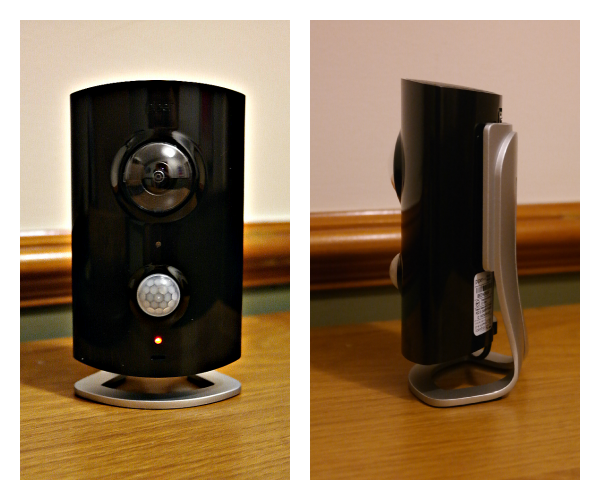 Out of the box it looks sleek and rather like an expensive speaker. There was no user manual with it, just this simple quick start guide which left me a little dubious. After all, we've all had that IKEA moment haven't we…?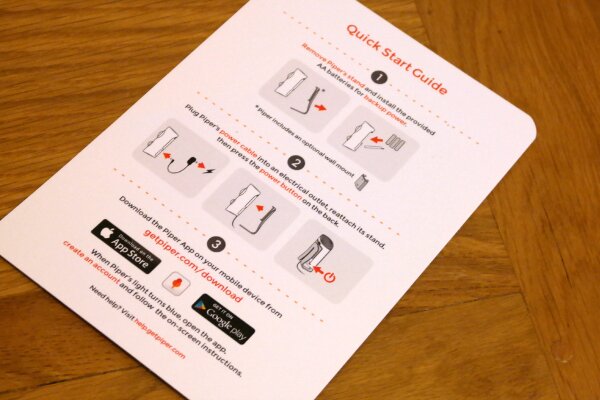 But it really was childs play to set up. All I had to do was decide where to put it, add the back up batteries and plug it in. Then I simply downloaded the mobile app onto my phone, attached it to our home wifi network and it configured itself within minutes. Impressive.
SET UP
This is the Piper dashboard that is the first page I see on my mobile…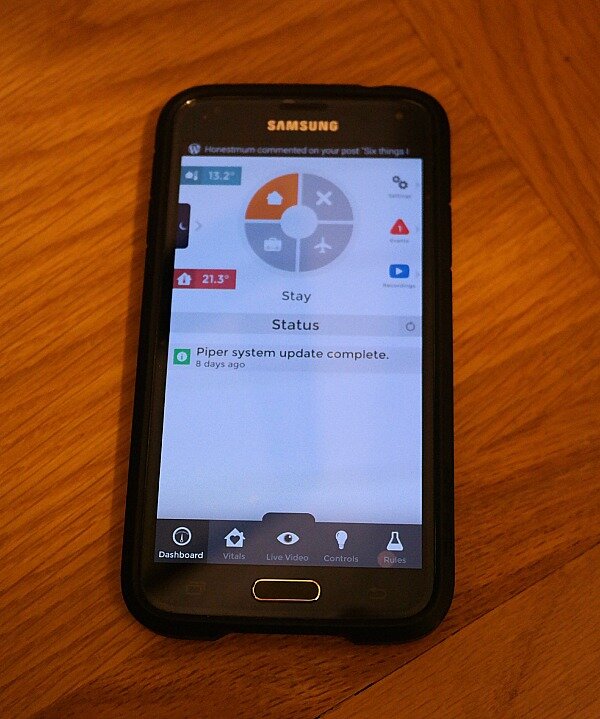 You can see that on the left hand side it's measuring the inside and outside temperature (no idea how it does the outside one by the way), and the quad in the middle shows me that I'm home at the moment because the house is highlighted. I can also select the suitcase to show I'm away from home and the airplane if I'm on holiday. More about this in a moment.
On the right are the options for settings (like your user details), any events that have happened and recordings that Piper has made. The status bar tells me if there has been any activity. At the very bottom I can select from the dashboard, vitals, live video, controls (for using accessories like automatic light switches that Piper controls for you) and rules tabs.
The next step was to set up some rules. I selected the RULES tab at the bottom of the screen and it shows this: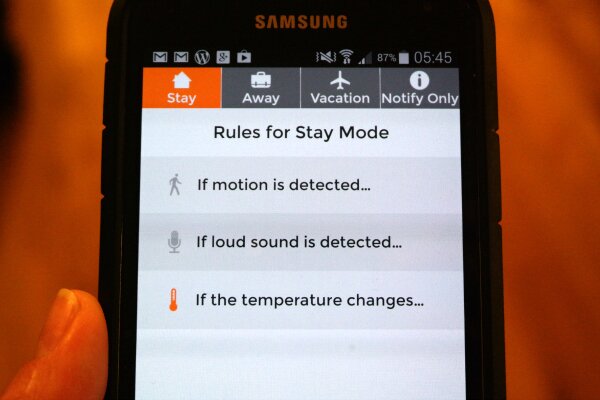 Simply put you choose what you want Piper to do if it detects any motion, loud sound or temperature changes in each of these modes. If I'm at home in STAY mode I don't want it to track movement or sound – with two little people in the house, are you kidding? – but if I'm AWAY or on VACATION then I want it to track all these things.
So now if I'm out and Piper detects MOTION I can ask it to:
record a video and sound
notify me (by a message, email, phone call or text)
tell someone I've set up as being in my trusted circle (you do this in Settings)
sound a siren
The same four options are available for HOME and VACATION.
VIDEO ON DEMAND
When a video is recorded (or if I select the LIVE VIDEO tab at the bottom of the screen) this is what I see: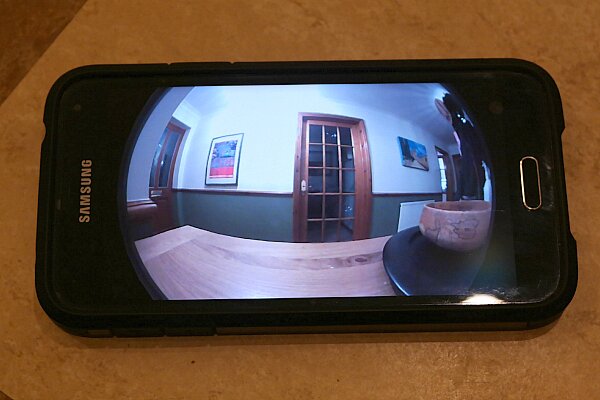 We've got Piper set up in our hallway and because the camera has a really wide field of vision, thanks to an HD fish-eye lens, it can see from the front door all the way to my kitchen. Incidentally you can buy any number of Pipers and link them together to see the whole of your house. (The husband is considering getting one for the garage… presumably so he can watch his favourite tools while we're away from home.) And you can choose to see the video feed as one picture (like the one above) or in a block of four showing four parts of the room at the same time.
…and thinking back to the HMIC report I mentioned at the beginning of this post, I guessing this video footage could potentially be used as evidence if the worst was to happen. (Next time I see a policeman I'll ask them.)
EXTRAS
One thing I haven't touched on yet is the VITALS tab. This shows a 48 hour view of a series of measurements relating to your home including inside and outside temperature, humidity, noise, movement and light.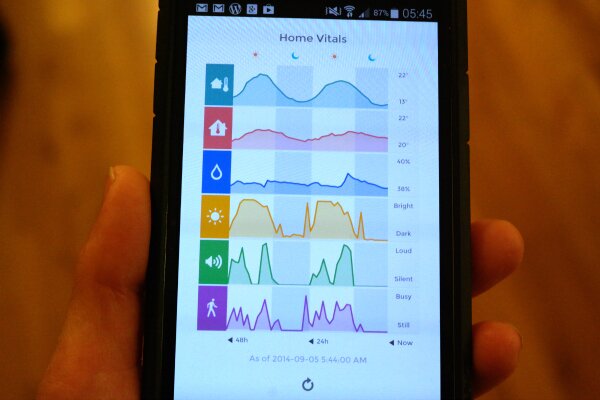 I must admit I haven't found a use for this yet but it's cool in a geeky sort of way.
One thing you do have to remember about Piper is that you have to use your phone to select the AWAY mode when you go out. Otherwise it's not doing anything! But thankfully you don't have to be near Piper or even in the house to do this. So if you forget – like I often do when I'm bundling the little people out the door – you can still tell Piper you're out when you're sipping a decaf americano in Starbucks or waiting at the school gates. Clever.
Interestingly Piper could also be used as a baby monitor. The camera and audio means I could monitor Little Man through my smartphone while he snoozes. The camera doesn't have an infared option so I can only see what Piper can see in the dark but I could hear if he cries.
If you want to go one step further there are optional extras like door and window sensors (we have one but haven't installed it yet) and smart appliance switches to automate lights and other appliances and let you switch them on and off remotely.
FINAL THOUGHTS…
Whatever you may think of the results of the HMIC report there's no doubt that home security is important. I love the simplicity of Piper.  There's no service costs, monthly fees or tricky installation. It's easy to set up and easy to use. All in all Piper is a great addition to our family's home security.
One Piper unit costs Euro 149, $199 or around £119 and is only available directly from Piper at the moment.
Disclosure: We were sent one Piper unit and one Z wave door/window accessory to review. All opinions are my own.
Linking up with Brilliant Blog Posts over at Honest Mum and Share With Me at Let's Talk Mommy.